Australia's greenhouse gas emissions are headed for a record high after 2020 and may not peak before 2030, despite the government's claim it has been reducing carbon pollution.
New analysis from Reputex – a division of global ratings agency Standard & Poor's – confirms that despite the Coalition's rhetoric, and its support for the 2015 Paris deal – Australia's emissions actually rose 1.3 per cent in 2014/15, for the first time since the Coalition was last in power a decade earlier.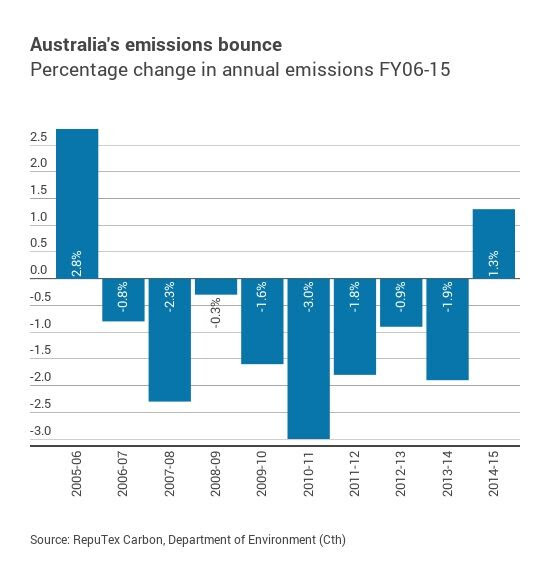 But the Reputex survey also notes that Australia's emissions growth is now among the highest in the world, with the government's own forecast showing emissions will grow 6 per cent to 2020, despite its "Direct Action" plan and the billions spent in the Emissions Reduction Fund.
Indeed, this growth would have been faster, but for the fact that Australia's economic growth has been downgraded sharply from the optimistic assumptions of successive Labor and Coalition governments.
"There is a substantial disconnect between our national abatement task and the emissions reality," said Hugh Grossman, executive director of RepuTex.
The situation is made worse by the revelation that the Coalition government is not providing any more funds to Direct Action, meaning that the country will fall into a "policy void" once the latest auctions are completed this year.
Grossman said that from the end of this year, there would be no mechanism to purchase emissions reductions, or hold companies accountable for emissions growth. "This will leave the Australian market with no policy to curb emissions growth," he said.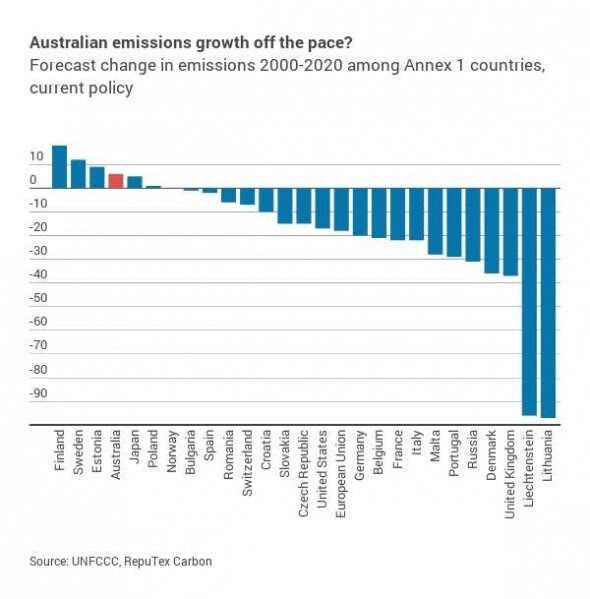 Grossman said Australia's growing emissions may become a liability for the government as it enters an election year and faces increased international scrutiny, putting pressure on the government to explain its policy, and how it can reach its Paris pledge of a 26-28 per cent cut in emissions by 2030.
"While the government won't jump the gun on its 2017 policy review, without a new statement of intent it will be hard for the electorate to distinguish between the new PM's ambition and the Abbott-era of climate policy," Grossman said.
© 2016 Solar Choice Pty Ltd