The number of Australian homes that have installed a solar photovoltaic (PV) system surpassed the 1 million mark in March, according to the Clean Energy Regulator. This milestone, while not a specific target of any sort, is indicative of the impressive growth that the solar industry has seen over the past few years.
Much of the growth is attributable to federal incentives and state-based solar feed-in tariffs, which began to gain serious traction around 2008. NSW led the way for the boom with its 60c per kilowatt-hour (kWh) gross feed-in tariff, and many other states followed. All of these have now either been reduced or discontinued for new applicants. Federal incentives have also changed significantly. A generous $8,000 up-front rebate for solar PV installations was transformed into a less generous (but still effective) market-based incentive tied to Australia's renewable energy target (RET).
Although the success of the solar industry to date would not have been possible without these incentives, it can't be said that it has been the smoothest ride. Two additional factors–namely, the rising price of electricity and the falling cost of solar PV system installations–have helped keep the industry alive even as government support was withdrawn–oftentimes unpredictably. Now, homes and small businesses are making the choice to invest in solar even in the absence of feed-in tariff incentives; benefiting only from a reduced need to purchase power from utilities is a strong enough business case for many homes in areas. Evidence of this can be seen in where new installations are taking pace so far this year.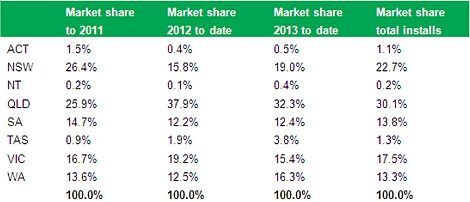 Solar PV installation market share by state/territory. (Table via Business Spectator/Ric Brazzale, data via Clean Energy Regulator.)
The figures in the above table are based on the number of small-scale technology certificates (STCs) created in each state and may therefore actually be slightly inaccurate (up to 12 months are allowed from installation to create the STCs). Still, the 'Market share 2013 to date' figures give a good indication of where the most interest lies right now. NSW, where no feed-in tariff currently exists, trails only behind Queensland in the number of installations that have taken place so far this year. Keeping in mind that it has been estimated that as much as half of the new installations in Queensland are for customers who made the deadline for the state's 44c/kWh feed-in tariff rate (but have been allowed a year to have their system installed), this could potentially mean that NSW–where no government incentive for generation currently exists–is actually the biggest market for new solar installations in Australia. This offers some promise for the future of solar in other states where a similar situation exists (including Queensland).
The 'Market share total' column shows what percentage of the total each state/territory contributes to the '1 million household' figure (actually closer to 1,011,000 households). Sunny Queensland leads the nation, followed by NSW and then Victoria. Of course population size plays an important role in explaining the proportion of installations (see figures for ACT, NT, and Tasmania), so a more important figure to look at might be the proportion of suitable households per state that have elected to install a system.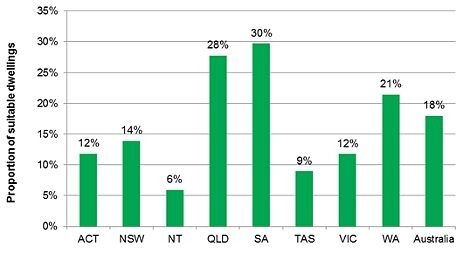 Proportion of suitable dwellings that have installed a solar system by state/territory. (Table via Business Spectator/Ric Brazzale, data via Clean Energy Regulator.)
Looking at the table above, the true solar PV leaders become more evident. South Australia, whose population is much smaller than economic powerhouse states like NSW, Victoria, and Queensland, clearly leads the way in terms of the proportion of homes with solar power–although Queensland is not far behind. The other important thing that can be noted from this table is how much more room there is for solar growth among, for example, homes in NSW and Tasmania (whose own feed-in tariff's future is incidentally up in the air at the moment).
© 2013 Solar Choice Pty Ltd

Latest posts by James Martin II
(see all)