Australia has officially passed the 5 gigawatt mark on rooftop solar, according to new Clean Energy Regulator data that shows 1.58 million homes and businesses now have a total of 5.1GW of solar PV on their homes.
The figure of 5.1GW equates to 5,100MW (megawatts) or 5,105,116kW kilowatts). The average size of installations in Australia is 3.2kW, although the average size of new installations is around 5kW.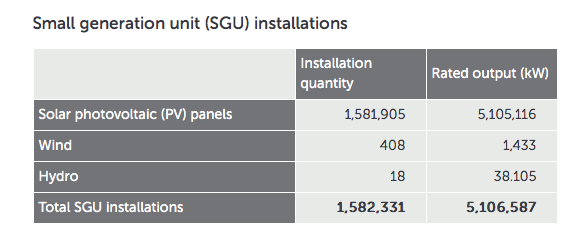 The 5GW level was probably reached in July – as foreshadowed at the time by RenewEconomy, but there was a delay in updating the data from the CER.
The small-scale solar market, which is still supported by a federal government rebate, but no longer by state-based feed in tariffs, is struggling for traction at the moment, although some expect it to rebound as more homes look to the possibility of battery storage.
According to the CER data, about 72,000 homes and businesses have added rooftop solar so far in 2016 (till the end of August), and the market is heading to its lowest number since 2009, when the feed in tariffs began. The peak was 360,000 in 2011.
© 2016 Solar Choice Pty Ltd

Latest posts by Giles Parkinson
(see all)