Australia's national solar PV market has hit its highest level since July 2015, led by growth in the commercial market and particularly in South Australia that totalled 66MW new capacity installed over the month of September.
As illustrated in the latest charts from SunWiz, solar PV volumes in September showed continued growth in the under 75kW range, as well as in the 4-6kW range.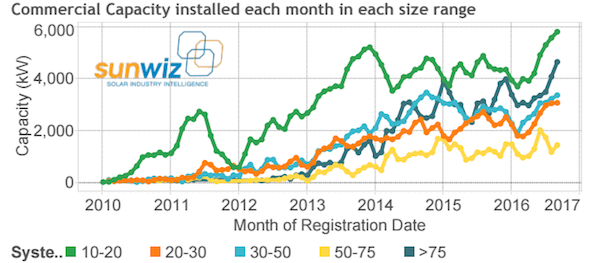 State by state, PV registrations in NSW were found to have eased back a bit, while Victoria recovered pace. In Western Australia, growth "continued off a new base", while South Australia remained "stable at levels it must be happy with," said the SunWiz report.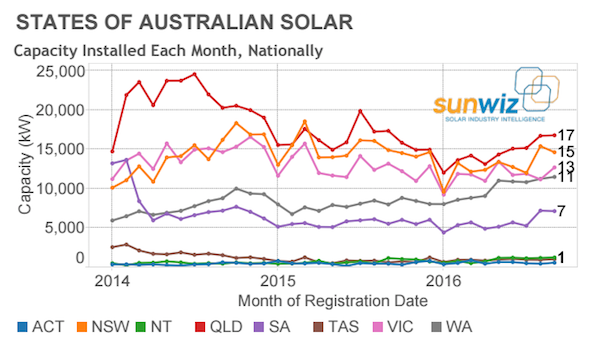 As the chart below shows, commercial volume was "on the up" in both the smallest (10-20kW) and largest (>75kW) size classes.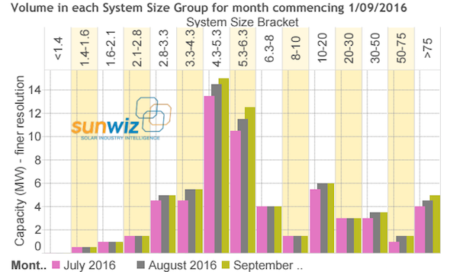 This was led by growth in South Australia, where commercial acceleration is currently happening, according to Sunwiz, and Victoria, where commercial installs continue to grow.
Another noteworthy trend was in Australia's PV imports, with the Philippines taking 7 per cent of the market share.
In the residential market, the average rooftop solar system size remained steady at 5.7kW.
© 2016 Solar Choice Pty Ltd