Australia's Silex Systems has announced both that construction on its Mildura, Victoria concentrating photovoltaics (CPV) demonstration plant, and also that subsidiary SilexSolar will resume production of solar panels at its Sydney plant. The first stage of the demo plant's construction will be completed by the end of 2012 with an installed capacity of 2 megawatts (MW). Subject to the favourable performance of this demonstration-scale version of the project, construction will expand to incorporate a full 100MW or greater by the end of 2016. With each unit generating 650W, the plant will be one of the most space-efficient solar power plants anywhere in the world, requiring only around 6 acres per MW.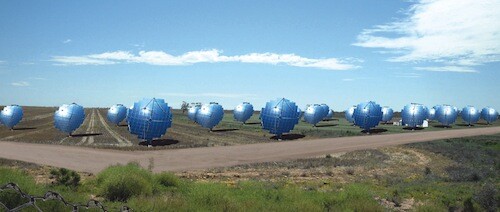 Mildura's solar power: Solar PV plus CSP
Solar Systems parent company Silex Systems is well-known in Australia as a home-grown developer and manufacturer of solar energy technologies. Most notably, Silex Solar, another subsidiary of Silex Systems, operates a solar PV module manufacturing plant in Sydney's Olympic Park. Such solar photovoltaic panels–rectangular modules that are mounted side-by-side on rooftops or on ground-mounted frames–are the form of solar power that most homeowners are acquainted with. Large-scale solar projects either utilise such panels or some form of concentrating solar power (CSP, also frequently referred to as 'concentrating solar thermal') technology, where sunlight is concentrated before its energy is harnessed. The Mildura plant will be the first of commercial, grid-connected project its kind to use Solar Systems' technology.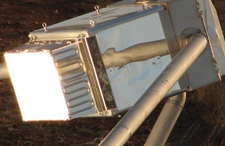 Mirrors and solar concentrators
Silex Solar Systems' technology could be described as a combination of these two types of technology, offering the best of both worlds: the scalability and modularity of solar PV with the CSP's ability to magnify and concentrate the power of the sun using mirrors. The CS500-5 Dish System (pdf) units that will comprise the Mildura plant use mirrors to concentrate the sun's rays to 500 times the rate that ordinarily falls on the ground. The concentrated sunlight is focused into a concentrator and converted into electricity, a small box that sits opposite the mirrors, where their rays converge. Each module comes equipped with a dual-axis solar tracker, enabling them to efficiently harness the sun's energy from sunrise to sunset throughout the year.
The solar photovoltaic cells used in the concentrator were originally developed to power satellites, and operate at about 40% efficiency–twice the level seen in the most efficient panels commercially available, and the highest in the world. Convertor boxes are actively cooled in order to prevent power losses from high temperatures, as well as to extend the life of the units. Convertors are designed with future upgrades in mind and be quickly and easily replaced as more advanced and efficient cells as they become available.
Financial aid from the Federal and Victorian governments
Solar Systems' Mildura project has been made possible in part thanks to $120 million in funding–a grant of $75 million under the Federal government's Low Emissions Technology Demonstration Fund (LETDF), and the balance from the Victoria government. Dispersal of funding will be contingent on the performance of the first 2MW of installed capacity, and the attainment of certain milestones in the life of the project.
SilexSolar Resumes solar PV panel production
In other news, Silex Systems' SilexSolar has announced the resumption of PV panel manufacturing at its Sydney Olympic Park plant, after the plant ceased production last November. In an Inverview with RenewEconomy, Silex CEO Michael Goldsworthy said that SilexSolar would be recasting its rooftop solar PV strategy in the coming months.
Resources and links
Solar Systems Projects: Mildura 2011

Contributor
at
Solar Choice
James was Solar Choice's primary writer & researcher between 2010 and 2018.

He is now the communications manager for energy technology startup SwitchDin, but remains an occasional contributor to the Solar Choice blog.

James lives in Newcastle in a house with a weird solar system.

Latest posts by James Martin II (see all)