Update 30 May 2012: SilexSolar has ceased solar panel manufacturing. As SilexSolar parent company SilexSystems is remains operational, however, warranties on SilexSolar products will still be serviceable.
Silex is Australia's leading home-grown solar panel manufacturing brand, offering 3 sizes of solar panel–all assembled at Silex's Sydney Olympic Park facility, the largest solar panel manufacturing plant in the southern hemisphere. In a market where the vast majority of panels are imported, Silex is an easy choice for those who want to support Australian industry. The most powerful Silex solar panels (SLX180) have a module efficiency of 13-14%, and panels are vigorously tested to ensure longevity.
SILEX SLX Panels: rigorously-tested, Australian-made panels
-Silex 125 Monocrystalline Solar Cells-
The range of Silex SLX solar modules all use monocrystalline solar cells. Silex cells incorporate an anti-reflective coating, which increases light absorption by the cells and results in more output per kilowatt than the bare cells themselves would. Each cell undergoes individual visual inspection for defects, and are also tested electronically to identify current groups accurately. Advanced and high-grade silver/aluminium pastes are used to ensure strong connections, and screen printing techniques are also used to ensure high-precision electrical contacts in the panels.
-SilexSolar SLX Solar Modules: Key Attributes and Points of Difference-
-Modules assembled in Australia, with cells imported from overseas
–Relatively easy to install, with quick connect leads to enable safe and fact interconnection and installation
-Relatively high module efficiency (13%+, depending on module) also allows for less space to be used in roof-mounting the panels
-The panels have undergone rigorous testing to ensure reliable long term performance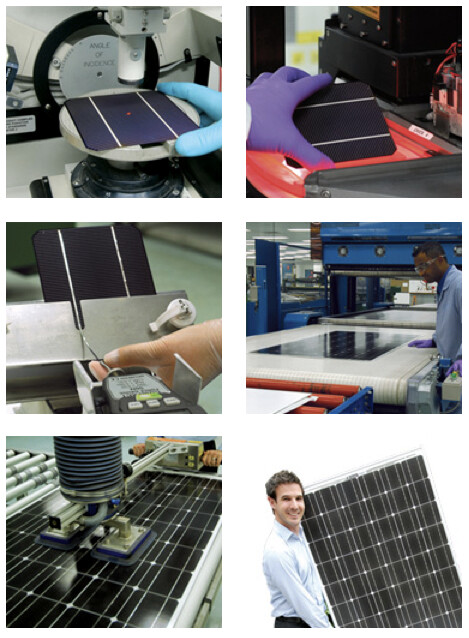 -Product Specifications/Electrical Characteristics-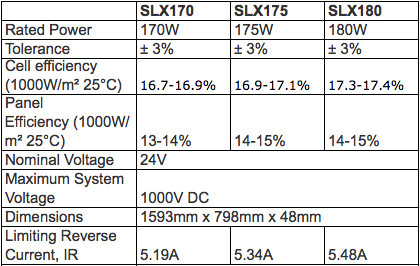 -Component standards met/awards-
Conforms to European directives (CE mark)–meets the standards for being sold in the EU
TÃœV certified according to:  Extended version of the IEC61215:2005 (Crystalline silicon terrestrial photovoltaic panels design qualification and type approval),  IEC61730-1 (Photovoltaic panels safety qualification), and IEC61730-2  (Requirements for construction and testing)
Listed on the Clean Energy Council's current list of accredited modules
-Warranty-
Manufacturer's Warrantee: 90% rated power output over 12 years,
80% power output over 25 years
Materials/Workmanship warranty: 10 years
About Silex
-Company Headquarters and Factory location-
Silex's headquarters and factory can be found in the same location:
2 Australia Avenue
Sydney Olympic Park
Homebush Bay, NSW

-History in the Industry-
Silex has been producing solar panels since 2009, since acquisition of the former BP production facility at Sydney Olympic Park.
Solar Choice is a solar installation comparison service: we don't undertake our own solar array installations, but we do offer free independent solar quote comparisons of what's on offer from trusted solar system installers nationally. Our installers may use components from different manufacturers, and if you're new to solar power installations, you will probably want to know what distinguishes one company's panels, inverters, batteries, and other system parts from those of their competitors. This article is one of a series written to help you make an informed decision about purchasing your solar power system.
Written by James Martin
Analyst
© 2011 Solar Choice Pty Ltd
Sources and links:

Latest posts by James Martin II
(see all)