The people behind Q CELLS solar panels believe that "Claiming leadership means proving it", highlighting that R&D is the main focus of the company. Founded in 1999, Q CELLS was acquired by Korea's Hanwha Group to form Hanwha Q CELLS in 2012. Hanwha's 60-year history as a highly diversified, global industrial giant adds an additional measure of confidence to Q CELLS' already strong global reputation for reliability and excellence.
Q CELLS solar panels: Product Range
Q.PEAK
The monocrystalline Q.PEAK solar module with power classes up to 265W is one of the most powerful 60 cell standard modules on the market globally, thanks to full square black monocrystalline cells. 12 year product and 25 year linear performance warranty. MADE IN EUROPE.
Download a datasheet: Q.PEAK (pdf)
Q.PEAK BLK
The same size as Q.PEAK panels, the BLK series panels come with an all-black frame and back sheet for aesthetics. Rated outputs are 245-260W. 12 year product and 25 year linear performance warranty. MADE IN GERMANY.
Download a datasheet: Q.PEAK BLK (pdf)
Q.PRO-G2
Polycrystalline solar panels with rated outputs of 250-265W. Top performers at the Desert Knowledge Australia Solar Centre benchmark comparison of over 20 different module brands.* 12 year product and 25 year linear performance warranty. MADE IN EUROPE.
Download a datasheet: Q.PRO-G2 (pdf)
Q CELLS solar panels: Points of difference
–Hanwha Q CELLS guarantees for the longevity of Q CELLS modules with the Q CELLS Triple Yield Security as well as with the Quality Tested certificate of the German certification body VDE.
–Q CELLS solar panels utilise Anti-PID (Potential-induced Degradation) technology, which eliminates yield losses over the course of their operational life due to leakage currents.
–Q CELLS' Hot-Spot Protect (HSP) quality control measures ensure high levels of performance and safety. Invisible defects in solar cells can result in a 'hot-spotting' effect, in which the cells heat up in partial shading conditions, causing power loss and potentially even module fires.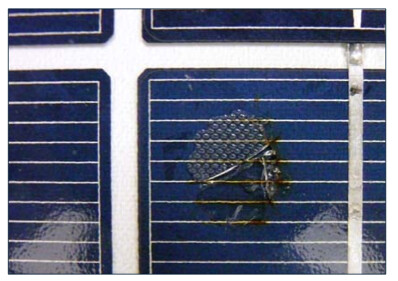 An example of a 'hot spot'.
–Each Q CELLS solar cell receives a distinct Data Matrix Code, applied by the unique Traceable Quality (Tra.Q) laser marking technology, before entering the production process. This allows Hanwha Q CELLS to directly match their solar cells with particular production parameters, allowing better analysis of defects as well as enhancements like improved efficiency.
Component standards met/awards
-All models of Q CELLS solar panels are certified by the Clean Energy Council (CEC) of Australia, and are on the list of CEC-approved components
–PV Cycle– Hanwha Q CELLS participates in PV Cycle's voluntary take-back PV recycling program
–CE mark– Q CELLS panels are compliant with European Union regulations
–VDE Quality tested (pdf)- Hanwha Q CELLS is the first solar module manufacturer to participate in the Quality Tested program of the German independent certification authority VDE. Quality Testing by VDE considerably expands the well-known module tests of IEC 61215 and IEC 61730, in terms of the approval certification, and the quality controls during the production process and the frequency of the testing cycle. Unlike any other quality program, Quality Tested by VDE ensures the continuously high safety and quality of Q CELLS modules over the long term.
Other products and services by Hanwha Q CELLS
Hanwha Q CELLS, as a vertically integrated solar panel manufacturer, produces all of the components in its solar panels. The company also designs and installs solutions for commercial and utility-scale projects.
About Hanwha Q CELLS
Company Headquarters: Global head office: Thalheim, Germany
Australia head office: Level 2, 56 Berry St, North Sydney NSW
Factory locations: Q CELLS solar panels are assembled in Germany, Poland and Malaysia.
History in the Solar Industry: Q CELLS was formed in 1999 and has been producing solar PV cells since 2001 and modules since 2010, making it one of the most experienced solar PV manufacturers in the world. With the launch of Hanwha Q CELLS in 2012, Q CELLS is part of South Korea's Hanwha Group – a diversified Fortune GLOBAL 500 company and now the third largest solar manufacturer globally. Q CELLS' track record of quality, world record-breaking PV cells and modules, and pioneering technology matches perfectly with the Hanwha Group's financial resources and manufacturing expertise to form one of the most reliable solar companies globally, ready to lead the industry into a new era.
*Desert Knowledge Australia, the Australian Government, the Government of the Northern Territory, and the project manager of CAT Projects accept no legal responsibility for results and conclusions arising in connection with the data of the DKASC.
© 2013 Solar Choice Pty Ltd

Latest posts by James Martin II
(see all)