WINAICO Solar is a high-end solar PV panel manufacturer that puts an emphasis on the quality and reliability of its products. The WINAICO module range includes models for residential, commercial, and BIPV applications.
WINAICO Solar Panels: Top-shelf components and guaranteed yields
WINAICO says that it is set apart from other panel manufacturers in primarily two ways: The quality of the components used in its products, and the strict quality controls in assembly that ensure the end-product are manufactured and distributed to the highest standards.
The company prides itself in the selection of its partners. All components that make up a WINAICO solar panel are manufactured by industry leaders in their own fields, components are extensively tested and proven to last. Quality control and strict component selection process strongly contribute to WINAICO's overall product and performance consistency.
WINAICO Solar is the solar brand of Taiwanese Win Win Precision Technology, which has its origins in the semiconductor industry, and the knowledge and experience to understand what is involved in manufacturing high-grade silicon products. The silicon photovoltaic (PV) cells within the modules themselves are highly pure and each is individually flash and electroluminesence tested for faults and weaknesses to guarantee high yield over the lifetime of the system 25+ years.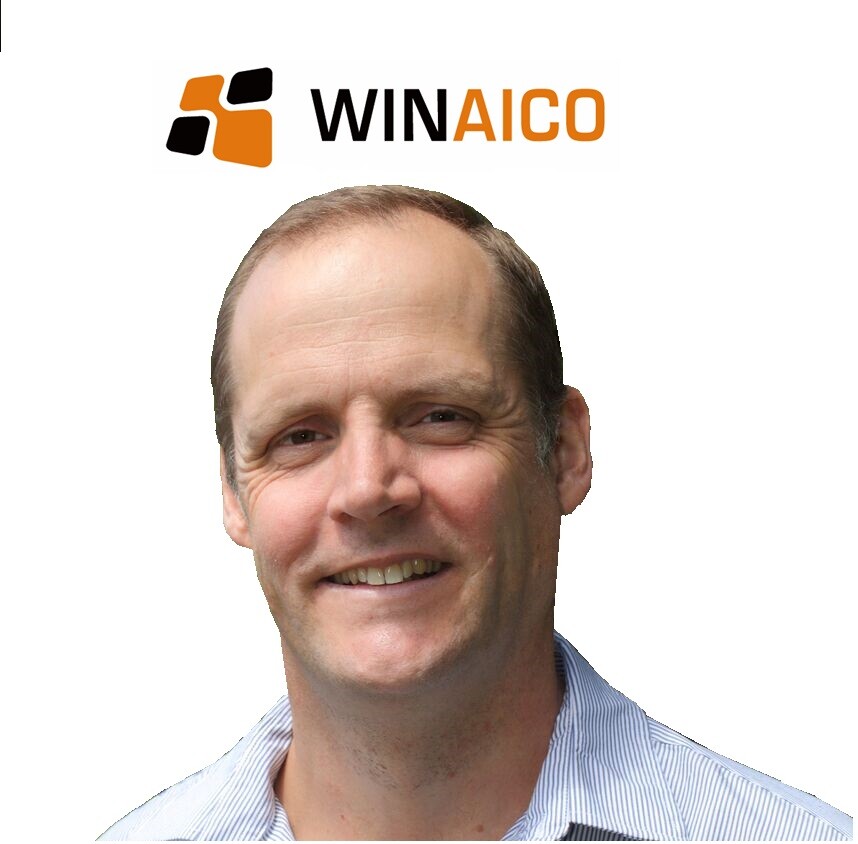 The quality of components is monitored and managed at every stage of the production process – from incoming quality control through the complete production sequence to a 100% visual, micro-optical, mechanical, and electrical final inspection. With this rigorous oversight of all aspects of the production process, WINAICO is confident that it delivers a 'perfectly assembled photovoltaic installation made with the best components available on the market.'
WINIACO's quality control does not stop at the factory door. With a focus on end customers, the company established offices and warehouses in Australia over 5 years ago to ensure that their product gets to the end customer in perfect condition. WINAICO's Managing Director Blair Pester personally selects its Authorised Installers carefully to ensure that every customer receives quality service, and prides himself in knowing every partner who has purchased a WINAICO Module.
Confident in its products' performance, in October 2012 the company installed a test installation in the outback of Australia at the Desert Knowledge Facility near Alice Springs, customers can compare the performance of major panel brands against WINAICO to see how they fare.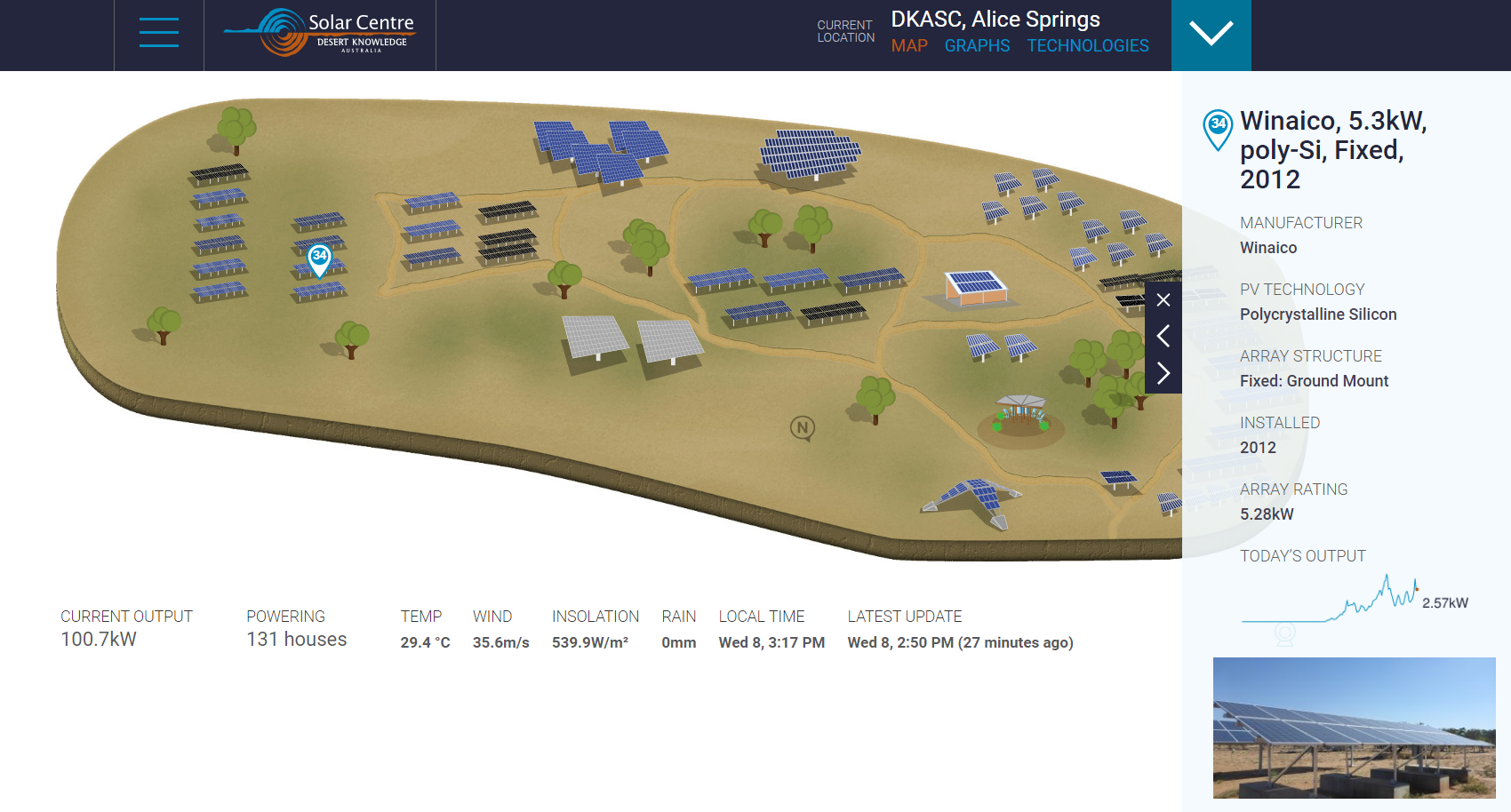 WINAICO's panels at the Desert Knowledge Australia Solar Centre.
WINAICO Solar Module Product Lines
WST Poly – Polycrystalline panels – 275-290 Watts peak
Download: Datasheet (pdf) (require relink)
WST PERC Poly – Polycrystalline panels – 275-290 watts peak
Download: Datasheet (pdf) – PERC whitepaper (pdf)
WSP PERC Mono – Monocrystalline panels – 300-315 watts peak
Download: Datasheet (pdf) – PERC whitepaper (pdf)
WSP PERC Mono (Blackline) – All black monocrystalline panels – 300 watts peak
Download: Datasheet (pdf) – PERC whitepaper (pdf)
(See the full range of WINAICO products.)
WINAICO Solar: Points of difference
–WINAICO uses only branded components of outstanding quality in its solar panels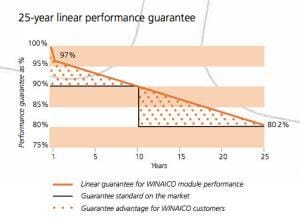 WINAICO solar panels linear warranty
-Linear performance warranty of 25 years. This means that having two or three 'tiers' of warranty as is the industry standard (90% of nameplate panel capacity guaranteed for the first 10 years, and 80% guaranteed for the next 15 years), WINAICO's panels are guaranteed at about 94% for the first 5 years, 90% for the first 10, 87% for the first 15, etc. This more finely graduated warranty system means that system owners can have higher, more specific expectations about their panels' performance than with many other installers. (Download PDF: WINAICO solar panels Limited Warranty.)
–15 year product guarantee. WINAICO panels are providing one of the longest product warranty available in the market. This is a result of their extensive testing over the past few years on their product.
–Positive power tolerance of 0-5W: WINAICO panels are guaranteed to produce power at their nameplate capacity or greater
–Innovative frame design for maximum stability
–Module efficiencies now exceeding 19%
–Each module undergoes infrared and micro-optical testing to ensure the highest level of quality
-WINAICO in Australia and Germany are also offering a unique system insurance which is designed to protect the homeowner of a system failure by external forces. This cover protects the end client against Loss of Yield, Interruption of Service and All Risks. This cover starts at 2 years (free of charge) can be extended to a total of 7 years and is unique to WINAICO.
Certifications
All models of WINAICO solar panels are certified by the Clean Energy Council (CEC) of Australia, and are on 

the list of CEC-approved components

PV Cycle

– WINAICO is a member of the PV Cycle program

CE mark

– WINAICO panels are compliant with European Union regulations

IEC & UL Certification – WINAICO modules have been tested up to 1000V for IEC and UL Certification

Claims made by WINAICO about their panel specifications have been independently verified by 

TUVRhineland

WINAICO Solar panels have shown excellent performance on Photon Magazine's 

Solar Module Yield Measurement test

–regarded as the most rigorous and thorough 3rd party testing authority in the solar power industry. WINAICO WSP-235PG 235W panels came in 7th place of 130 modules; WINAICO WSP-230P6 230W modules ranked in 21st place.

WINAICO solar panels have also been outdoor tested in harsh

deserts of Australia (DKA)

since 2012, as

well as in the US as part of

Go Solar California

incentive program.

Additional Certifications

Ammonia Resistance (IEC 62716, DLG)
Salt Mist Corrosion Resistance (IEC 61701): Severity 6 of 6
Hail Resistance: 35mm at 93km/h
Potential Induced Degradation (PID) Resistance: 250hrs, -1000V, 85°C, 85%RH
Dynamic Mechanical Load: 5000Pa
Non-Uniform Snow Load (inhomogenious): 4000Pa
Environmental Management System (ISO 14001)
Quality Management System (ISO 9001)
Occupational Health Safety Management System (OHSAS 18001)
About WINAICO Solar
Global Headquarters: 
Win Win Precision Technology Co., Ltd., Taiwan ROC
International Headquarters (Subsidiaries): The Netherlands, UK, Denmark, Germany, Italy, USA, Japan and Australia
Australian Headquarters: 
WINAICO Australia Pty Ltd, 3/393 George Street, Sydney NSW 2000
Phone: +61 2 8091 2771
Email: australia@winaico.com.
The company has local warehouses in Sydney, Brisbane, Melbourne, and Perth.
Manufacturing plant location: WINAICO solar panels imported to Australia are manufactured in their own factory in Taiwan
Manufacturing Capacity: 150-180MW
Year founded: 2003 (Win Win Precision Technology), 2007 (Solar Division)
Parent company information: WINAICO is the solar brand of Win Win Precision Technology Co., Ltd., founded in 2003 in Taiwan.
All images via WINAICO
© 2017 Solar Choice Pty Ltd

Latest posts by Jeff Sykes
(see all)