LG ("Life's Good") is a leading global technology innovator in electronics, mobile communications, and home appliances. The energy solutions division of LG manufactures solar panels for residential and commercial solar PV installations. In addition to the fact that they bear a trusted brand name, LG solar PV panels boast a number of features that make them stand out from the pack.
LG Solar Panels: High-yields, guaranteed quality, and a trusted brand name
LG Solar is a growing player in the Australian solar PV market. The LG brand name is already widely recognised as one of the most trustworthy manufacturers of white goods, mobile phones, and other electronics in the world, and its reputation carries over easily to its solar product lines.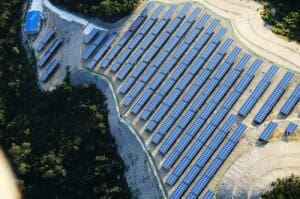 LG Solar Panels Yecheon, Korea solar farm installation.
One of the most important considerations for someone considering making the move to solar power is whether to go with high-end components or with one of the 'tier 3' components that compose the majority of Australia's solar market. Although rock-bottom prices may be attractive to many customers, for those wanting longevity and consistently high energy yields and return on investment over the lifetime of their system (25+ years), it is imperative to choose components carefully. LG panels immediately tick 2 of the most critical 'highly desirable' boxes in the search for quality solar modules: they are manufactured by a trusted brand with a diversified manufacturing portfolio, and the panels themselves are manufactured to high standards.
LG's panels are vertically manufactured–meaning that LG undertakes all aspects of manufacturing, from silicon production to solar module assembly, and is serious about being in the solar game for the long-term: parent company LG Electronics has acquired more solar-related patents (172) between 2009 and 2011 than any other solar panel manufacturer. This sort of dedicated research and development is another indicator of the likelihood of the company's being around in 25 years' time to service warranties.
LG Solar Panel Product Lines
MonoX LG250s1c, LG255S1C, LG260S1C — Monocrystalline panels — 250-260 watts
Download: LG Solar Panels MonoX Spec Sheet (pdf)
MonoX Black LG250S1K — Monocrystalline panels — 250 watts
Download: LG Solar Panels MonoX Black Spec Sheet (pdf)
MultiX LG230R1C, LG235R1C, LG240R1C, LG245R1C — Polycrystalline panels — 230-245 watts
Download: LG Solar Panels MultiX Spec Sheet (pdf)
Off-grid Solar Module LD135R9W, LD130R9W, LD125R9W — Multicrystalline panels — 125-135 watts
Download: LG Solar Panels Off-grid Spec Sheet (pdf)
LG Solar Points of Difference
–Positive power tolerance of +0/+3%: LG Solar Panel linear output warranty: Every LG solar panel is flash tested to guarantee that it will produce power at their nameplate capacity or 3% greater when they are installed–many manufacturers' panels have a positive/negative power tolerance of +/-3%. Panels with a positive power tolerance allow system owners to avoid disappointment due to unexpectedly low output.
–Designed for durability: LG solar panels undergo both internal and 3rd party testing above and beyond the minimum standards required for solar PV modules. All products undergo: electroluminescence (EL) testing to identify cracks and flaws invisible to the human eye, an extended reliability test that subjects panels to high levels of irradiation to simulate conditions that a panel would see over its lifetime, comprehensive durability testing in which panels undergo long-term monitoring in a variety of climates, and extreme mechanical tests that assure the panels' resilience against heavy loads, hail, and other heavy impacts. Additionally, the manufacturing environment in which LG panels are produced is virtually dust free–on par with those of highly sensitive semiconductor manufacturing facilities. This prevents imperfections that can cause inefficiencies and decrease efficiency down the line.

LG solar panels: Designed for durability
–LG signs off on every cell: Each solar cell in each solar module is individually checked for integrity and stamped with the LG logo, so customers know they can rely on their modules to perform over the course of their expected working lives.
–LG module frames are designed to reliably serve through module product and output warranties. Design features that enable them to do so include: Anodised aluminium frames designed to stay off external corrosion, 'perfect' water-draining design in frames prevents the accumulation of water inside parts of the panels over time and the associated corrosion that may result, frame bindings that use screws which lower the risk of physical distortion, and the ability to endure the heaviest loads that panels are likely to bear during their lifetimes. Modules also undergo precise size control to ensure that each component is lined up exactly to specification and that modules will perform to expectations over the course of their working lives.

LG solar panels 'perfect' water drain design prevents frame corrosion from moisture buildup inside the frame.
–Linear performance warranty of 25 years. This gives customers peace of mind for each of the 25 years. Instead of having two or three 'tiers' of warranty as is the industry standard (90% of nameplate panel capacity guaranteed for the first 10 years, and 80% guaranteed for the next 15 years), a specific percentage of the rated output of LG panels is guaranteed for each year of the panels' lives. After the 1st year, the output is guaranteed at 97% of nameplace capacity, with a further drop of 0.7%–so that by the 25th year output is still guaranteed at 80.2%. This more finely graduated warranty system means that system owners can have higher, more specific expectations about their panels' performance than with many other installers.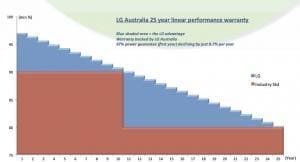 LG Solar Panel linear output warranty
Certifications
-All models of LG solar panels are certified by the Clean Energy Council (CEC) of Australia, and are on the list of CEC-approved components
–PV Cycle– LG Solar is a member of the PV Cycle program
–CE mark– LG panels are compliant with European Union regulations
-Claims made by LG about their panel specifications have been independently verified by TUVRheineland
About LG Solar
Headquarters: With LG Electronics headquarters in Seoul, South Korea
Headquarters in Australia: Eastern Creek, Sydney, NSW
LG Solar has 96 offices worldwide, including Germany, USA, Japan, India, and China
Manufacturing facilities: Gumi, South Korea
History in the industry: LG Electronics has been involved in solar research and wafer production for over 20 years through other companies in the LG Group. LG Solar module production commenced in 2009.
Manufacturing capacity: 500 megawatts and expanding quickly. Multi-gigawatt capacity is expected in the long-term.
All images and spec sheets via LG Solar
© 2012 Solar Choice Pty Ltd

Latest posts by James Martin II
(see all)