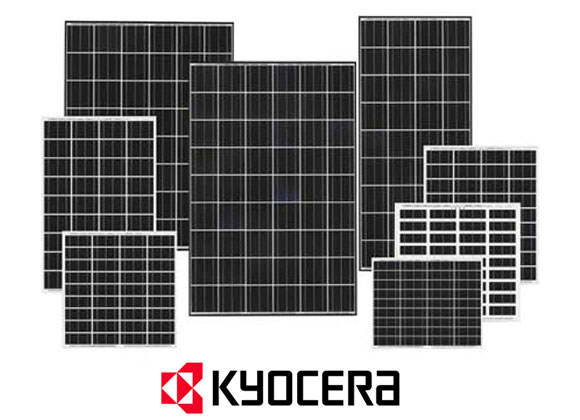 Kyocera Solar boasts some of the most efficient and arguably the most reliable solar photovoltaic (solar PV) panels in the extremely competitive emerging global solar industry. A strong player in the field of solar energy products since long before solar power reached its current status as a mainstream and well-regarded electricity generation source. Kyocera Solar has made steady progress since its inception in 1975, in both the quality of its products as well as its service, working hard to get its well-earned reputation as one of the best manufacturers in the industry. Read our full study of Kyocera Solar panels below.
Kyocera Solar: Unparalleled performance and reliability
-Kyocera KD modules: High-efficiency, dark-blue polycrystalline silicon cells-
Kyocera Solar might be said to have mastered polycrystalline silicon solar cells, having pioneered the silicon casting technique developed within its ceramics divisions. Polycrystalline, along with monocrystalline silicon cells, are known as the two most efficient solar technologies that are commercially available. Typically, polycrystalline modules have module efficiencies (input sunlight to output electricity) ranging between 12 and 14%. As always with solar panels, however, it is crucial to look beyond the generalities of technology type and into the details of the brand and its product lines. It is impossible to state as a rule that, for example monocrystalline solar cells are categorically 'better' than their polycrystalline equivalent.
Kyocera has refined its technology to attain efficiencies of up to 18.5% in the laboratory, typically translating to over16% during everyday use. One of the technologies that the company uses to enable this impressive level of efficiency is known as Reactive Ion Etching (RIE); RIE gives the Kyocera d.Blue cell line its unique and attractive dark blue hue, as well as its name.
A note about solar panel efficiency vs. durability and manufacturer credibility
Nominal efficiency is not the only or necessarily even the most important factor in when deciding which solar panels best suit your needs, but perhaps because it is the easiest number to point to, it understandably tends to be the first figure that gets a potential solar owner's attention. There are in fact a number of questions to ask when considering buying a solar power system, and 'How efficient is this solar panel?', while important,  is just one of them.
First of all, nameplate efficiency of the solar panels may not reflect the efficiency of the system over the course of its lifetime. Other factors in the balance of system (BoS) such as the inverter–or if you have an off-grid system, the batteries–play an integral role in delivering the power from your panels to your appliances or the electrical grid. Secondly, provided there is ample space for panel mounting, efficiency should be a lower priority than dependability and durability; how long will your panels continue to perform as you want them to?
When considering buying a solar system, it is therefore also integral to consider what sort of solar warranty is on offer, the size and reputability of the manufacturer, the panel's performance in the climatic conditions of your area (e.g. is it hot? often cloudy?)
Kyocera panels are winners by all accounts. They offer high yeilds than many panels over the course of their lifetimes, and the company has real-life case studies to back this up–the company has recently celebrated the 25-year anniversary of the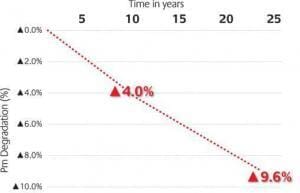 Sakura Solar Energy Centre. This world-renowned facility is the site of a 43kW grid-tie system, installed in 1984. The system consists of more than 1000 modules exposed to over 45,000 hours of solar irradiation. Research has proven that these panels have shown a degradation of an impressively low 9.6%. The company's technology has also been performing well at the Desert Knowledge Australia Solar Centre, located outside Alice Springs. On top of their proven real-life performance, there are also warranties on Kyocera panels that guarantee no more than a 20% loss of production over 20 years (e.g. the capacity of a panel rated at 100W will not drop below 80W over 20 years.)
Durability is also a key consideration in the manufacture of Kyocera's solar panels. They are the first in the world to pass TUV's extremely stringent long-term sequential test, a test lasting 9-12 months in which one individual panel is subjected first to damp heat, then thermal cycling, followed by a humidity freeze and a bypass diode test.
The take-home point is, the spec sheet of a solar module should not be the final stop when considering which solar panels to install in your system; the credibility of the company itself needs to be considered. Kyocera Solar modules is a leader in efficiency, power yield, and dependability, and with a 36-year history in solar and a even older and more diversified and profitable parent company, there is little need to worry whether the company will be around to service warranties in the event that something does go wrong at some point after installation.

-Kyocera KD d.Blue Solar Modules: Points of Difference-
-Solar Panels for a full range of applications: residential, commercial-scale, and projects-
-Some of the highest efficiency polycrystalline silicon panels commercially available. 16+% conversion efficiency (sunlight to power), and outstanding yields across their entire lifetime
-First panel manufacturer to use 3 busbar technology (vs only 2)–one of the design technologies key in attaining 16+% efficiency
–Kyocera's patented Reactive Ion Etching (RIE) technology increases surface area of cells, allowing higher conversion efficiency and resulting in Kyocera cells' signature dark blue colour
–Manufactured by the world's first serial producer of polycrystalline silicon solar panels–more experience with the technology than any other manufacturer, and a proven record of steady improvement
-Larger photovoltaic modules such as KD240+ are integrated with 2 back brace support structures that withstand high winds and protect the cells from stress fractures
–20 year warranty on nominal module output–output of solar cells typically falls with time; Kyocera panels have proven to remain remarkably productive over the first 20 years of their lifetime compared to the industry standard, with proven field results at Sakura in Japan, where performance has dropped by only 10% in 25 years. The fact that Kyocera has had 51 years without any losses as a company means that it is a company that can be trusted to service warranties well into the future.
–Proven performance, demonstrated through a variety of sites around the world delivering better than expected power yields; one of the only companies that has long-term data on large installations
–Superb customer service from before purchase through to post-installation troubleshooting–Kyocera takes pride in its products and offers advice and help for all aspects of an array's life
–First solar panels in the world to pass the harsh new 'long term sequential test' developed by TUV
-Vertical integration of panels means Kyocera has direct oversight of all components that comprise modules
-Product Specifications/Electrical Characteristics-
Kyocera KD P series technical specifications (pdf)
You can compare how Kyocera panels compare to a number of other name brand panels on the Desert Knowledge Australia website, an invaluable resource for those shopping around for solar panels. Please keep in mind that one variable not accounted for, however, is the age of the installation in question. Kyocera panels are amongst the very first technologies installed at Desert Knowledge Australia in 2008. Kyocera also demonstrates that their panels deliver a higher yield (kWh/kWp) than technologies claiming a higher efficiency.

-Other products by Kyocera-
In addition to its KD line of solar panels, Kyocera is also a supplier of solar inverters and charge controllers
-Component standards met/awards-
-All models of Kyocera solar panels are certified by the Clean Energy Council (CEC) of Australia, and are on the list of CEC-approved components
–PV Cycle– Kyocera is a member of the PV Cycle program
–CE mark– Kyocera panels are compliant with European Union regulations
-EC 61215 ed.2 IEC 61730 and Safety Class II
-EC 61701 (Salt Mist Corrosion Testing)–Corrosion-resistant even in areas close to the ocean
-TUV.com-ID: 0000023299
-Kyocera is ISO 9001 and ISO 14001 certified and registered
-Warranty-
20 year performance warranty guarantees no more than an 20% drop in efficiency over this period
(Your installer may also offer additional warranties for the entire system.)
About Kyocera Solar
-Company Headquarters-
Global head office: Kyoto, Japan
Australia head office: North Ryde, Sydney NSW
Kyocera Solar owns and operates numerous offices throughout the world in order to provide prompt and personal service
-Factory locations-
Centre of Cell Production: Yohkaichi, Japan
2nd production centre: Yasu, Japan
Kyocera Solar also has assembly plants  in the US, North America, China, and the Czech Republic
The panels available in Australia are assembled in Mexico.
-History in the Solar Industry-
Kyocera Solar has been researching solar technology since 1975 and producing solar cells since 1978.
Parent company Kyocera was established in 1959.
© 2011 Solar Choice Pty Ltd
Sources and links:
Previous related Solar Choice articles: Solar Panels and Solar Modules – Questions to ask when considering buying a solar power system – Which solar panels are right for you? – Building-Integrated Photovoltaics (BIPV) – Desert Knowledge Solar Centre solar panel comparisons – Solar Panel Tilt and Orientation in Australia

Latest posts by James Martin II
(see all)