What is special about Tindo's solar panels?
An Australian solar panel manufacturer
Australia is home to one of the world's most widely recognised solar PV research centres: UNSW's Photovoltaic Engineering faculty. This is where the seeds for the world's largest manufacturer of solar panels–Suntech–were planted. It is also a hub for ongoing development of solar technologies. Despite this, nearly all solar panels available on the Australian market are manufactured overseas. Given Australia's relatively small manufacturing base, this state of affairs may be inevitable, but it does not prevent shoppers from favouring a 'Made in Australia' label where one can be found. This is perhaps why news of Tindo's emergence is causing such a buzz.
Supporting its home-grown image, Tindo's name comes from the Kaurna Aboriginal language–the language of traditional inhabitants of the Adelaide plains, where the company's manufacturing plant is located–and means 'sun'. The name of the company's first panel line–the Karra 240–gets its etymology from the Kaurna word for 'sky' or 'heaven'.
Hand-selected solar system installers
The company prides itself in its commitment to more than just turning a profit, and hopes to appeal to customers who share a similar mindset. Tindo has hand-selected the installers who will install their panels based on their credibility, ethics, and motivations, hoping to build a great reputation through association with quality installations and excellent customer service. As community engagement is one of the qualities that Tindo requires in its installers, almost all of those selected are small businesses who similarly rely on their reputations and word of mouth to promote their businesses and grow their customer bases.
Solar panels that produce grid-compatible AC electricity
Most solar panels produce Direct Current (DC) electricity, which needs to be converted to 240-volt Alternating Current (AC) via a solar inverter in order for it to be compatible with the electricity grid and to be used by home electrical appliances. Most solar systems have centralised inverters into which all solar panels in a system feed. In such conventional systems, if there are variations in electrical output among panels in an individual string, the output of the whole of the array can suffer.
Tindo panels, on the other hand, each come equipped with micro-inverters made by Enecsys. These inverters allow each panel to function individually, converting DC to AC on the module level. This means that entire strings or arrays will not suffer dramatic output losses in the event of the failure or shading of an individual panel; this increases the yield of a system over its lifetime. Although inverters for each panel may mean a higher upfront cost for the panels themselves, decreased installation labour costs, and the elimination of the need for a central inverter offset much of the upfront cost of a whole system. Additionally, improved yields over the life of the system thanks to the micro-inverter technology make micro-inverter equipped panels a wise investment decision.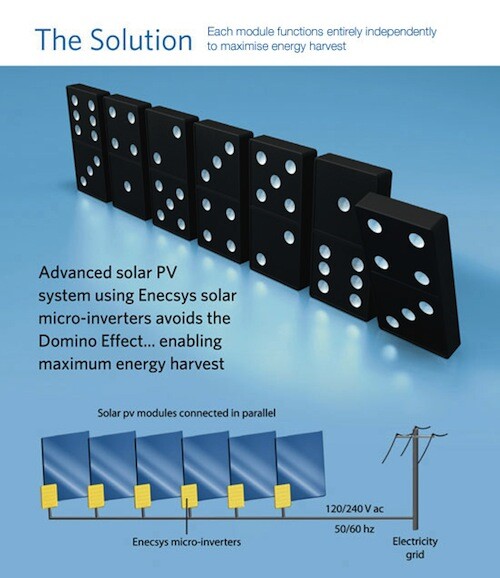 Enecsys Micro-Inverters for Tindo Panels–One panel failure does not bring down the whole array. (Image via Enecsys)
In addition to the obvious benefit of circumventing the need for a central inverter (often the most expensive individual part of a solar PV system), Enecsys micro-inverters offer a number of other potential benefits, including improved safety (avoidance of 'arcing' across strings of panels, for example), enhanced monitoring capability (the performance of each module can be tracked on a smartphone or a PC individually), and simplified system design and installation (no need to worry about matching panel wattage on strings or what the acceptable central inverter input voltage is).
(SolarEdge, as discussed previously, is a  technology similar to that used in Tindo panels, except that DC electricity is harnessed from each individual panel before all being centrally converted to AC in an centralised inverter. While still advantageous in terms of mitigation of output loss due to partial shading, SolarEdge does not afford the same safety features as the Enecsys micro-inverters used by Tindo.)
High-quality components make a high-quality panel
Where can I get Tindo Solar Panels?
As noted above, only around 60 installers who have been hand-selected by Tindo will be using their panels in installations. A number of these installers may be members of the Solar Choice installer network. If you are interested in Tindo solar panels, fill out the Solar Quote Comparison Request form to the right of this page to see if any Solar Choice Network installers in your area offer a Tindo option in their installations.
Resources and Links
Tindo Solar Karra-240 Brochure (pdf)
© 2011 Solar Choice Pty Ltd
Top image via Tindo Solar