Suntech is the largest manufacturer of solar photovoltaic (PV) modules in the world. Suntech's 350-person strong research and development (R&D) team spans three continents. Although Suntech's head office and manufacturing operations are located primarily in China, CEO Dr Zhongrong Shi is a PhD graduate of the University of New South Wales's (UNSW) Photovoltaic Centre of Excellence, and the company's Australian origins and ongoing Australia-based Research & Development are clearly a point of pride for Suntech.
Stepped warranties, Good performance in low-light conditions,
Positive manufacturer's tolerance, and Current sorting
Suntech offers a range of solar panels, from less efficient standard silicon panels to industry-leading high-efficiency panels using the company's newly introduced Pluto technology (also discussed below). No matter which of these technologies is used or the model under consideration, Suntech panels are characterised by a number of features that make them stand out from others in this increasingly competitive field. These characteristics are detailed below.
Standard Suntech Silicon Cells
High module conversion efficiency. Athough module efficiency varies slightly from model to model, Suntech standard poly- and monocrystalline silicon modules routinely achieve 14.9% efficiency, 2 to 5% more than many other panels on the market.
-Positive power tolerance. Suntech ensures its panels' output reliability by guaranteeing that its solar panels will perform at their rated output or greater at the time of purchase: 0 to +5%. This is in contrast to an industry average of +/-3%.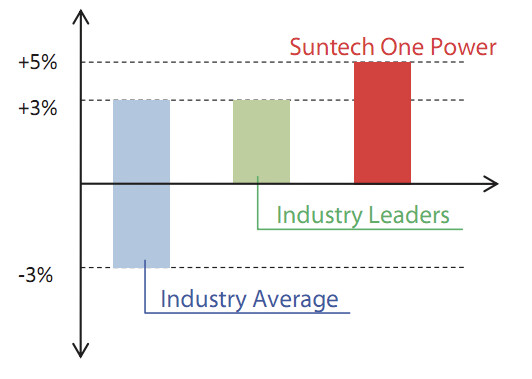 -Better low-light performance. All solar panel arrays will be affected at some point by overcast skies and other sub-optimal lighting conditions. Suntech panels' efficiency is up to 2.5% better in low-light conditions, thanks to their 'edge-isolation' technology, which essentially means shorter 'fingers' on the cells and therefore less wasted sunlight.
-TruPower process. All silicon solar cells are susceptible to material and performance degradation over time due to a phenomenon called 'light-induced degradation' (LID). Suntech's TruPower process takes LID into account in determining nominal system wattage from time of production. This means higher output than most brands over the course of a Suntech cell's lifetime.
-Stepped Warranty means more assurance over a panel's lifetime. Most solar module manufacturers offer a two-step solar product warranty for module components and a 25 year manufacturer's power output warranty for the cells themselves. Suntech warrantees are broken into four steps for more certainty over discreet periods: 10 (as of 15 July 2011), 12, 18, and 25 years, resulting in estimated comparative efficiencies of anywhere from 6% to 28% over the course of a panel's lifetime. This means that the owner is able to more accurately estimate the returns from their solar system over the course of its lifetime.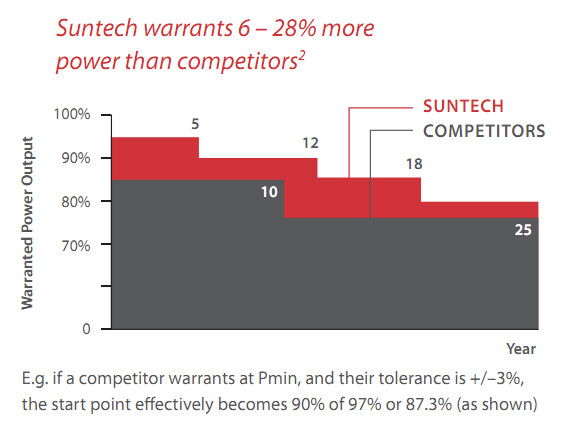 -Current sorting processes. Suntech modules of the same rated capacity are sorted and packaged by current, so that current mistmach losses are reduced by up to 2%.
In focus: Suntech Ad+–190W for residences
The Ad+ is one of four residential solar panels available in Australia. At 14.9% module efficiency, in combination with the other benefits as mentioned above, it offers market-leading value for money.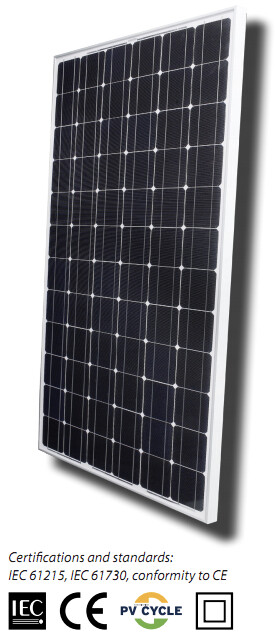 -Product Specifications/Electrical Characteristics-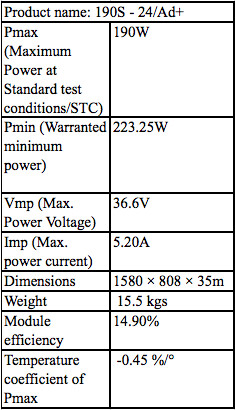 -Component standards met/awards-
–PV Cycle–Suntech participates in PV Cycle's voluntary take-back PV recycling program
–CE mark–Panel is compliant with European Union regulations
-Clean Energy Council–Suntech panels can be found on the CEC approved solar panel list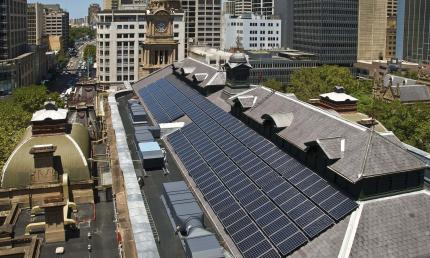 Suntech offers a wide range of reliable silicon solar module products, with capacities between 180W and 280W and including polycrystalline and monocrystalline modules, allowing a great degree of solar system design flexibility.
Suntech's most recent technological development is its Pluto technology, which uses super-fine 'fingers' (the conductive metal strips on the silicon cells) to effectively increase the cell area that can capture usable sunlight. Although not yet commercially available in Australia except for larger, iconic solar installations such as those on Sydney Town Hall and the Sydney Theatre Company, Pluto panels are becoming increasingly widespread in the EU, where limited roof-space means higher demand for high-efficiency panels.
About Suntech
-Company Headquarters-
Wuxi, China
-Factory locations-
China, USA
-Production capacity-
2.4GW capacity for modules, 1.2GW of in-house wafering and cell capacity by the end of 2011.
-Quote-
"Suntech has sold over 15,000,000 panels to thousands of customers in more than 80 countries. Our customers come to trust us as the reliable partner of choice, and with our industry-leading 10 year product warranty they know that Suntech products can provide the safest and fastest return on their investment." Suntech APMEA President James Hu.
Solar Choice is a solar installation comparison service: we don't undertake our own solar array installations, but we do offer free independent solar quote comparisons of what's on offer from trusted solar system installers nationally. Our installers may use components from different manufacturers, and if you're new to solar power installations, you will probably want to know what distinguishes one company's panels, inverters, batteries, and other system parts from those of their competitors. This article is one of a series written to help you make an informed decision about purchasing your solar power system.
Written by James Martin

Latest posts by James Martin II
(see all)