Enecsys microinverters are an innovative technology that offer a revolutionary approach to solar PV system design and installation. Instead of having a conventional, centralised solar inverter, Enecsys microinverters are attached directly to the back of solar panels, thereby avoiding one of the most common issues in conventional solar arrays: efficiency loss in an entire 'string' of panels due to the shading of just one. Currently, Enecsys inverters are used in Australian-made Tindo Karra 240 solar panels.
Update: Enecsys went into administration in Feb 2015. If you are seeking an alternative monitoring solution, read about Enecsys Output.
Advantages of Enecsys microinverters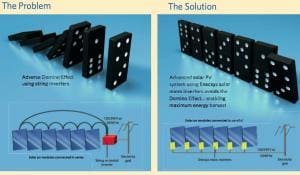 Conventional central inverters
The inverter is arguably the most technologically important part of any solar PV system. The inverter's role is to convert the DC electricity from solar panels into grid- and household appliance-compatible AC electricity. Most solar systems have only a centralised inverter to which panels are connected, which are susceptible to 'bottlenecking' in the production of electricity. This can occur when individual panels or separate strings of panels in the solar array are shaded, resulting in blockages in the flow of electricity.
Enecsys microinverter benefits
Enecsys's technology avoids this issue by allowing each module to produce power on an individual basis, not influenced by neighbouring panels in the same string. This affords system owners and operators a number of benefits, including:
-Maximised electricity yields: Fewer power losses in panel strings and wiring
-Improved safety: Electrical faults in cells will not cause 'backups' that can result in fires through multiple panels
-Extended lifetime and increased reliability: The failure of one module will not bring system production to a complete halt, and Enecsys inverters have a service life of 25+ years to match that of the modules to which they are connected
-Enhanced performance monitoring: Inverters on each panel allows the system owner/operator to monitor the performance of individual panels and quickly identify and troubleshoot problems
-Simplified design and installation: Since each panel contains its own inverter, there is no need to be concerned with string layout, special wiring for the inverter, or mixed orientations–panels can be installed at all reasonable orientations, including just one lone panel on, for example, a west-facing roof.
-Widest ambient temperature range in the industry (-40 to +85 degrees Celsius): Outstanding performance even in extreme conditions
Download: Enecsys microinverter Spec Sheet (pdf)
Enecsys microinverters in Australia's Tindo Karra 240 solar panels
Tindo's Karra 240 solar panels debuted on the Australian market in January 2012, with much media hubbub surrounding the announcement. The panels are being assembled in Adelaide, SA using high-quality components from high-profile manufacturers across the globe, including Enecsys microinverters. Tindo's panels were recently selected for a ground-mounted installation in Adelaide.
Enecsys: Company background
Enecsys Limited was founded in 2003 in Cambridge, UK, where its headquarters are situated, after the patented technology was developed at Cambridge University. Enecsys develops, manufactures, and markets high-end microinverters and monitoring systems for residential and commercial solar PV systems, and aims to stay on the global cutting edge of microinverter technology with high-quality components at competitive prices.
In addition to the UK, the company has sales and support offices in Redwood Shores, California; Bad Homburg, Germany; and Taipei, Taiwan. Enecsys inverters are available in 15 countries worldwide, including Australia.
© 2012 Solar Choice Pty Ltd
(All images via Enecsys)