As the name suggests, microinverters are small inverters for use in solar PV systems, usually installed at a ratio of one per solar panel. By contrast, most solar PV systems in Australia have a single, centralised inverter called a string inverter. What are the advantages of having a solar PV system that uses microinverters instead of a string inverter?
Advantages of microinverters over string inverters
The most important job of an inverter – micro or otherwise – is to convert DC electricity into appliance-friendly AC electricity. Considering only this functionality (and excluding the bells and whistles that can come with microinverters, depending on the manufacturer), there are a number of advantages:
Superior performance in shaded conditions and/or situations where one or several panels are producing less power than others (think: bird poo or fallen leaves). They are also better suited for oddly-shaped or gabled roofs, where panels are installed at different angles and orientations.
Higher overall solar system yields compared to string inverter systems installed in comparable conditions. Microinverters really shine in situations where shading is an issue, but they can also deliver higher overall energy yields compared to string inverter systems in situations where conditions (orientation, tilt angle, access to sun) are ideal.
No single point of failure – if one microinverter (or panel) fails, the rest of the system will continue generating electricity as per usual. By contrast, if a conventional string inverter goes down, it takes the whole system with it – producing no electricity at all.
Longer warranty periods than string inverters: Because they are located on roofs, embedded in or installed behind solar panels, microinverters must offer superior reliability than string inverters, which are generally easier to access. Standard warranties for microinverters tend to be 10-25 years – 10 for when they are installed on the racking and 25 for instances when they are embedded in the panels directly.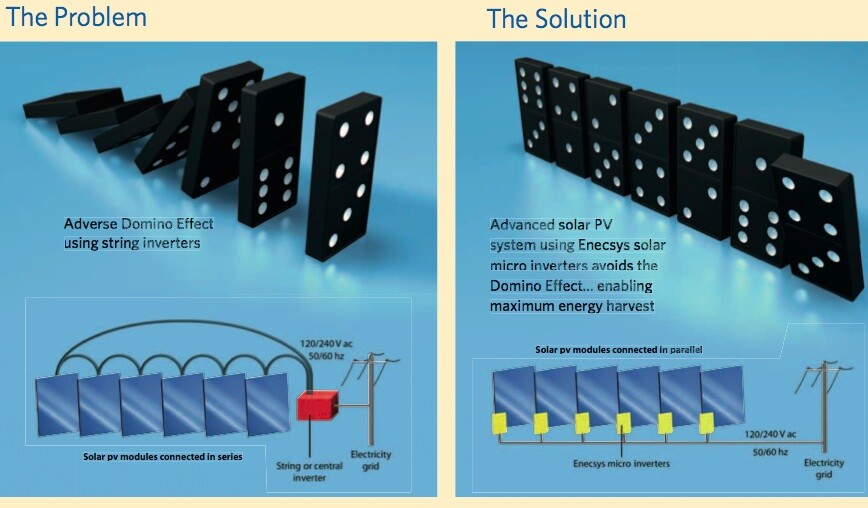 A diagram from (now defunct) microinverter manufacturer Enecsys illustrating the benefits of microinverters in situations when shading or malfunction of a single panel occurs. With a string inverter, system output can drop significantly in such situations, while output will drop less with microinverters.

'Enphase' is not synonymous with 'microinverter'. At the time of writing, Enphase Energy is pretty clearly the dominant player in the microinverter space – but it is not the only one. Most major string inverter manufacturers (SMA, ABB/Power-One & Samil among others) also have microinverter options alongside their standard offerings. Besides Enphase, companies who specialise in microinverters include SolarBridge (now owned by panel manufacturer SunPower) and APSystems.
Let's talk about power optimisers
Although they are sometimes lumped into the same category as microinverters because of the similar benefits that they offer, DC-DC power optimisers are considerably different from microinverters in their architecture and the way that they operate. Here are some key things you need to know about power optimisers:
Like microinverters, power optimisers are small and usually installed at a ratio of one per solar panel. However, unlike microinverters, a central inverter is still required to convert the DC electricity from the panels into usable AC electricity. The job of the optimisers is to condition the power produced by the panels so be as friendly to the inverter as possible – thus maximising overall solar system energy yields.
SolarEdge and Tigo Energy are the two main makers of power optimiser solutions. SolarEdge systems must use a SolarEdge inverter, while Tigo's optimisers are compatible with a range of popular 3rd-party inverters.
Power optimiser manufacturers tend to argue that optimisers are better to have on a (potentially very hot or wet) roof than microinverters because they contain fewer working parts – the job that they do is relatively simple, and what they can't do is done by the central inverter, which is ideally installed in a location less exposed to the elements.
Like microinverters, power optimisers promise overall higher energy yields than string inverters, as well as module-level performance monitoring and superior performance where shading is an issue.
Unlike microinverters, power optimiser systems use a central string inverter – meaning that they have a potential single point of failure. If the inverter fails, the system will cease to produce any energy.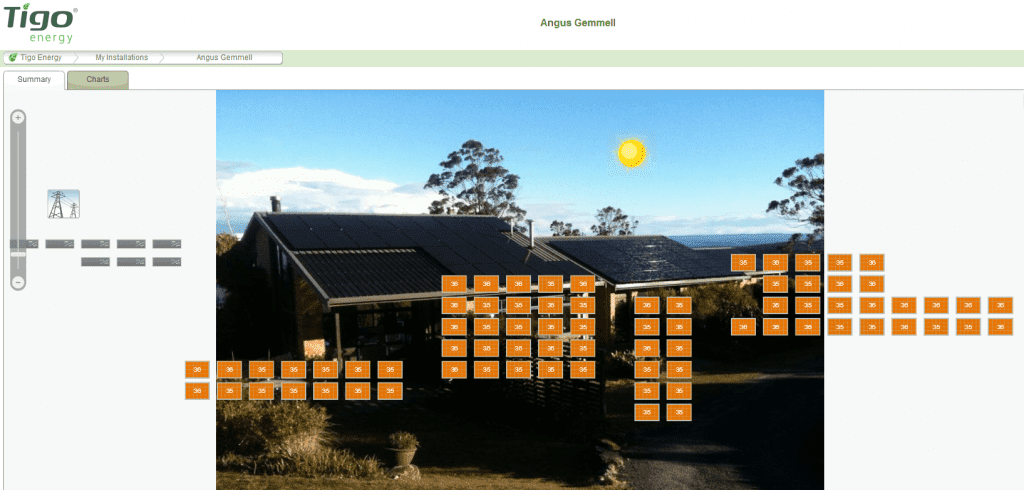 Online monitoring portal screenshot for Solar Choice managing director's 22kW solar system in Kangaroo Valley, which uses Tigo power optimisers.

SolarEdge's power optimiser system architecture.
What are the downsides to microinverters?
Microinverter technology has been on the scene for decades, and there are a number of companies that manufacture them. But when solar PV began its global boom as a power source several years ago it was string inverters that were taken up as the bread-and-butter option.
Despite their advantages over string inverters, the conventional wisdom about microinverters is that they are more costly and more prone to failure because of their greater numbers and location in harsh rooftop conditions. It's worth questioning, however, whether this thinking about microinverters is outdated – even if it eventually turns out that these assumptions are false.
1. Are solar systems with microinverters really more expensive than string inverter systems?
Update: Our monthly Solar PV Price Index now includes microinverter system data
The following page has more comprehensive and relevant information about the topic of solar system pricing:
Check out the recent Solar PV Price Index
Solar Choice has been tracking average solar PV system installation prices since August of 2012, but our monthly articles do not include pricing data for systems with microinverters. In Australia, microinverters are generally viewed as a premium product warranting a higher price tag. Interestingly, one of the purported benefits of microinverters (in marketing literature aimed at installers) is that they reduce labor costs by cutting down on installation time. Another is that they can theoretically be more cost-effective in smaller systems (up to about 3kW) – at which point pricing starts to tip in favour of string inverters.
We had a look at microinverter system pricing for Brisbane at the time of writing to see how microinverter system installation prices stack up against standard string inverter system prices. Of a sample of three installers, microinverter systems were on average $0.42 per watt more than string inverter systems (as per Table 1 below). The prices are for a range of microinverter/power optimiser offerings, including Enphase, APS and SolarEdge.
Table 1: Solar PV system prices for Brisbane: Microinverter vs String Inverter (as of April 2017)
System size
1.5kW
2kW
3kW
4kW
5kW
Averages system price (microinverter)
$3,400
$4,600
$5,250
$6,100
$7,100
Averages system price per watt (microinverter)
$2.26
$2.30
$1.75
$1.50
$1.42
Average system price (Non-micro)
$3,000
$3,360
$3,800
$4,680
$5,100
Average system price per watt (Non-micro)
$2.00
$1.68
$1.27
$1.17
$1.02
Extra cost for micros
$400
$1,240
$1,450
$1,420
$2,000
Extra cost for micros ($/W)
$0.27
$0.62
$0.48
$0.35
$0.40
2. Are microinverters less reliable than string inverters?
This is question is posed because of the relatively harsh conditions in which microinverters must operate: sun-baked Australian rooftops, behind hot solar panels. This question is a bit more contentious and harder to answer with hard data from the field (although I invite those who have data to offer it up in the comments section). We could, however, approach it philosophically.
In Australia the two major microinverter players are Enphase and APSystems. Both offer 10-25 year warranties on their products, which are accredited by the Clean Energy Council. This indicates that they they are designed to operate in rooftop conditions and should be reasonably reliable – and if they're not, they will be replaced (check the terms of the warranties for replacement-related costs). Most string inverters have warranties of 5-10 years and can similarly be counted to function well during that warranty period in most instances.
However, in the instance that a failure does occur, would you rather a) lose the power output from all of your solar panels until it is fixed, or b) see a dip in overall system output until the faulty component is replaced. If you prefer option b (as most people would), then a microinverter system is probably the better option – and potentially worth paying a bit more for.
Want to see current pricing for microinverter & string inverter solar systems in your area of Australia?
Compare Solar & Battery Quotes
© 2017 Solar Choice Pty Ltd

Latest posts by James Martin II
(see all)