Samil Power is a solar inverter manufacturer with production plants in China and sales offices in Australia, Germany, UK, Italy, France, USA and China. The company specialises in all aspects of design, innovation, manufacture, promotion and service of photovoltaic grid-tied inverters. Samil makes a range of high-tech solar inverters for residential and commercial solar applications and has been producing inverters since 2008 (available overseas since 2009). The company currently offers three series of grid-tied inverters: the 1-5kW SolarRiver, the 10-17kW SolarLake, and the 100-500kW SolarOcean for large-scale solar photovoltaic (solar PV) installations. Also available are a number of solar PV system accessories: power managers, system performance monitors, and solar array string combiners.
(A number of accredited installers in the Solar Choice installer network use Samil inverters. Get a free comparison of solar quotes of the installers who operate in your area!)
The range of Samil solar inverters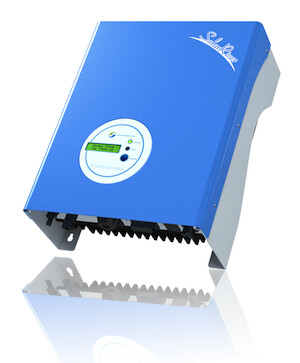 SolarRiver: For residences and small businesses
–Transformerless inverters for nominal solar PV system sizes: 1.1kW, 1.6kW, 1.7kW, 2.3kW, 3.0kW, 3.3kW, 4.4 kW, and 5.2kW (single phase grid infrastructure)
SolarLake: For medium-sized installations and solar farms
-Transformerless inverters for nominal solar PV system sizes: 10.0kW, 12.0kW, 15.0kW, 17.0kW (three phase grid infrastructure)
SolarOcean: For large-scale and commercial applications
-Transformerless inverters for nominal solar PV system sizes: 100kW, 250kW, 500kW
-Transformer-based inverters for solar PV system sizes: 100kW, 250kW
Samil Solar Inverters: Points of Difference
–Rated 'best Asian inverter' (pdf) by Photon Magazine.
–Price competitive: one of the most affordable quality inverters on the Australian market
–Broad range of transformerless (TL) inverters means high-efficiency using the the most modern inverter technology available–it also means that inverters are light and easy to install. (What is a transformerless inverter?
–Peak Efficiencies of up to 97.6%, Euro efficiencies of up to 97.1%, depending on the model. (Read about types of inverter efficiency.)
–Wide Maximum Power Point (MPP) range allows for flexibility in PV array design–important for getting the most out of your solar PV panels where irradiation on solar panels is uneven or where shading is a problem. (What is MPP?)
–Can be installed indoors or out
–Wide range of inverter sizes for flexibility in system design.
–Over 30,000 inverters installed in Australia since 2009
–Low failure rate at <1.5% (as of 18 Sept 2011)
–Up to 25 year extended warranty
-Customer service support: Samil Power Service Centre fields technical inquiries free of charge (1300 134 793)
-Remote monitoring possible with installation of Samil's PowerManager. An RS232 cable may also be connected directly from the inverter to a computer for monitoring from your home PC.
Component standards met/awards
-All models of Samil SolarRiver and SolarLake inverters are on the list of CEC-approved components
–CE mark– Samil inverters are compliant with European Union regulations
-TUV Certification means that claims made by Samil about their inverter specifications have been independently verified by TUVRhineland
–Photon magazine review of Samil (pdf)
Warranties
-5 year standard warranty for short circuit, overload and under-voltage, underloading issues. Warranties can be extended to a maximum of 25 years.
Other products by Samil
Samil also manufactures a SolarPower Manager to keep track of inverter performance via a WiFi connection so that real-time diagnostics and system monitoring are possible on any computer with an internet connection.
About Samil
-Headquarters and factory-
Marketing and Sales Centre: Wuxi, Jiangsu Province, China
Australian head office: Lidcombe, NSW
Manufacturing plant: Jiangsu, China
-History in the industry
Samil has been manufacturing inverters since 2008.
Written by James Martin
Solar Choice Analyst
© 2011 Solar Choice Pty Ltd
Resources and link:
Samil SolarRiver Series spec sheet (pdf)
Samil SolarLake Series spec sheet (pdf)

Latest posts by James Martin II
(see all)