Power-One is an Italy-based company that manufactures a range of power conversion and management products, and is well-known in the solar PV industry for its quality solar inverters for residential and commercial solar applications–especially its Aurora inverter line. The company was established in 1973, and began producing components for renewable energy systems in 2006. The Power-One solar catalogue offers a range of transformerless inverters and monitoring equipment for solar power systems.
(A number of accredited installers in the Solar Choice installer network use Power-One Aurora inverters. Get a free comparison of solar quotes of the installers who operate in your area!)
The importance of choosing the right inverter
An inverter is essentially the 'brain' of any solar power system. Inverters convert the DC electricity produced by a system's solar panels into grid- and appliance-compatible AC electricity. Inverters tend to have shorter lifetimes and warranties than solar panels–5 to 10 years as opposed to 25 or 30–and also tend to be the most expensive part of a system. Generally speaking, looking for a high-end inverter from a reputable manufacturer is arguably even more important than focusing on the quality of the system's solar panel array. Indeed, a strategy of many Solar Choice customers is to opt for solar PV systems with mid-quality panels but high-quality inverters, to safeguard possible malfunction.
Power-One Aurora solar inverter range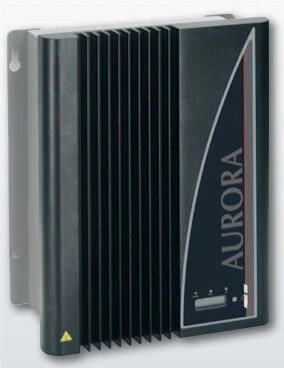 Aurora Uno: Single-phase inverters for residential/smaller systems
Sizes available in Australia: 2kW (indoor/outdoor), 3kW (outdoor), 3.6kW (indoor/outdoor), 4.2kW (outdoor), 5kW (outdoor), 6kW (outdoor)
Download Spec Sheets:
2.0kW Outdoor (pdf)
2.0kW, 3.6kW Indoor (pdf)
3.0kW, 3.6kW, 4.2kW Outdoor (pdf)
5.0kW, 6.0kW Outdoor (pdf)
Aurora Trio: Three-phase inverters for commercial/larger systems
Sizes available in Australia: 10kW, 12.5kW, 20kW, and 27.6kW (outdoor)
Download Spec Sheets:
10kW, 12.5k5 (pdf)
20kW, 27.6kW (pdf)
Power-One Aurora Inverters: Points of Difference
–Transformerless operation for high efficiency: Peak Efficiencies of up to 97.7%, Euro efficiencies of up to 97.25%, depending on the model. (Read about types of inverter efficiency.)
–Broad range of transformerless (TL) inverters (What is a transformerless inverter?)
–High-speed, highly accurate MPPT  (What is MPPT?)
–Can be installed indoors or out
–Wide range of inverter sizes for flexibility in system design.
Component standards met/awards
-All models of Power-One Aurora inverters mentioned above are on the list of CEC-approved components
–CE mark– Power-One Aurora inverters are compliant with European Union regulations
Warranties
-5 year standard warranty
Other products by Power-One
Power-One manufactures a range of renewable energy products, including commercial-scale central inverters, micro-inverters for solar PV, wind power inverters, and solar system performance monitoring equipment.
© 2012 Solar Choice Pty Ltd
All images and spec sheets via Power-One

Latest posts by James Martin II
(see all)