Enphase was the world's first microinverter manufacturer, having pioneered the technology as a solution to some of the typical problems and inefficiencies that afflict solar photovoltaic (PV) systems. Since its founding in 2006, Enphase has shipped millions of units globally, recently expanding its presence to Australia, where microinverters are steadily gaining notoriety and popularity amongst industry players and customers alike. Enphase microinverter technology is now in its 3rd generation, and the company remains a leader in the field.
What is a microinverter?
Microinverters are the next-generation of solar system technology. Whereas the far more prolific, conventional systems have only 1 centralised inverter for the entire solar panel array, microinverter systems couple a microinverter with each solar panel. Systems that use microinverters have a number of potential advantages over conventional systems in terms of system design flexibility, ease of installation, installation costs, and system power yields. Accordingly, such systems are growing in popularity, numbers, and affordability.
Some of the general advantages of a microinverter system over a conventional system include:
-Greater system power yields, especially in cases of partial shading of the solar panel array compared to conventional systems that have 'strings' of solar panels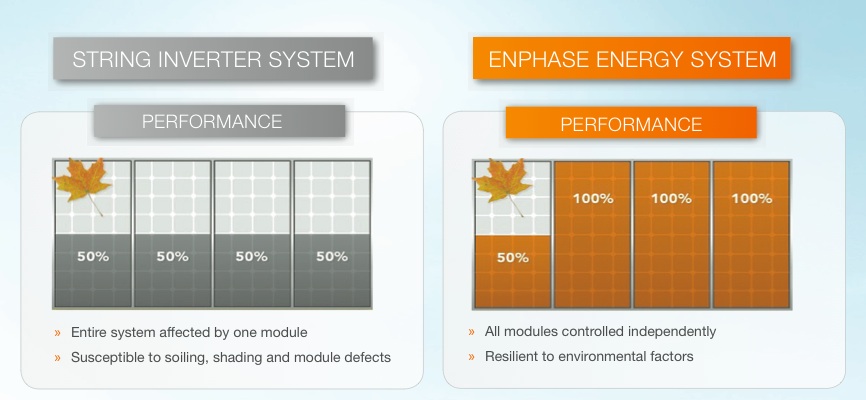 The microinverter advantage in partially shaded conditions. (Click to enlarge. Image via Enphase Energy.)
-Remove potentially more dangerous outgoing high-voltage DC electricity associated with conventional solar photovoltaic (PV) systems
-Individual solar panel power production can be monitored in detail–greater peace of mind for system owners and greater ease in troubleshooting in the event of a problem
Microinverters can also be integrated into solar panels themselves instead of attached to mounting (a "detached" arrangement). Installation of systems that are comprised of these "AC solar modules" is considerably more straight-forward than the panel+microinverter set-up. Enphase Energy's AC Solutions division works with solar panel manufacturers to develop and manufacture AC solar modules that incorporate Enphase's microinverters. Panel manufacturers that Enphase has collaborated with in the US to date includes Kyocera, Hanwha, Sharp, and Shuco.
Read more about microinverters and other alternative solar system layouts.
The Enphase microinverter solution: Points of difference
Enphase Energy bills its microinverter solution as "The world's most advanced inverter technology system". Already on the forefront of solar PV technology as a microinverter manufacturer, the company aims to ensure that it provides end-users with a product that not only promises the generic benefits of a microinverter system, but also a more interactive and informative user experience than most conventional systems specific to Enphase's technologies. Systems that use Enphase microinverters are also arguably easier to install than conventional systems–a bonus for system installers themselves.

Enphase Energy microinverters were used in this solar carport in Tempe, Arizona, USA. (Image via Enphase.)
Features that distinguish the Enphase microinverter solution from others include:
–World-leading efficiency: 95.4% EU efficiency rating, 99.3% dynamic MPPT efficiency
–Innovative cabling and cable connectors for improved system installation speed and ease–cutting installation time and associated costs
–10 year warranty on Enphase microinverters in Australia
–The Enphase 'Envoy Gateway' provides data about individual solar module and inverter performance–either on-site with its LCD display or via the company's 'Enlighten' online software platform. This data can then be accessed from anywhere with an internet connection–including mobile devices–and used for monitoring, electricity load management, system troubleshooting, or even promotional and educational purposes.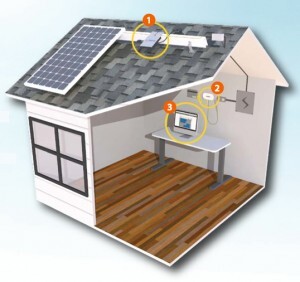 Enphase microinverter technology system: 1) Microinverter, 2) Envoy Gateway, 3) Enlighten Software. (Image via Enphase.)
Download: Enphase M215 Microinverter Datasheet
About Enphase Energy
Headquarters: Petaluma, California, USA
Australian distributors: RFI Solar & AC Solar Warehouse
Enphase Energy also has offices in the UK, France, Italy, New Zealand, and China
Manufacturing facilities: Shenzhen, China
History in the solar industry: Enphase Energy was the first commercial manufacturer of microinverters in the world, and has worked continually to improve its products since production began. The company was formed in 2006 by Martin Fornage and Raghu Belur with the intention of finding a solution to many of the problems associated with conventional solar system inverters. The company has shipped millions of units since it began manufacturing in 2008. Enphase microinverters have recently become available in Australia.
© 2013 Solar Choice