What is an Inverter?
The solar panel inverter is what turns the solar energy generated by solar panels into the useable electricity that powers households. They are an essential component in a solar power system.  The energy generated by the solar panels is in the form of direct current (DC) energy. DC electricity only flows in one direction and is the type of electricity used to power phones and laptops. The role of the solar inverter in a photovoltaic (PV) system is to convert the DC energy into the useable AC electricity that powers households. The inverters are also connected to the grid, this is important as it needs to be able to handle the flow of AC electricity. As any surplus solar generated electricity is fed back into the grid.
Types of Solar Inverters
There are a number of different types of solar panel inverters available in the Australian market, these being, string inverters, hybrid inverters, micro inverters, and power optimisers. All these inverters perform the same function of converting DC to AC but have different methods and positionings in a PV system.
String Inverters
The string inverter is the most commonly used type of inverter for residential PV systems. PV systems with a string inverter have all the panels wired together by one or more 'strings' which then connects to the centrally placed inverter. String inverters are typically located outside on a wall of the house. These inverters are best utilised on roofs with consistent unobstructed sunlight throughout the day. The downside to the 'string' connection is, if one panel experiences a power drop due to partial shading, for example, the whole string is affected.
| | |
| --- | --- |
| Pros | Cons |
| Low cost | Performance heavily impacted by shade |
| Durable | Generally limited to simple systems |
| Easy to maintain | Inability to monitor individual panel performance |
| | Single point of failure |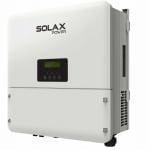 Hybrid Inverters have the same characteristics as a string inverter with the additional feature of a charge controller, this is used to manage a battery inverter system. Charge controllers can also be bought as an additional unit, but hybrid inverters provide the option of an all in one device.
Micro Inverters
Micro inverters as indicated by the name, are small individual inverters that are connected to the back of an individual panel.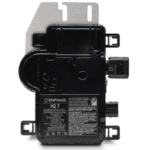 They still perform the same inverter function but at each individual panel. This increases the efficiency of the system as in partial shading only the shaded panels are affected, not the entire system. Microinverters also allow for the potential to upgrade the system at a later date. This is due to the system size not being limited by a central inverter, as microinverters can be easily added or changed. Making it easy to replace if one breaks. 
| | |
| --- | --- |
| Pros | Cons |
| Increased performance | Cost |
| System flexibility | Maintenance |
| Monitor individual panel performance | Electrical components located on roof |
| Easy to replace | |
Power Optimisers
Power optimisers are similar to microinverters as they are connected to an individual panel. They are not a stand-alone inverter and must be utilised in conjunction with a string inverter, as the DC energy still needs to be converted by the string inverter. Power optimisers are certainly an upgrade from a stand-alone string inverter system, providing additional value at a much cheaper price than the micro inverter.
| | |
| --- | --- |
| Pros | Cons |
| Increased performance | Maintenance |
| Monitor individual panel performance | Electrical components located on the roof |
| Cheaper than microinverters | |
What Type of Inverter Should I Choose?
A commonly asked question with no single answer. There are a number of factors that are taken into account when considering what type of inverter is right for a PV system.
Three phase or single phase
Your grid-connected solar inverter will need to match your connection to the grid. If you have a 3-phase connection (which is less common for residential properties) then you will have a narrower range of inverters to chose from and they are generally a bit more expensive. In most parts of Australia it does mean that you can install a larger system and still export energy back to the grid (learn about network solar size limits).
Number of roof orientations
If you are looking at using a string inverter then you will need to take note of the number of MPPTs the inverter has. This dictates the number of different orientations that you can install panels on. For example if you are hoping to install solar panels on the East, North and West sloping sections on your roof, then a typical residential string inverter with 2 MPPTs will not be efficient. That would mean that two orientations would be on the same string and the output would be limited.
So if you have 3 or more orientations, make sure your solar inverter has 3 or more MPPTs or you can also use micro-inverters (like Enphase) or power optimisers (like SolarEdge) to solve the problem. If you are dealing with a reputable solar installer they should be offering a solution that fits your needs.
Shading impact
At Solar Choice we have access to software called Nearmaps which provides aerial imagery across Australia so we can examine whether roofs are going to be impacted by shading at different times of the day and of the year. If possible and safe you can also get up on your roof to take a look, but bear in mind that the sun casts much larger shadows in winter than in summer.
If your roof-space is impacted by shading then you really have no choice other than to look at installing Micro-inverters or Power Optimisers. The additional upfront cost will pay for itself very quickly with the increase output through shade resilience. It would also be wise to ensure you are installing half-cut solar panels which also improve shade resilience.
Budget
If the decision was based purely on inverters efficiency then micro inverters are the obvious choice, but due to the high price they are not feasible for the majority of residential system owners. If the power system is simple and the roof is unobstructed from sunlight, then a string inverter will provide a similar outcome. Additionally the better brands with the best warranty offers such as the European inverters typically cost more.
We've written an article on the Best Solar Inverters in Australia to help make your decision easier.
Important note: This ranking reflects the opinion of Solar Choice only and we encourage readers to do their own research and come to their own conclusions.
Compare quotes from up to 7 installers in your area now.
Two Tests to Determine if an Inverter is Good 
Test 1- Is the Inverter a PV Evolution Labs Top Performer?
PV Evolution Labs (PVEL) with support from DNV GL has been independently testing Solar Panel reliability since 2014, and for the first time in 2019 have tested solar inverters. It is a voluntary test which manufacturers have to pay to be a part of.  The solar panel testing is considered internationally as an excellent indication of solar panel quality. It's expected that the inverter testing will have the same recognition. Click the heading below to download the full inverter scorecard. 
PVEL 2019 PV Inverter Scorecard
Testing
Top Performers
Passive Chamber
• Delta M8-TL-US

• SMA SB7.7-ISP-US-40

Powered Thermal Cycling
• Delta M80U

• Schneider Context CL-60A

• SMA SB7.7-1SP-US-40

High Temperature Operation
• Delta M8-TL-US

• Fronius Symo 24.0-3

• Huawei SUN2000-11.4KTL-US

Low Temperature Operation
• Delta Solivia 3.8 TL

• Huawei SUN2000-11.4KTL-US

MPPT Efficiency
• Delta M80U

• Huawei SUN2000-30KTL-US

• Schneider Context CL-60A

Conversion Efficiency
• Huawei SUN2000-30KTL-US

• Huawei SUN2000-375W-USP0

• Schneider Context CL-60A

Energy Harvest
• Huawei SUN2000-28KTL

• Huawei SUN2000-30KTL-US

• Schneider Context CL-60A

AC Operational Envelope
• Delta M80U
DC Operational Envelope
• Delta M80U

• Schneider Context CL 25000NA

Transient Response
• Delta M8-TL-US

• Fronius Symo 24.0-3

• Huawei SUN2000-11.4KTL-US

Ground and Arc Fault
• Delta M8 TL-US

• Delta Solivia 3.8 TL

• Fronius Symo 24.0-3

30 Day Runtime Performance
• Huawei Sun2000-11.4KTL-US

• SMA SB7.7-1SP-US-40
Test 2- Does the Manufacturer have an Australian Office and Easy Warranty Claim Process?
Relying on your solar installer is not always an option as we've seen many residential solar installers (including the large ones) go out of business well within the lifetime of the systems they are installing.
To make sure you have options to claim warranty, Solar Choice recommends:
Visit the Solar Inverter manufacturers website
Make sure they have an Australian office with an office number you can call
Make sure the warranty claim process is clearly outlined on their website

Industry Standards for Solar Inverter Warranty Periods
Inverter warranties can vary in length, the minimum year warranty that should be accepted is 5 years with 10 years being more ideal. An increasing number of manufacturers are now offering the ability to purchase an extended warranty, up to an additional 20 years from certain manufacturers. The list below includes warranties of CEC approved inverter brands and whether they have an Australian office.
Comparison of Key Performance Specifications For 5kW Grid-connect Inverters
The below table displays the performance characteristics across the major solar inverter brands and their most commonly used 5kW inverter for a grid-connected system.
Inverter
Efficiency
Rated AC Power
Max Input Power (DC)
Max Continuous Current
Operational Temperature
MPPTs
Fronius Primo

5.01-1 AUS

98.1%
5,000W
7,500W
21.7A
-40°C to 55°C
2
Fimer (ABB)

UNO-DM-TL-PLUS-Q

97.4%
5,000W
7,000W
22A
-25°C to 60°C
2
Goodwe

DNS 5kW

97.8%
4,999W
6,650W
21.7A
-25°C to 60°C
2
Huawei

SUN2000 -5KTL-L1

98.4%
5,000W
7,500W
21.7A
-25°C to 60°C
2
SMA

SB5.0-1AV-41

97.0%
5,000W
7,500W
22A
-25°C to 60°C
2
SolarEdge

SE5000H

99.2%
4,985W
7,750W
23A
-40°C to 60°C
Optimisers
Solax

X1-5.0T

97.8%
5,000W
6,600W
21.7A
-25°C to 60°C
2
Sungrow

SG5KTL-D

97.5%
4,990W
7,200W
20A
-25°C to 60°C
2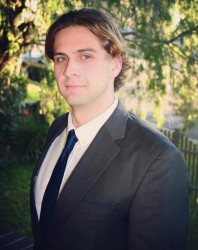 Latest posts by Jack Boutchard
(see all)