The PowerRouter is an innovative inverter/energy management system that broadens the range of options for using power from small-scale electricity generators such as solar PV systems, giving solar- and wind-powered homes and businesses more independence from the grid. Unlike conventional grid-connect inverters, the PowerRouter allows households and businesses with batteries the option of storing solar power for later use, and even enables them to use their solar power in the event of grid failure or blackouts. The technology's simple 'plug-and-play', modular nature makes upgrading and expansion simple ("connect and grow"), and web-based system monitoring capability comes standard with all units.
For PowerRouter-related warranty claims or enquiries, please contact Nedap directly on +31 544 471 830 (Netherlands)
Conventional inverters for solar PV systems–'Now or never' for electricity usage
For most households, solar panels are not of much use without an inverter. The inverter is the part of a solar power system that converts DC electricity to grid- and appliance-friendly AC electricity. With conventional grid-connect inverters, the power produced is either used directly by the occupants of the building or exported to the grid as it is produced. Households do not ordinarily have any say regarding when the power produced is used–if they want to take advantage of this power (especially in a state with no solar feed-in tariff like NSW), they have to use it when it is generated, or it goes into the grid. This is the case even with some of the 'smarter' inverters that have Maximum Power Point Tracking (MPPT) capability.
The PowerRouter Solar Inverter: Use your solar power as you want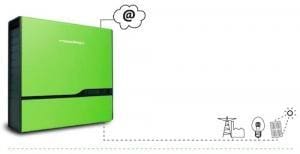 Optimise for feed-in tariffs or self-use
Depending on what extensions are added to the basic Solar Inverter unit, the PowerRouter circumvents this limitation with its intelligent 'firmware'. This allows power to be used according to the system owner's preferences. The PowerRouter Solar Inverter itself is a high-tech, MPPT-equipped inverter that enables the owner to choose whether to have solar power exported to the grid or used first in the home ("self-use"). This is beneficial in areas where the solar feed-in tariff rate is higher than the commercial tariff rate (such as Queensland, South Australia, and Victoria), and where it therefore pays to maximise electricity exports to the grid.
Web-based communication with your inverter
All PowerRouter Solar Inverters come with web-based logging features that allow you to monitor production (e.g. system performance, profit, and solar yield) and control your preferences for power usage when you connect your unit to the Internet.
Power from your solar panels even when the grid fails
Most inverters are equipped with an 'anti-islanding' feature which shuts down your inverter in the event of a blackout or grid failure. This happens for safety reasons–mainly so that electricians working to fix downed power lines do not get electrocuted by rouge solar systems. The PowerRouter, however, while still disconnecting from the grid, becomes an 'island' when the grid goes down, and provided the sun is out and your solar panels are producing power, you can still use your appliances by plugging them into a unique "local out" connection. Further stability can be attained by adding a battery bank and the PowerRouter's Battery Manager unit to manage it.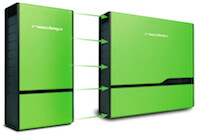 Increase your PowerRouter's capabilities with expansion units
The PowerRouter's modular nature makes expansion simple, saving households money on installation and upgrades. The PowerRouter's core unit is the Solar Inverter. By adding a Battery Manager intelligent control of power can be achieved.
PowerRouter Solar Inverter specs at a glance
At the moment, PowerRouter Solar Inverter and Solar Battery units are available in 5.0kW, 3.7kW, and 3.0kW versions. All units are dual MPPT capable and are compatible with all types of solar panels.
–PowerRouter Factsheet and Specs (pdf)
–PowerRouter Solar Battery Factsheet and Specs (pdf)
For PowerRouter-related warranty claims or enquiries, please contact Nedap directly on +31 544 471 830 (Netherlands)