Kyocera has introduced an integrated Energy Management System (EMS) and battery storage solution onto the Japanese market for the summer of 2012. The Kyocera EMS combines Kyocera solar panels with high-capacity lithium-ion storage units from electronics and battery component manufacturer Nichicon.
The EMS has found a context for its introduction in the aftermath of the 11 March 2011 earthquake, tsunami and ensuing nuclear crisis that has galvanised public support for a definitive policy direction towards greater uptake of renewable energy generation technologies. The Japanese government has introduced one of the most generous Solar Feed-in Tariffs in the world amongst a suite of other measures designed to increase uptake of technologies such as solar PV, wind, geothermal, and batteries.
Batteries have conventionally been seen as a technology for off-grid / stand-alone power systems, especially due to their historically prohibitively high prices–grid-connected homes would not ordinarily find it necessary to have a backup battery bank. Furthermore, it has only been in recent years that lithium-ion (Li-ion) batteries have started to come down significantly in price, thanks in part to the growing popularity of electric vehicles (EVs). Li-ion batteries are a safer, longer-living alternative to lead-acid batteries, which are the type most commonly used in stand-alone power systems.
"While striving to realize a low-carbon society through use of renewable energy, and in the wake of the March disasters, there has been a rapidly increasing need in Japan to address electricity supply instability. This requires implementing energy demand peak-time cuts and peak-time shifts through on-site energy creation and energy storage to stabilize energy demand, as well as the increasingly popular concept of local energy self sufficiency," said a Kyocera media release.
The goals of the system are to enable households and businesses to make the most of their on-site energy production. "This new system combines the two vital themes of power generation and power storage using Kyocera's solar power generating system and Nichicon's energy storage unit," explained Kyocera President Tetsuo Kuba at a joint press conference with Nichicon held in Kyoto, January 16. "Kyocera will use its energy-management technology to launch this new comprehensive system for optimizing residential energy use, and thus make a real contribution to preventing climate change."
Kyocera EMS features
Kyocera's EMS was developed through Kyocera's own R&D, but also incorporates components manufactured by Nichikon and batteries from Samsung. The system is designed to make the economical management of on-site power production and consumption easy and intuitive.
The key features of the system are, according to Kyocera:
1. Long-lasting, high-capacity lithium-ion battery
The system uses a lithium-ion battery, which can last roughly 5 times longer than conventional lead-acid batteries. The battery has a high capacity of 7.1kWh (additional capacity of up to 14.2kWh may be purchased), weighs roughly 200kg and has a size of 120H × 90W × 35D (centimeters–roughly the size of a medium-sized bookshelf).
2. Various EMS modes to fit energy use patterns and needs
The new system offers various operating modes to meet the energy use patterns and needs of various customers — whether their peak energy consumption occurs in the daytime or at night; and for families who want to prioritize reducing their energy bill or those who place a premium on guaranteed electricity supply.
This feature also allows homes to take advantage of Feed-in Tariffs at times when solar panels do not produce power; it is possible to feed electricity into the grid from the battery bank even after the sun has gone down.
3. System automatically switches to independent operation in the event of a natural disaster or electricity black-out
In the event of a prolonged black-out, the battery can be charged directly by the solar modules during the day, allowing users to draw from the battery at night or during inclement weather.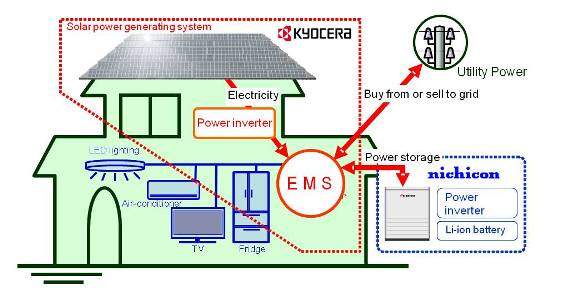 Is Kyocera's EMS available in Australia?
The EMS is not yet available in Australia.
Top image via Kyocera.
© 2012 Solar Choice Pty Ltd

Latest posts by James Martin II
(see all)