Energy Storage Australia 2015, held at Double Bay's InterContinental Hotel on November 18-19 and organised by the Australian Solar & Energy Storage Councils, captured in both atmosphere and specifics the excitement and real opportunities for energy storage in Australia. The event consisted of two days of back-on-back talks by industry professionals discussing what lies ahead for one of Australia's fastest-growing and promising industries.
Exhibition and sponsors
A small exhibition area populated by several battery storage product manufactures (who were all also sponsors of the event) sat to the left of the stage where all of the talks were delivered. These included Shenzhen Clou Electronics Co, Shandong Sacred Sun Power Sources Co, flow battery maker Rongke Power and Alpha-ESS. Also present were China Aviation Lithium Battery Co (CALB – who I spoke with at length), solar forecasting technology company Reuniwatt, electric vehicle battery solutions developer Dianba New Energy and lithum battery developer Sinowatt. With a few exceptions, most of these were companies hoping to break into the burgeoning Australian energy storage market – and using ESA 2015 as the chance to make connections.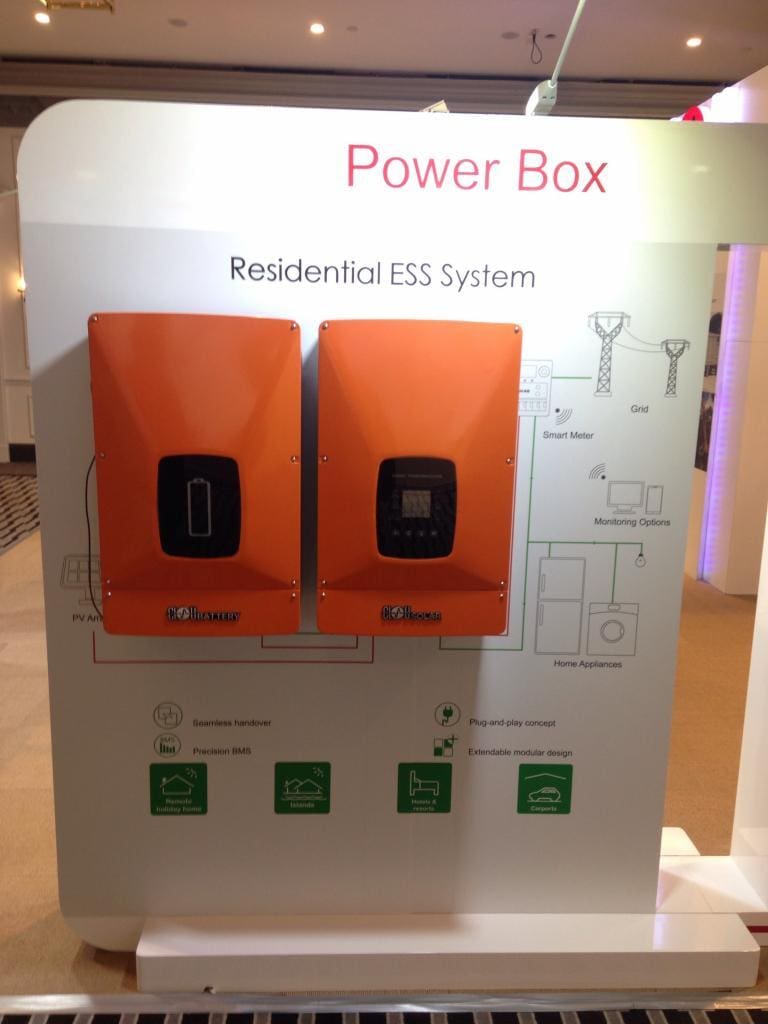 Shenzhen Clou Electronics' Power Box home energy storage system.
Presentations: The case for battery storage on the residential, commercial, generation and grid level
The two days of successive talks encompassed an impressive breadth of topics, each one touching on some of the challenges and opportunities in the industry's development. Pitched in large part towards those companies aiming to become players in the Australian market, they covered virtually every topic of interest for every industry segment – from the residential and commercial markets to the opportunity for the use of batteries to play important roles for grid operators as well.
Some of the highlights included:
Solar Council head John Grimes, who kicked off the event as the MC for the first day, offering in his keynote speech a high-level summary of what makes Australia a great place for battery storage, and what lies ahead – provided that Australia as a whole manages to unlock its huge potential. Later in the day he also took some time to highlight the 'natural partnership' between Australia and China – and how innovations here are frequently put into practice in China on a broad scale which would be unattainable here thanks to economies of scale. He mentioned China's ambitious electric vehicle targets (10 million on the road by 2020), as well as the use of EVs – using Chinese-developed and manufactured batteries – in public transportation.
Vince Duffy from the South Australian government, who talked about the state's suite of programs aiming to bring its electrical infrastructure into the modern age by harnessing the power of battery storage – in particular mentioning how distributed, residential solar + storage holds the key to 'flattening' peak demand with the ultimate end of keeping electricity affordable for all of the state's residents.
The ACT's Jon Sibley, who spoke about the territory's ambitious renewable energy goals – which include a reverse-auction feed-in tariff program for large-scale solar + storage projects.
Mark Williamson of the Clean Energy Regulator, who spoke on the very important point of regulation of energy storage installations from a safety and consumer protection perspective. While the incentives available under Australia's Renewable Energy Target mean that there are substantial safeguards and a inspection regime in place for solar PV systems – including new solar + storage systems – the same will not be true for retrofit energy storage systems. This, he says, underpins the need for training, accreditation and standards to ensure battery safety – not to mention regulations around consumer protections. "Selling a battery storage system without monitoring software and training is like selling a car without a dashboard," was one of the most useful and memorable lines from his presentation.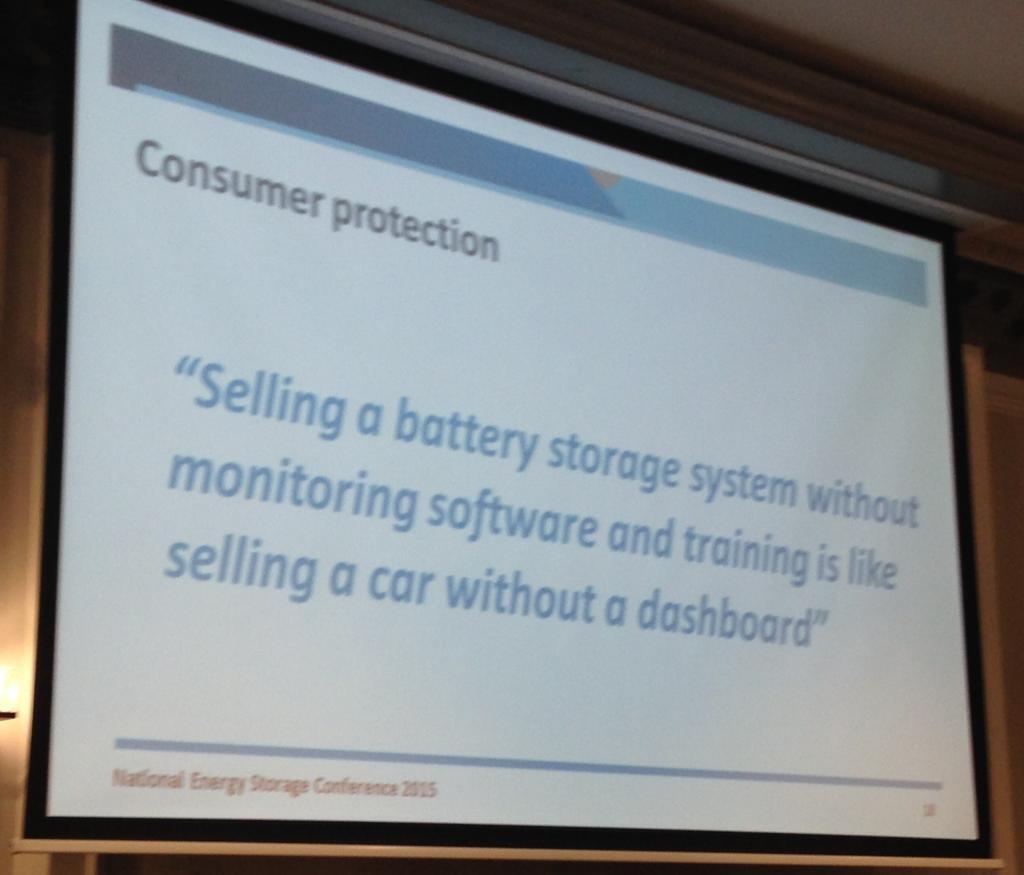 The Australian Energy Market Commission's John Pierce, whose talk focused on the need to change electricity market rules to match technological advancements, and how these advancements are allowing once passive electricity consumers into much more proactive players in the market – a 'redrawing of the line' for where regulation is required vs where the free market should let things play out.
Timothy Nelson of AGL Energy, who talked about the need for retail electricity tariffs to evolve to meet today's realities – and to better serve the customers they are designed for, in order to keep overall costs down.
Sherry Wei of CALB, who talked about the (government-owned) company's innovations on the lithium-ion battery development front. The company's products span beyond simple batteries, also including complete energy storage solutions for residential, commercial and utility-scale applications.
© 2015 Solar Choice Pty Ltd