A new report has warned that Australia could miss out on the booming global solar market – a market some say will be worth more than $130 billion by 2020 – if the Renewable Energy Target is diluted or scrapped.
The report, from The Australia Institute, says Australia has already become "a rare exception," in a global market where solar PV costs are declining faster than that of any other energy source – making it the prime candidate to beat out wind and fossil fuels as the next low-cost source of large-scale generation.
And it confirms what the clean energy industry has been saying for some time now: that any future huge potential investment in solar is absolutely dependent on a stable, strong large-scale RET.
"If large-scale solar is to be built in Australia, the RET is integral," the report says, noting that with the current RET maintained, the lowest cost solar projects could be viable as early as 2018 based on forecasts from the Bureau of Resource and Energy Economics (BREE).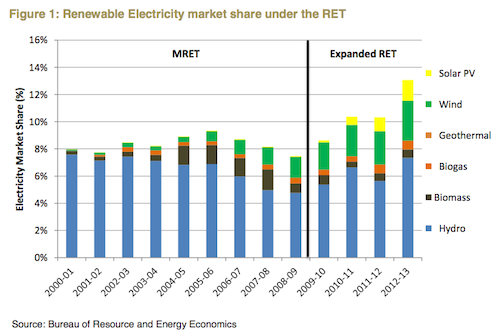 An extension to a "real" 40 per cent by 2030 target would provide an even earlier tipping point to trigger major solar investment.
Even under a 30 per cent by 2030 scenario, the report notes, solar increases its profitability, while that of most other energy sources falls, including wind – and that's according to the government's own modelling.
But with the fate of the RET still hanging in the balance – and despite the PM's assurances this week that the Coalition "absolutely" supports renewable energy – Australian big solar projects have been rendered worthless, and potential investment has been driven away, the report says.
"Since coming to office, the Abbott Government has given the renewable energy industry very mixed signals, and as a result there has been an 88 per cent collapse of investment, costing jobs and reducing energy supply," TAI executive director Dr Richard Denniss said in a statement on Tuesday.
Meanwhile, says the report, continued investment in research and development of solar energy technologies, and the ramping up of production capacity in China, Taiwan, Japan, Germany and the United States continues to drive down costs.
So much so that, according to BREE, solar PV is on track to achieve the lowest unsubsidised cost of all new generation sources before 2040, ahead of wind and all fossil fuel technologies, with the potential for some solar PV projects to be cheaper than comparable wind projects sometime earlier.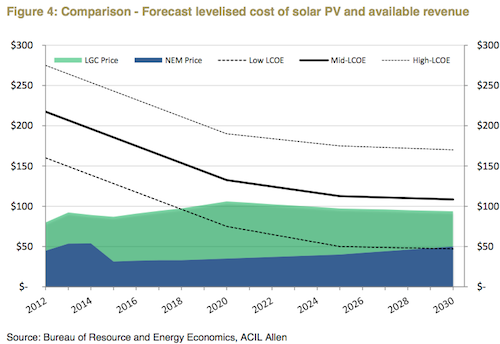 But not in Australia, the report says. And any reduction in the RET will only make the adoption of large-scale solar much more difficult.
"The industry voice is clear – if they don't get a strong RET soon, we'll see all of the potential investment and jobs go where they are welcome. They also need the certainty of a political commitment to the policy going forward," said Denniss.
"A 40% target would provide the boost in confidence that would likely see a surge of large-scale solar projects.
"Any government that is concerned about 'intergenerational theft' should be backing a strong RET."
© 2015 Solar Choice Pty Ltd

Latest posts by Giles Parkinson
(see all)