A new report from Australia's official economic forecaster has underlined that solar and wind will be the cheapest low carbon energy technologies in Australia.
The Australian Power Generation Technology Report – a 362-page collaborative effort from more than 40 organisations, including the CSIRO, ARENA, the federal government's Department of Industry and Science and the Office of the Chief Economist – has been used to provide "credible technology cost and performance data for 2015 to 2030."
It comes at a critical time, with the nuclear lobby, supported by existing coal generators, pushing nuclear generation heavily, on the basis of previous technology cost assessments that had unrealistically optimistic views of its costs.
But the APGT report has essentially ruled out nuclear power for the whole of Australia, revealing that the technology is becoming more and more prohibitively expensive, at around double the capital cost estimated three years ago – and double the cost of competing solar and wind technologies.
The research – undertaken by the Electric Power Research Institute (EPRI), Worley Parsons in Australia and Ernst and Young, and peer reviewed by the Australian Government Bureau of Resource Research Economics (BREE) –finds nuclear to be more expensive than wind and five out of six solar technologies in 2015.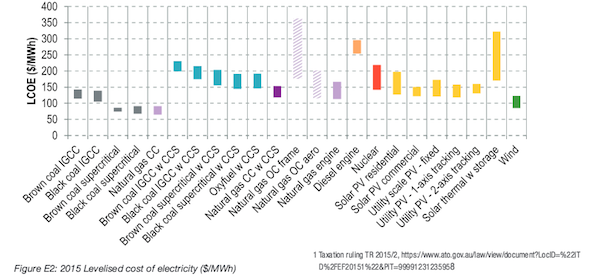 By 2030 (below), it is more expensive than everything. And this is the figure that counts, because it is an impossibility that nuclear could be built in Australia before that time. Some would suggest it would take another 10 years.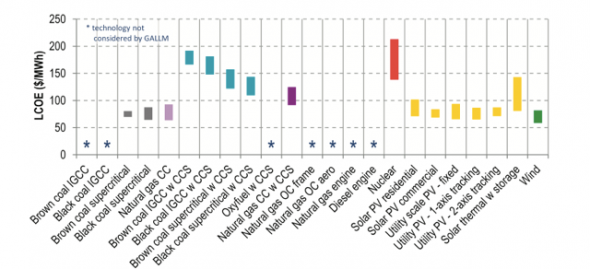 Both the nuclear and the coal industry lobbies have a shared advantage in slowing down the deployment of wind and solar, because it narrows and ultimately removes the need for large-scale centralised generation. The energy system of the future will be based around dispatch able generation.
On this note, the latest estimates for solar thermal and storage are also interesting – vastly cheaper than the estimates for nuclear, despite the pretensions of many in the nuclear booster camp.
The new report came one day after nuclear power was ruled out as a contributor to the future low-carbon electricity mix of South Australia by a government-commissioned advisory panel, which said it was too expensive.
© 2015 Solar Choice Pty Ltd