New-build solar PV has been identified by German researchers as one of two market-ready renewable energy sources that can generate electricity for up to 50 percent cheaper than new-build nuclear.
The study, which compares feed-in tariffs for nuclear in the UK with FiTs for renewables in Germany, concludes that solar PV, along with wind energy, is cheaper than both nuclear and carbon capture and storage (CSS) in terms of low-carbon energy strategies for preventing climate change.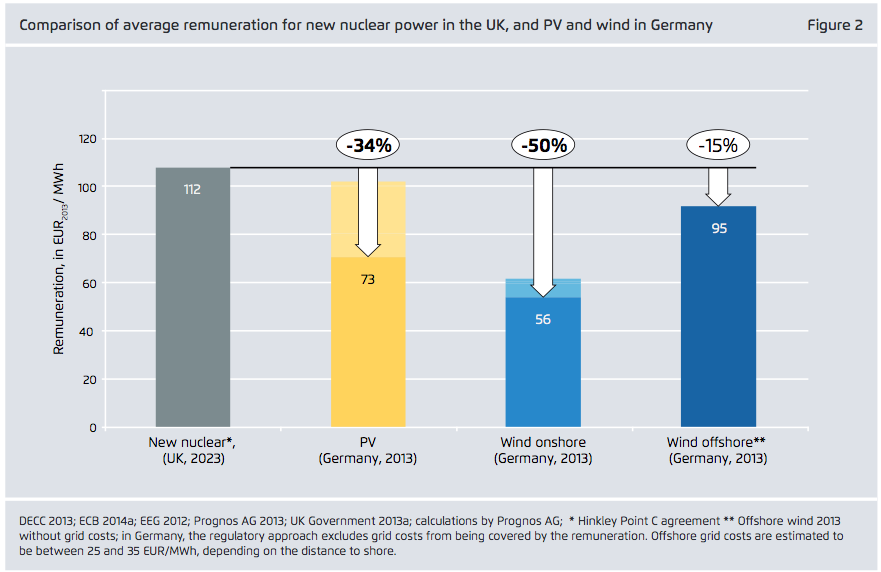 Released this week by German think tank Agora Energiewende, the study also investigates the costs of "complete power systems," using natural gas power as flexible peak load back-up. It concludes that, "even today and under conservative assumptions," a reliable power system based on solar PV, onshore wind and gas would be around 20 per cent cheaper than a system based on nuclear power and gas.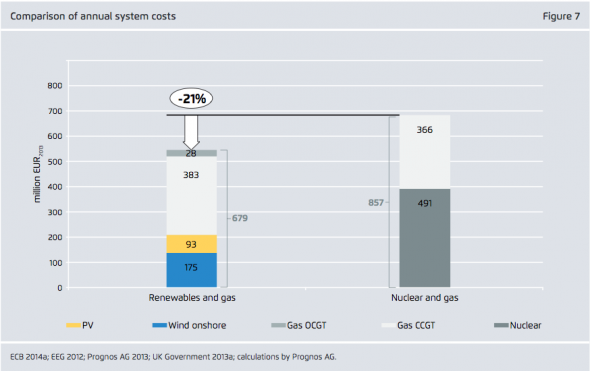 Interestingly, power generation system with high shares of coal or gas CCS are not included in the study, due to cost comparisons "clearly showing" it is "even less competitive (than nuclear) in comparison to PV and onshore wind." (See chart below.)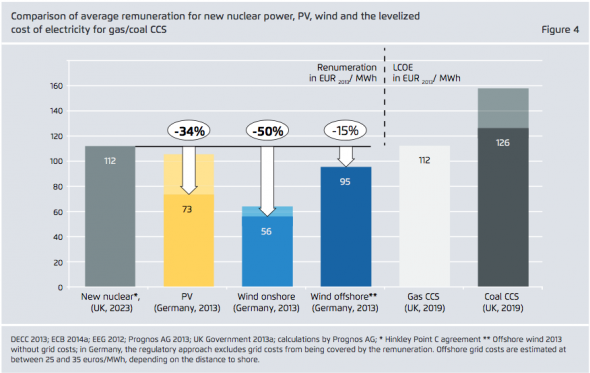 As an analysis of the report points out on the Agora Energiewende website, the "drastic declines" in the costs of power from wind and solar PV can be attributed to two decades of technological advancement, with feed-in tariffs for PV falling by 80 per cent in Germany in the past five years alone.
As the chart below illustrates, the value of payments for nuclear power in the UK during the reference time frame remain constant, assuming a fixed exchange rate of £0.85/euros. By contrast, says the report, "the value of payments for PV and onshore wind in Germany diminishes continuously."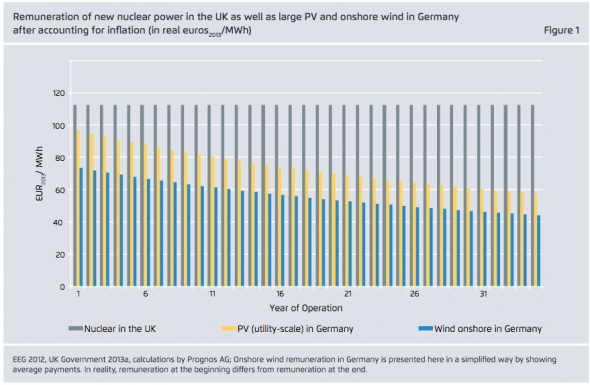 "New nuclear power is remunerated with a constant payment of €112/MWh (2013 prices) for 35 years," says the report. "In contrast, large PV in Germany receives €96/MWh at the beginning, which declines to €57/MWh in the last year of operation. Similarly, onshore wind in Germany starts at €73/MWh and decreases to €44/MWh.
"Overall, Figure 1 (above) shows that PV and onshore wind remuneration in Germany is considerably lower than the remuneration paid for new nuclear power in the UK, even without taking into account further cost reductions for PV and wind that are likely to occur due to future technological learning effects."
© 2014 Solar Choice Pty Ltd
Giles Parkinson regularly contributes unique content to Solar Choice News. Giles is the founder and editor of clean energy industry news service RenewEconomy. He is a journalist of 30 years experience, a former Business Editor and Deputy Editor of the Financial Review, a columnist for The Bulletin magazine and The Australian, and the founding editor of Climate Spectator.
Latest posts by Giles Parkinson (see all)