The Australian Solar Council has declared its first Save Solar Community Forum a success, with representatives of Labor, the Greens and the Palmer United Party (PUP) coming together under one roof to declare their support for an unaltered Renewable Energy Target (RET) to a packed venue on Wednesday night.
Among those who spoke were ALP leader Bill Shorten and shadow Minister for Environment Climate Change and Water Mark Butler, as well as Greens leader Christine Milne. PUP leaders Clive Palmer and Glenn Lazarus were unable to attend personally but sent a representative to read a statement in their place. Local member for Barton, Coalition MP Nickolas Varvaras was invited but was unable to attend.
"Labor is standing strong behind the RET… we are not for turning on the issue of renewable energy," said Mr Shorten. Labor recently clarified their position that they would fight any legislation that would result in a weakened RET.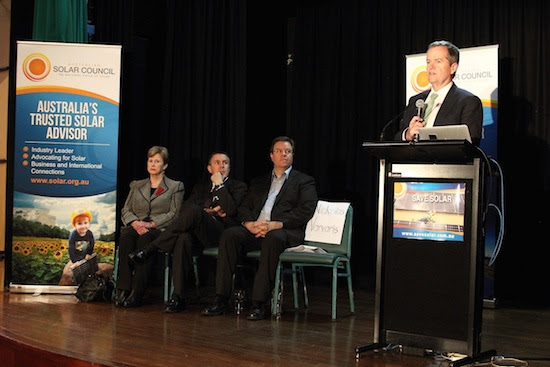 Bill Shorten speaks at the Save Solar Forum. (Image via Australian Solar Council.)
"The Abbott Government is determined to hold back the future. They'd like to bury solar to dig up more coal," said Ms Milne. The Greens have long been the staunchest supporters of strong renewable energy policy in Australia, and their support of the RET has never been in question.
The Palmer United Party also reaffirmed its support for the RET, with PUP-backed independent candidate for Charleston Suellen Wrightson reading a statement saying that, "The Palmer United Party will block any attempt to reduce the Renewable Energy Target." Of the 3 parties, PUP is the most recent addition to the pro-renewables contingent in the federal government, with Clive Palmer dramatically appearing on stage with Al Gore to deliver a surprise pro-RET speech in June.
Wednesday's forum is the first of a number of similar forums that the Australian Solar Council is planning for marginal seats across the country under its Save Solar campaign. Mr Varvaras holds his seat by a very small margin (in the range of 400 votes). The next forum will be held in the Melbourne electorate of Deakin, with a date to be announced in the coming days.
Top image via the Australian Solar Council
© 2014 Solar Choice Pty Ltd