A NSW survey on rooftop solar households in the state has confirmed what the battery storage industry has been predicting for months now – that the market for residential energy storage is set to boom in NSW as a huge percentage of solar households come of premium feed-in tariffs.
The survey – conducted by the state's Independent Pricing and Regulatory Tribunal in 2015 and the results published on Tuesday – found that an average of 20 per cent of NSW homes had installed rooftop solar.
The highest uptake of rooftop PV in the state was in the state's Riverina and North Coast regions, with penetration as high as 30 per cent in those areas. Uptake was recorded to be lowest in eastern Sydney, at just 12 per cent of households.
Interestingly, a vast majority – 75 per cent – of NSW's solar systems were found to have been installed more than 18 months before the 2015 IPART survey.
And of all the households that have solar in the state, between 40 and 60 per cent of NSW them were found to be on a subsidised feed-it tariff of somewhere between 20c/kWh and 60c/kWh under the now closed state Solar Bonus Scheme. According to IPART, "significantly  more  households said they received 60c/kW than 20c/kWh.'
It is this sort of statistic that Australia's battery storage industry has had its eye on, with many players predicting a surge of residential battery adoption in the state as these households come of the premium FiT and experience the shock of getting just 5-6c/kWh for their solar exports, after years of getting paid as much as 60c/kWh.
(As a side note – and as you can see in the chart below – an alarming proportion of the IPART survey respondents "didn't know" what rate they were getting for the solar they exported to the grid, ranging from 22 per cent in Eastern Sydney to 9 per cent on the North Coast.)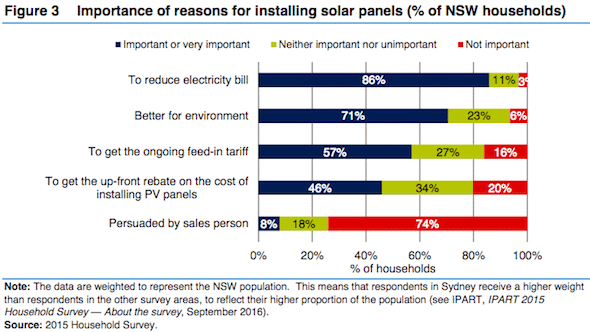 The IPART survey notes, those NSW solar households not on the premium FiT – between 22 and 43 per cent of households – are receiving a voluntary unsubsidised tariff of between 6-8c/kWh.
The reasons these households installed solar in the first place are also interesting. According to the IPART survey, for the vast majority (86%) the primary motivation for getting rooftop PV was to reduce electricity bills. Another 57 per cent said they installed solar to get the ongoing feed-in tariff.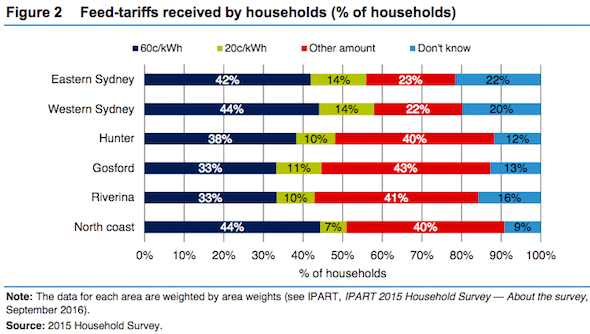 Other reasons given included: to get the up-front rebate (46%); because the sales person was convincing (8%); to avoid power blackouts; to earn extra income; and to increase the resale value of their house.
© 2016 Solar Choice Pty Ltd