A total of more than 180,000 West Australian households have installed rooftop solar, new data has shown, taking total residential penetration to 18 per cent of the state's population: an increase of nearly one-fifth in just one year.
The data – put together by WA Greens Senator Scott Ludlam using the most recent figures from the Clean Energy Regulator and specially commissioned data from the ABS – show that WA's combined solar rooftops currently have a total rated capacity of 463.396 MW – the equivalent of two typical coal fired power stations.
The state now boasts four postcodes in the Australian top 20 solar installers, including Mandurah at number 2, North East Wanneroo at number 8, Canning Vale/Willeton at number 12, and Cockburn at number 19.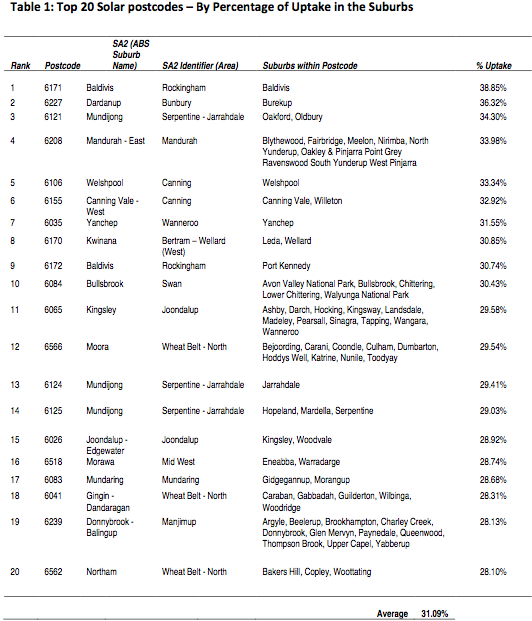 Ludlam, who is also co-deputy leader of the Australian Greens, said the statistics showed just how far ahead of the curve the state's householders were, compared to the state government.
"Energy Minister Mike Nahan has previously expressed surprise at the rapid take-up of rooftop solar by the state's households and leads a department completely underprepared for the rapid switch to clean energy," Ludlam said in a statement on Monday.
"It's like being surprised by a snail – you have to have your back turned for an awfully long time.
The WA data also puts paid to the myth that solar energy is the preserve of wealthy householders, with evidence that the state's lower-income postcodes and small Wheatbelt towns were leading the charge to solar self generation.
A total of six regional communities made it into WA's top 20 solar postcodes this year, said Ludlam, including Dardanup (at #2) in WA's south-west region, where 36 per cent of rooftops have solar; and Mundijong (#3) in the southern area of the greater Perth region, with 34 per cent of households installing solar.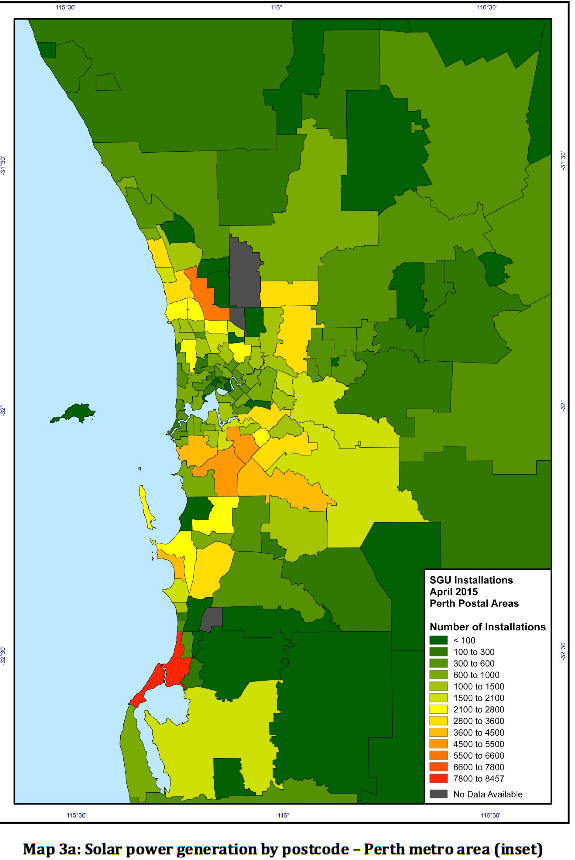 In a separate analysis, the communities of Yealering (6372) and Pingaring (6357) in the southern Wheatbelt shire of Kulin achieved a massive increase in solar uptake of 37 per cent in just one year – a statistic the Greens say represents a "massive game changer."
© 2015 Solar Choice Pty Ltd