Panasonic Corporation recently announced that it has developed a 3kW/13kWh stand-alone photovoltaic power package. The product is being targeted towards remote and non-electrified areas and has been selected for use in a joint Japanese-Indonesian public/private sector project to improve energy access for education and poverty-alleviation.
Dubbed the "Power Supply Container" (PSC, pictured above and below), the unit contains 12 Panasonic HIT 240 solar panels, chosen for their high efficiency and is able to provide approximately 3 kW of power with limited space. The system also has 24 lead-acid batteries that provide a total of 17.2 kWh of energy storage. The in-built energy management system is designed to manage load supply and demand and maximize the life cycle of the batteries, ensuring low-maintenance operation. Installation is also a breeze as no onsite construction work is needed, allowing a local electrical contractor to easily and quickly install the system.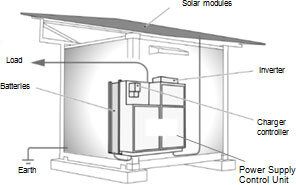 Image Credit: Panasonic Corp
The lure of cheaper batteries and the need for energy storage solutions in remote islands has been driving the growth of such plug-and-play PV-storage systems. We recently covered the story of a German startup, Qinous, who has built a similar 100 kW/100 kWh plug-and-play PV-storage system targeted towards larger stand-alone as well as grid-connect applications. In comparison, Panasonic's 3 kW/17 kWh is primarily designed for small-scale/residential use stand-alone applications.
While Qinous offers servicing and installation support, aiming to sell large systems to a handful of grid operators and large energy consumers, Panasonic seems to have taken a different approach: offer a product that works right out of the box, is easily transportable and requires little to no-servicing.
Although Panasonic has not revealed any pricing or cost details, the company remains optimistic that mass manufacturing of these units will drive down costs further. This should be good news for local manufacturers of such systems. In fact, for this project, Panasonic Indonesia (known locally as Panasonic Gobel ES Manufacturing) will mostly be overseeing quality control while a local Indonesian manufacturer undertakes the mass fabrication.
Panasonic's PSCs will be deployed in the island of Karimunjawa, which has limited energy access. The Indonesian island in Java has local diesel generators for use at night but they are insufficient to supply energy during the day. This results in loss of productivity and poor educational environments in schools.
The PSCs will help address this by supplying power to a local elementary school. The PSCs will also help stabilize the local power supply by providing excess energy generated during off-school time to the local community, .
With over 20% of the world population having no access to any electricity, the market for such systems is huge. Indonesia alone has roughly 13,000 islands, of which most minor islands suffer from a lack of electricity access since typical power generation facilities and distribution networks are impractical to build. Plug-and-play standalone systems not only make sense for such locations, but if predictions of reduced manufacturing costs and falling battery prices come true, perhaps it may also be the most economical option.
Top Image Credit: Panasonic Corp
© 2014 Solar Choice Pty Ltd

Latest posts by Nitin Nampalli
(see all)