Australia's Pollinate Energy, the NGO bringing solar-powered lighting to India's urban poor, is planning to introduce a solar-powered light sculpture with its own personality–and name, 'Ray'–at this year's Vivid Festival in Sydney. Ray will be the first solar-powered installation ever at hosted at the festival. The initiative, devised by Pollinate and their team of collaborators (including designers amigo & amigo, interactivity designers S1T2, media and digital designers Wildwon and Southern Cross University), coincides with the historic rise of solar power as a mainstream technology in Australia and the rest of the world–and is an apt inclusion to for the festival, which annually lights up Sydney's iconic Circular Quay.
Ray, looking like a towering tornado of LEDs, stands at 7 meters tall and is made up of strips of multi-colored light connecting to a base. Visitors at Vivid will be able to stand in one of Ray's interactive pods to shoot rays of light up towards his 'summit'. Ray will gradually get fully charged from the coloured lights pouring in, and at that point will overflow in a surge of sound, light and colour.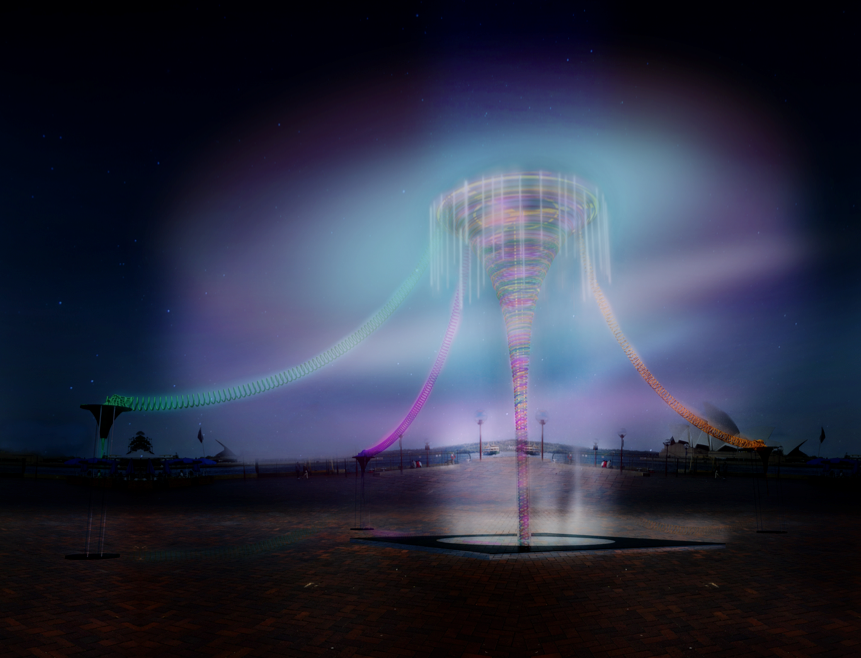 Artists impression of Pollinate Energy's 'Ray'
Visitors to Vivid (as well as anyone with an internet connection) will also be able to interact with Ray's online persona to ask how he is faring either through the website HiRay.com.au or by using the hashtag #HiRay on Twitter. Ray will in turn respond with answers based on data from his surroundings–whether he is lonely, cold, or full of energy.
Pollinate Energy says that the piece is intended to represent the work that Pollinate Energy is currently undertaking in India, bringing together solar power and people power to bring clean, sustainable lighting & mobile phone charging capabilities to those who currently live without them.
"Pollinate Energy has been working to bring sustainable energy solutions to India for over a year now, and we were looking for a way to excite our Australian audience in this work," said Pollinate cofounder Alexie Seller. "VIVID is the perfect opportunity to capture imaginations and communicate these messages in a refreshing way – through a fun-loving, high-charged and super interactive sculpture like Ray."
"Ray will be communicating online how much solar charge he has accumulated at the festival, and telling us how many average Aussie homes this can power, compared with Indian slum dwellings. This is a stark comparison that will hopefully communicate the huge imbalance in energy distribution and access to energy across the globe, and prompt our local and international audience to consider the impact that their own energy consumption practices have on their local environment," she said.
Ray's light display will be powered by Australia's largest solar-powered audio-visual production system known as 'the Sunflower', developed by the Southern Cross University School of Arts and Social Sciences. The Sunflower has been designed by SCU visual arts and audio technicians and students to look like a giant flower, made up of a state of the art portable 1.2kw energy generation and lithium-ion battery storage system that can be positioned for optimum orientation to the sun. The SCU Sunflower team has also collaborated with S1T2 to give Ray his voice on site. The Sunflower is a development of a similar project developed by RMIT University, the Germinate Project.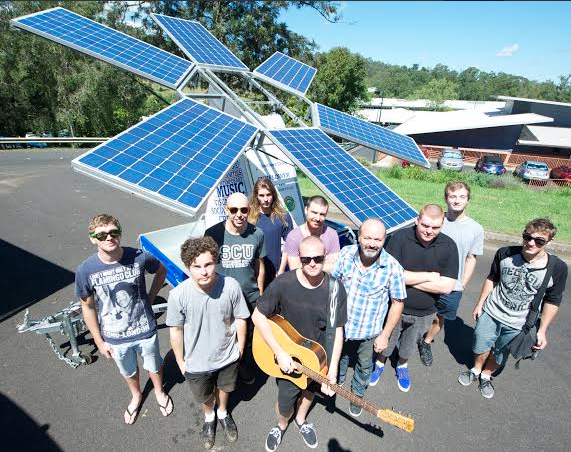 The 'Sunflower' (read more)
When and where can you see Ray?
Ray will be hanging out in First Fleet Park, just to the left of the MCA building (when viewed from Circular Quay) from May 23rd – June 9th. Ray will be lighting up from 6pm to midnight every night, and online 24 hours a day at hiray.com.au
© 2014 Solar Choice Pty Ltd 

Latest posts by James Martin II
(see all)