A $7 billion fund through the United States Agency for International Development (USAid) will pave the way for greater deployment of energy projects in Africa, many of which will be renewables.
The Power Africa Initiative, launched in June 2013, is bringing together public and private capital in order finance and build approximately 10 gigawatts (GW) of new energy capacity in 6 African countries by 2018, aiming to deliver electricity to a continent where 70% of residents go without it.
Under the first phase of the program, $9 billion in private funds will be committed to Power Africa projects throughout the region, matched by $7 billion from various US government agencies under the umbrella of USAid. The countries to benefit from the initiative include Kenya, Tanzania, Ethiopia, Ghana, Liberia and Niger. The purpose of the initiative in each country is to deliver affordable electricity (seen as an essential ingredient for improved economic growth) to larger portions of the population by developing infrastructure and building new generation capacity.
The program will seek to "build on Africa's enormous power potential" by facilitating the development of conventional fossil-fuel energy sources such as oil and gas as well renewable resources such as geothermal, hydroelectric power, wind and solar power. USAid is also assisting these countries in creating strategies for exploiting the renewable resources that offer the most promise.
The Corporate Council on Africa (CCA) said in a recent article in the East African newspaper that red tape was one of the biggest hurdles to private investment in the Power Africa participant nations. Lead times for project funding approvals can stretch out to up to a year or longer in some instances, mainly due to uncertainty about the credit-worthiness of state-owned utilities and their ability to pay power producers on time and in line with contractual requirements.
"If the producers are not paid, they will in turn default on their payments to banks and other financial institutions who help fund the investments," said Paul Hinks, CCA chairman and chief executive of Symbion Power. With the US government backing private investment under the Power Africa initiative, financing for such projects will be easier for developers to secure.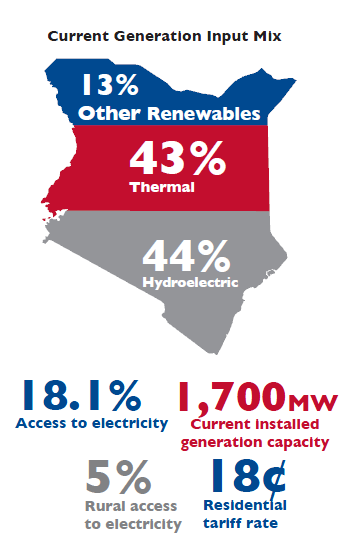 Kenya serves as a good case study for why the initiative has been brought in. Only about 18% of Kenyans have access to electricity–a number which drops to 5% if urban areas are excluded. In total, the country currently has less than 2GW of generation capacity, a number it aims to increase to 5GW by 2018. By contrast, Australia has about 45GW in the NEM alone.
For Kenyans, electricity, when available, is expensive at around 18c/kWh(USD), which is not far behind the lower range of Australia's own power prices. The urgent need for electricity price reductions in Kenya is made clearer, however, when one considers the fact that in 2014 Kenya had a per capita GDP of around $590, while Australia's was roughly $37,000.
According to USAid, Kenya is home to a substantial resource of geothermal capacity (around 7GW), which the country has already begun to exploit through the Power Africa program, with a 140MW plant in the works. Other current projects include 3 wind farms of 60MW, 100MW and 300MW each.
Although no solar projects in Kenya have so far been named through the program, the country has plans independent of the initiative to generate half of its power through solar by 2016. The country also recently opened the largest solar PV plant in East Africa–a 1MW solar park on the campus of Williamson Tea. The company anticipates that the plant will reduce its electricity costs by around 30%.
The Williamson Tea project is also something of an experiment for the region, and its success could lead to further investment in similar plants. Guy Lawrence, the managing director of East Africa Solar, the company who developed the project, noted its significance for the future of the solar industry there. "There is a lot of interest from the private sector on this scale [1MW] and in particular from manufacturers in Industrial Area and large shopping malls. A lot of people are waiting to see how this works," Mr Lawrence told the East African.
USAid Power Africa Initiative: Participant countries

All images via USAid / Power Africa
© 2014 Solar Choice Pty Ltd