A spin-off company from the University of Johannesburg, Photovoltaic Technology Intellectual Property (PTiP), has recently commissioned a pilot production line for CIGS thin-film solar module production in collaboration with long-term German research partner and equipment supplier, Singulus Technologies.
The semi-commercial pilot line has a 5 MW production capacity and represents South Africa's first foray into thin-film module production. The facility is part of the state-run Industrial Development Corporation (IDC), with the South African government has invested about USD $16 million so far in the construction of the facility in Stellenbosch (near Cape Town). Of this, Singulus Technologies has received about USD $10 million for providing core equipment.
A special feature at the plant is the gas-diffusion based selenisation process – a key step in producing CIGS cells. The new equipment from Singulus is expected to reduce machine contamination associated with other selenisation methods, thus reducing production costs according to Singulus Technologies' CEO, Stefan Rinck.
In spite of lower device efficiencies, the key advantage of thin-film modules over mono- or poly-crystalline solar cells is that they only marginally lose performance in low light conditions or at very high temperatures. This allows thin-film modules to produce electricity earlier in the morning hours and later in the evening hours. Furthermore, thin-film solar modules offer a better visual appearance due to a homogenous surface, which can be an attractive design feature for the front or on the roof of buildings. While current efficiencies of CIGS solar cells are lower than that of thicker silicon-based devices, recent advances in CIGS technology are expected to reduce this gap.
Professor Vivian Alberts, PTiP's CEO and the main person behind the R&D efforts, explained during the facility's inauguration, "The creation of an integrated crystalline cell and module manufacturing plant in South Africa would be too expensive and the international competition here is too high".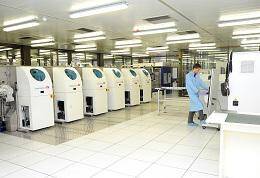 Image credit: University of Johannesburg
With over 20 years of research and development experience in CIGS, researchers at the University of Johannesburg are clearly banking on the success of the technology. Alberts suggested that plans are already in place to expand the 5 MW pilot line into a 100 MWmass production plant. "The immediate goal is to set up a commercially viable production plant for CIGS thin-film modules in South Africa in order to supply products with high local content to existing and future PV projects in South Africa," he says.
The new plant is expected to cost about USD $90 million to construct and "The European Investment Bank already announced its support for the establishment of a PTiP production plant and the mass production of PV modules," according to Alberts.
The site is expected to create 4,000 new jobs and Alberts hopes it will also eventually reduce the country's dependence on fossil fuel imports. The new production line is expected to produce panels with over 90% local content. This is significant because South Africa has put in place a local content policy for PV projects, requiring 70% of the panels to be "made in South Africa". In fact, various investors have already indicated interest in buying the total annual production of the larger 100 MW line.
Stefan Rinck, CEO of Singulus Technologies, hopes the development will boost not just the sale of CIGS panels in South Africa, but also the fortunes of his own company at a time of declining production at home in Germany. Rinck says he intends to use the new manufacturing plant as a test bed to optimize Singulus' equipment.
With South Africa recently being recognised as the most attractive emerging country for solar power, Singulus may have made a very smart move. Market research firm, IHS, has identified South Africa an excellent choice for investment thanks to its large potential market size and well thought-out policy offering high project profitability for developers and mature pipelines.
Top image via University of Johannesburg
© 2014 Solar Choice Pty Ltd

Latest posts by Nitin Nampalli
(see all)