Nearly three out of every 10 households in south-east Queensland have invested in rooftop solar, sending the total amount of PV installed on the electricity network operated by Energex past the 1GW mark.
Energex – whose network covers the south-east corner of the state, including Brisbane, the Sunshine Coast and the Gold Coast – released its solar PV report to the end of August 2015 on Wednesday, counting a total of 294,203 PV systems now connected, totalling an installed capacity of over 1,001 megawatts.
The report said 2,319 new PV systems were installed over the month, adding a total of 11.2MW capacity to the grid.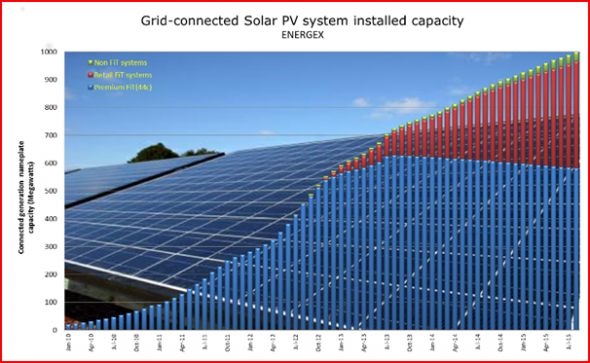 According to the report, nearly 2.8 out of every 10 detached homes in this part of the state now have solar PV installed, the majority of these systems (43 per cent) being 3.5kW in size, or larger.
As reported here at the end of 2014, Energex boasts the highest rooftop solar penetration in Australia, and quite possibly the western world. In November last year, the combined installed solar on the network accounted for around 13 per cent of all residential consumption, and around half their individual consumption.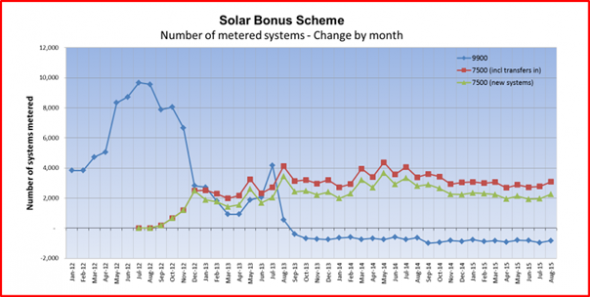 According to the latest statistics, 3,082 new retail FiT systems were connected over the month, including systems that churned off the premium FiT scheme of 44c/kWh (836 systems are still on this premium FiT).
All up, 188,621 PV systems are connected on the premium FiT scheme (582MW), 103,023 are connected on the retail FiT scheme (383MW) and 2,559 are non-FiT systems, totalling 36MW.
Energex says the average feed-in tariff paid per day to a customer with solar PV is $1.46.
© 2015 Solar Choice Pty Ltd