Households in south-east Queensland are installing solar at a rate of three in 10, according to the latest data from network operator Energex, which now has a total of nearly 1GW of rooftop solar capacity connected to its grid.
Energex – whose network covers the south-east corner of the state, including Brisbane, the Sunshine Coast and the Gold Coast – released its solar PV report to the end of June 2015 on Wednesday, counting a total of 290,006 households with rooftop solar systems, and a total installed capacity of more than 980MW.
In the past year, nearly 30,000 homes and businesses have added around 140MW of rooftop solar in its network.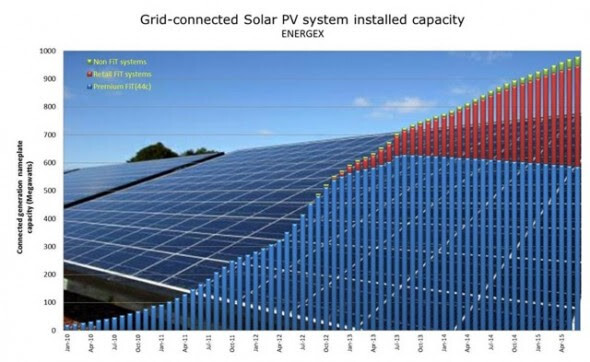 Energex already boasts the highest rooftop solar penetration in Australia, and quite possibly the western world. In November last year, the combined installed solar on the network accounted for around 13 per cent of all residential consumption, and around half their individual consumption.
As can been seen in the graph above, the growth rate has indeed been impressive – up from less than less than 2,000 (almost as many systems as were installed in June 2015, alone) in 2009 to more than 221,000 at the end of June, 2013.
Of the rooftop solar systems connected to Energex's network, 190,427 (587MW) are connected on the premium feed-in tariff scheme (44c/kWh) – a fall of just over 10,000 in the past 12 months. A total of 97,166 (359MW) are connected on the retail FiT scheme, and 2,413 are non-FiT systems, totalling 33MW, the report said.
The average capacity of systems earning the 44c/kWh FiT is 3.08kW, while the average capacity for the retail funded-FiT is larger at 3.70 kilowatts, Energex said. The average capacity of systems not on a FiT scheme is 13.8kW.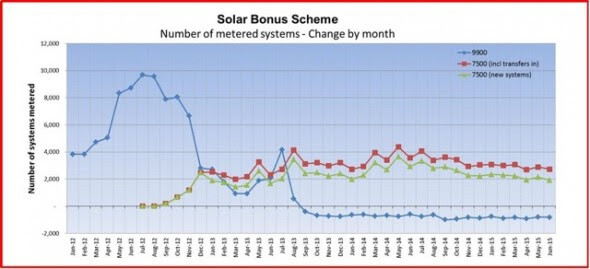 © 2015 Solar Choice Pty Ltd