The size of the average solar PV system has reached 5kW for the first time ever, according to industry analysts Sunwiz. The increase – up from 4kW in 2013 – has come about thanks in large part to the growing number of commercial solar projects being installed across the nation. In recent years the commercial solar market has gained steam even as the residential solar market has slowed.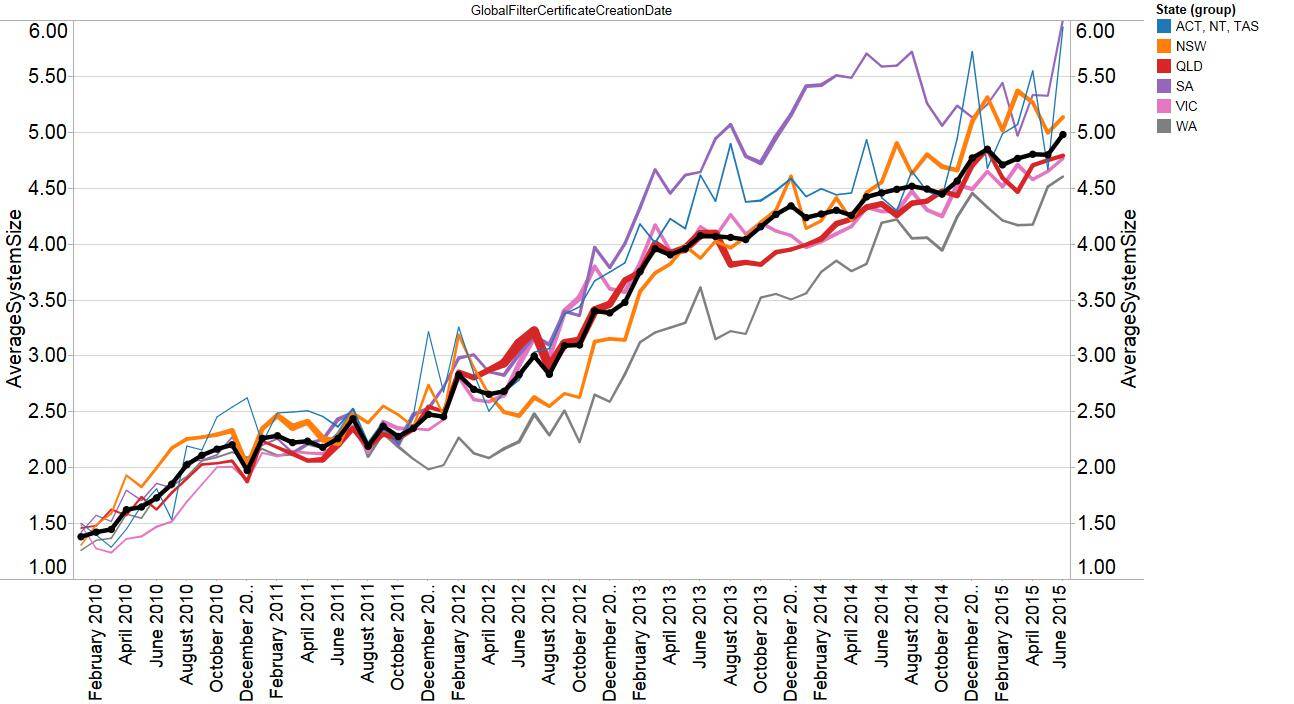 Image credit: Sunwiz
Data points from South Australia and the grouped territories of the ACT/NT/Tasmania showed average system sizes up to 6kW in these places, while Western Australia brought up the rear with an average system size of 4.5kW. NSW, Queensland and Victoria all hovered a bit closer to the 5kW mark.
Looking only at residential solar systems, Sunwiz says that the average size nationally has now risen to about 4kW, with all states & territories hugging this number fairly tightly. While smaller systems (1kW-2kW) were once the norm when the Australian solar market began to take off back around 2008, such systems have generally fallen out of favour as larger systems have become more affordable; the average system size nationally has grown as system prices have fallen.
These days, 3kW-5kW systems are generally the best size for homes – and also promise superior value to smaller systems. 10kW systems – generally considered to be the upper size limit for the residential market – have also grown in popularity and improved on price.
You can browse historic system prices for 1.5kW – 10kW systems in the gallery below. As you can see, dollar-per-watt ($/W) prices for 1.5kW and 2kW systems have changed relatively little since 2012, while prices for larger systems have come down more steadily.
Gallery: Historic solar system prices for 1.5kW – 10kW systems (Aug 2012 – June 2015)
© 2015 Solar Choice Pty Ltd