Solar panels are proving to be a popular investment option in Queensland, even after the reduction of the state's Solar Bonus Feed-in Tariff incentive. The economics of installing solar panels in Queensland are still compelling in spite of the incentive changes brought about under the new government; a steady number of homes and a growing number of businesses are looking into going solar as a way to save on energy bills.
To instantly compare solar PV system prices for your area of Queensland, fill out the Quote Comparison Request form to the right of this page. You can also call Solar Choice on 1300 78 72 73.
Queensland solar panels: Why invest in a solar system?
There are essentially 3 reasons for the current level of popularity that solar panels enjoy in Queensland.
First of all, Queensland is home to some of the sunniest regions of the country, and it is aptly named the Sunshine State. The amount of sun that shines in an area has a direct impact on the theoretical upper limit for the amount of power that a solar panel system can produce. More sun equals more solar energy, which equals greater savings on power bills.
Secondly, the price of installing solar panels in Queensland has fallen dramatically in the past few years, thanks to both global and local factors. Solar Choice publishes a monthly article on the current average and median prices of solar systems in all of Australia's capital cities, called the Solar PV Price Index. System prices are broken down by city (Brisbane, Sydney, Canberra, Hobart, Melbourne, Adelaide, and Perth) and system size (from 1.5kW to 5kW).
(See the most recent Solar PV Price Index.)
Lastly, the price of electricity is rising across the state, and homes and businesses are looking to cut down their bills. Combined with energy efficiency and smart power usage, installing solar panels in Queensland is one of the best way to reduce the amount of power purchased from electricity utilities.
These three factors mean that solar panels offer a great return on investment (ROI) for the right household or business, with annual ROIs of over 10%–much better than the interest rates on offer from most banks for standard savings accounts.
Who should invest in solar panels in Queensland?
Since the reduction of the rate for the state's feed-in tariff scheme, the case for going solar has changed from what it was previously. The segment of the population for whom solar panels are a good investment is now narrower than what it was when the feed-in tariff was in place.
Since benefiting from having solar panels in Queensland requires using the solar energy as it is being produced, solar would most benefit businesses that operate during daylight hours or homes that are occupied by one or more residents when the sun is out. Since the government is only offering 8c per kilowatt-hour (kWh, or unit) of power that is exported to the grid (whilst 1kWh of power purchased from the grid costs well over double that)–and this 8c/kWh is only a temporary offering–any home or business in Queensland that has solar panels should endeavour to use as much of that power as possible.
This is known as 'self-consumption', and it is the key to getting the most out of a solar system. (Read more: Solar Feed-in Tariffs vs Solar Buybacks.)
How to get the most out of solar panels in Queensland: Self-consumption
In order to get the most financial benefit out of solar panels in Queensland (without solar energy storage, which remains prohibitively expensive), it is necessary to time power use as much as possible to coincide with solar energy production. The amount of power being produced by a solar panel array at any given point in the day varies depending on the sun's position in the sky, and therefore the amount of solar radiation falling on the solar panels. The sunlight is weaker during the morning and evening, and most intense in the middle of the day–between about 11am and 2pm. In the solar industry, the total amount of solar energy is tallied up in a measurement called 'peak sun hours' (PSH). As you can see, as much as practicable it makes sense to slowly ramp up energy usage as the sun rises, and then gradually reduce energy usage as the sun begins to go down.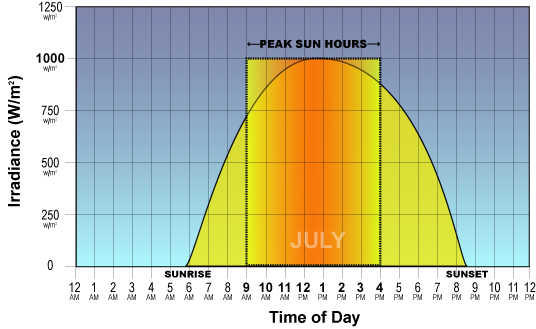 Intensity of the sun throughout the day. (Image via JS Solar.)
Ready to shop for solar? Compare solar quotes from installers in your area.
© 2013 Solar Choice Pty Ltd