Last night at Manly's International College of Management Sydney located at St Patrick's Estate, Zali Steggall hosted 'Australia's Clean Technology Future' event. The event saw around 200 attendees young and old, that appeared to be mainly made up of local residents as well as a collection of others who had travelled from outside the electorate to hear the wealth of knowledge that was on hand.  It was an extremely interesting and informative evening that saw Zali opening for a highly accredited panel of speakers. The panel consisted of:
Professor Tim Flannery 

|

 

Leading Australian climate change author

Ass. Professor Renate Egan 

|

 

UNSW Australian Centre for Advanced Photovoltaics

Tim Buckley

 | Director of Energy Finance Studies, Australasia

Dr Sophie Lewis

 | School of Physical, Environmental & Maths Sciences, UNSW

Anna Freeman

 | Director Energy Generation at the Clean Energy Council 

Harry Martin

 | Clean technology specialist
Zali kicked off the event by introducing the panel and passing over to the first speaker Dr Sophie Lewis. Sophie talked us through her background studying Physical, Environmental & Maths Sciences and in particular the effect on the climate here in Australia. She helped the audience see the rate at which our climate has been affected over the last one hundred years and what that could look like if we continued at the rate we are. This was made tangible to the audience by marking on the graph when her daughter was born and how much it had already escalated from then until now.

Next speaker was Assistant Professor Renate Egan from the Australian Centre for Advanced Photovoltaics at UNSW. Renate gave a positive insight into some of Australia's world leading technologies and studies into Solar. She helped share some interesting facts of innovation from here in Australia and the depth of opportunity we have for investment in Australian renewable technology.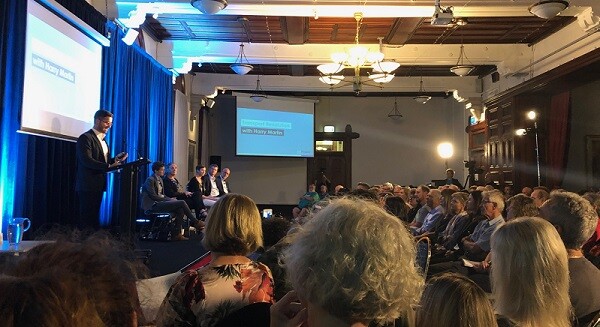 Harry Martin the coined "millennial" and clean technology specialist gave an interesting insight into electric vehicles. Talking the audience through where Australia's uptake is compared to the rest of the world (well behind), cut through some misconceptions about charging times and technology and gave a look into what the future may hold and how that could benefit us not only environmentally, but financially
Anna Freeman the Director of Energy Generation at the Clean Energy Council used her time to talk through utility scale solar and wind farms. Her speech gave a very positive look into some successful stories of projects around Australia. One being the Sapphire Wind Farm and the amazing effects it had on the local community. She stressed the importance of investment into our current grid infrastructure and how it will be integral in our transition into 100% renewables.
Tim Buckley the Director of Energy Finance Studies gave the audience a look into the clean energy transition that has occurred in India. He talked through a lot of highly relevant facts as to why that transition has been so successful. He backed it up with some very important facts that made it clear that Coal and Thermal Energy had no place in our planets economical future, let alone in its environmental future.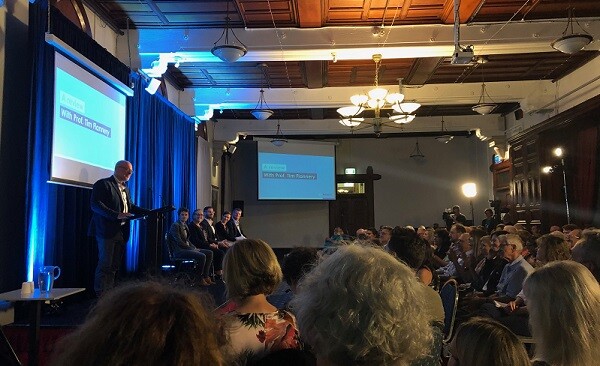 Last speaker of the evening was none other than leading Australian climate change author Professor Tim Flannery. Tim broke down the effects of carbon dioxide on our climate and ecosystem and helped relate that to natural disaster rates here in Australia and the effects it has already had. He also touched on some of the effects he has witnessed first hand over in the Pacific Islands, but really made it hit home with the audience by talking through the effects everyone can relate to such as our great barrier reef and natural waterways.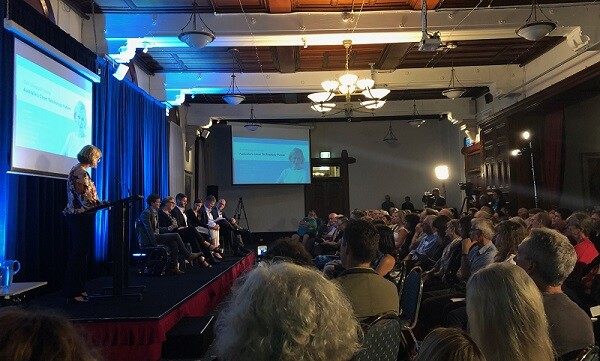 Following these talks the panel engaged in a Q & A with the audience. It was amazing to see such a knowledgeable panel help breakdown some misconceptions we hear day to day in the media and help offer insight into the current progress in other countries, our opportunities and the what the future will hold. Zali wrapped up the evening by talking us through why she was personally passionate about a clean energy future and stressed the importance of why we need to look to experts for advice on climate change and not politicians. She talked through the need for strong federal policies around carbon emissions, climate change and renewable energy and for this to happen we need to "get rid of the handbrake" which was met with an uproar of applaud by the entire audience.

Latest posts by Jake Elliott
(see all)