Clean Energy Week 2012 presented numerous opportunities for the Solar Choice team to make connections for our commercial solar power activities, meet new installers to potentially join our installer network, speak to a number of manufacturers face-to-face, and of course hear some of Australia's most prominent voices talk about the travails and trajectory of renewables in general.
The main theme of forums aspect of the event was the Renewable Energy Target and what its near- and long-term future should be, with Federal Climate Change Minister Greg Combet expressing his commitment to the legislation, if not to the precise 41,000 gigawatt-hour target as it currently stands. As Giles Parkinson of RenewEconomy (which won the Clean Energy Council's media award) points out:
Climate Change Minister Greg Combet said it was the legislation he was defending, but despite numerous prompts he couldn't bring himself to say the words "41,000." Coalition energy spokesman Ian Macfarlane was more evasive, saying only 20 per cent – but he wouldn't say 20 per cent of what.

For many at the conference, this left lingering concerns that the RET could yet be tampered with. The fixed target has already been reduced once to account for larger than expected deployment of rooftop solar. Could that happen again? Would the demand equation come into play?
The future of commercial solar power was also a theme that appeared repeatedly in the scheduled talks as well as in Solar Choice's own conversations with event attendees. Large-scale solar power being the expected future direction of the solar PV industry, virtually every installer who passed the Solar Choice stall stopped in to discuss commercial opportunities.
Some other highlights from Clean Energy Week 2012 included:
–Solar Choice Commerial's stand–replete with our all-electric Mitsubishi i-MiEV, umbrella, and a couches for guests to make themselves at home. In keeping with having a paperless office all of our visitors received emails with further details of our activities instead of pamphlets or fliers.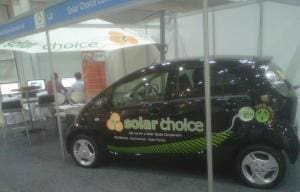 -Sitting directly across from the Solar Choice Commercial booth was Aurora's solar car. A conversation with the Aurora booth exhibitors revolved around some of the flack that they get at ordinary car shows for their car (having once heard the comment 'stupidest car ever'), and their hopes to develop and introduce a road-legal solar-powered vehicle onto the market. All members of the 30-odd members of the Aurora team are volunteers, and their devotion to solar motoring is a labour of love.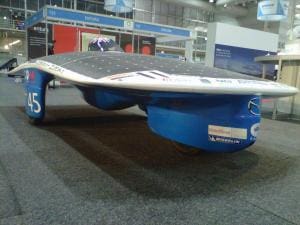 -The Friday morning "Clean Energy Public Debate" hosted by journalist George Negus, in which prominent figures from all ends of the political spectrum discussed the energy generation mix that Australia will have by 2050. Although the interplay of the characters was certainly worth watching, one wonders whether anyone–audience or panelist–went home with their mind changed by what was said. (Nigel Morris of Solar Business Services posted a snippet of the debate on Youtube.)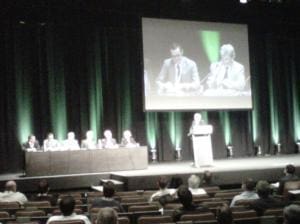 -The presence of a number of exhibitors showcasing energy management systems battery back-up technologies, with Australia's inverter/energy management system manufacturer Selectronic explaining the surprisingly high level of interest they saw at Intersolar Europe. Solar storage solutions are expected to be an area  of growth in the mid- to long-term future as prices come down and thanks to the benefits they could afford the electricity grid and market generally.
-A stall by the AC Solar Warehouse, who specialise in micro-inverters. A chat with AC Solar Warehouse's Grant Behrendorff focused on the conceptual shift that may be underway with regard to how solar PV systems will be referred to in the future–i.e. 'AC solar PV' or 'DC solar' vs simply 'solar PV'.  A talk by Tindo Solar's Adrian Ferraretto echoed the sentiment that solar may be heading in this direction if modules prices come down.
-Groups of schoolchildren enthusiastically taking in the sights, learning about clean technologies, and asking smart questions. Also sometimes getting into things exhibitors would prefer they not, including the Solar Choice EV. (GE's own Mitsubishi i-MiEV, located directly behind the Solar Choice Commercial stall, remained locked, unaccompanied by its owners and therefore mainly untouched.)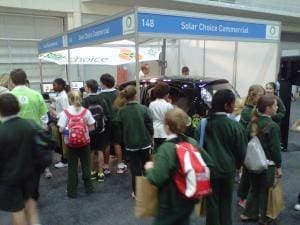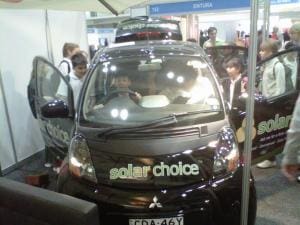 © 2012 Solar Choice Pty Ltd 

Latest posts by James Martin II
(see all)