South Australia's transitional feed-in tariff incentive for solar power closed to new applicants on 30 September 2013. Many of those who are considering going solar but have not yet made the move are probably wondering if solar panels are still worth the investment in SA. This article takes a look at how the solar state of affairs has changed in South Australia, and also examines the new case for going solar in the state in the absence of a state-based generation incentive.
The average price of a 5kW solar system in Adelaide is just around $8,600. To instantly compare solar PV system prices & sizes for your area of SA, fill out the Quote Comparison Request form to the right of this page. You can also call Solar Choice on 1300 78 72 73.
What's likely to change in SA now that the feed-in tariff is gone?
The case for going solar in South Australia has changed with the closure of the state's transitional feed-in tariff scheme, coming into line with the business case for nearly every other state in Australia besides the Northern Territory. What is casually referred to as the 'South Australia feed-in tariff' is actually comprised of 2 components: That which is officially known as the Transitional Feed-in Tariff (now closed to new applicants), plus a 'retailer contribution'. The retailer contribution is set to remain indefinitely, and although the exact rate has not yet been determined (it will be announced before 2014 arrives) it is likely to be comparable to what it is now (about 10c per kilowatt-hour (kWh)), and what is common in other states–about 8-10c/kWh. In any case, it will probably be much lower than the cost of retail electricity in the state (currently about 26c/kWh).
As Warwick Johnston of Sunwiz consulting pointed out recently in Business Spectator, if precedent is anything to go by, there is likely to be a significant flattening out of installation numbers in South Australia over the coming months. This is what happened every time a feed-in tariff or other incentive was reduced, and there's no reason to believe the same won't happen in SA. But as Johnston notes, the installation figures in states whose feed-in tariffs are long gone–while not as high as their respective peaks–now show 'remarkable month-on-month consistency'.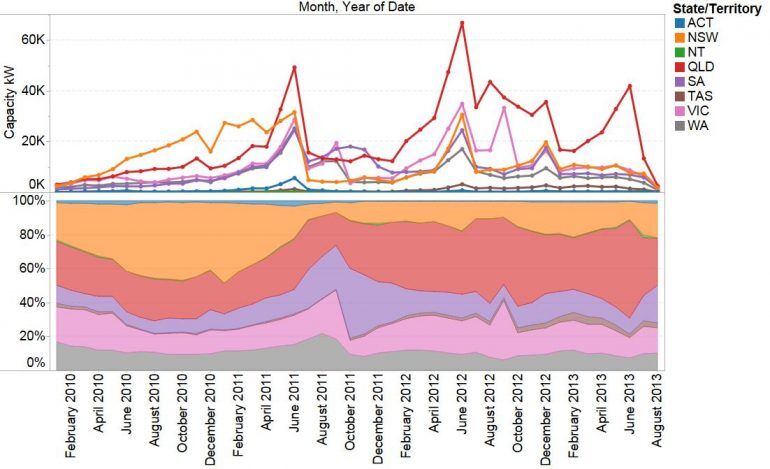 Historic solar PV system installation figures, by month. (Click to enlarge. Image via Sunwiz, via Business Specator.)
Amongst Australian state governments, South Australia has been exemplary in its execution of feed-in tariff policy–starting high, with incremental reductions, then finally falling to a sort of 'end game' plan. It is noteworthy that Solar Choice did not see a sudden spike in enquiries in the final days in the lead-up to the feed-in tariff deadline (as happened in the case of Queensland's 44c/kWh FiT and many others), but instead a gradual rise over the preceding months, never rising to a fevered pitch. This steadiness is surely at least partially attributable to the relative smoothness of the SA government's approach to subsidizing solar power.
Should I install solar panels in South Australia in 2013? 2014?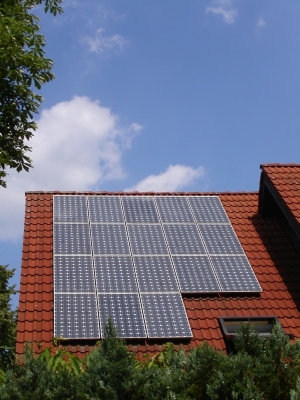 Thanks to the South Australian government's even-handedness, there is hope that installation numbers will not fall off the proverbial cliff. While it's true that without a feed-in tariff in place, going solar can no longer be classified as a 'no-brainer' investment for SA residents, many things in the solar industry have changed since feed-in tariffs began being introduced about 5 years ago. Most importantly, solar system prices have come down significantly. The biggest implication of this is that, from now on, solar panels only make sense for certain homes and businesses.
Which homes and businesses? Those who can use the solar power as it is being generated, i.e. those that use a good portion of their electricity during the day. The reason is simple: Electricity purchased from utilities/retailers is expensive (starting around 26c per kilowatt-hour (kWh)) whereas electricity from a solar system is relatively inexpensive.
A rough case study: Payback on a 5kW solar system in Adelaide
This means that using your own solar power more than power from the grid will result in a lower power bill. To give a (very rough) example, if an Adelaide home installs a 5 kilowatt (kW) solar system and manages to use 100% of the power it produces over its entire lifetime (25 years), the cost per kWh would work out to about 8-10c/kWh. The system would pay itself off in 6 years.
But the reality is that most homes will 'self-consume' closer to 50 or 60% of the electricity that their system produces. The excess power will be automatically exported to the grid and the system owner will be credited for each kWh at the retailer contribution rate determined by the government. If this rate is about 10c/kWh, the payback period for a 5kW solar system exporting 40% of the power it produces would be about 8 years and a return on investment of about 12%.
Going even further: Energy efficiency and energy storage
Those SA residents who are really serious about saving money on power bills and reducing their reliance on the grid will go beyond simply installing a solar PV system. More holistic approaches to achieving these aims would include an investment in energy efficiency and changes in electricity usage patterns. Additionally, solar energy storage systems would boost the rate of self-consumption of solar power by allowing it to be stored and used even after the sun has set. Energy storage solutions are already on the cusp of economic viability and set to become more prolific in the coming years.
Thinking about going solar in South Australia? Compare system prices in your area by filling out the Solar Quote Comparison request form to the right of this page, or speak to Solar Choice directly on 1300 78 72 73.
© 2013 Solar Choice Pty Ltd

Latest posts by James Martin II
(see all)