Solar looks set to dominate new electricity capacity and investment in Australia, with a new report from Bloomberg New Energy Finance predicting solar PV will account for nearly half of the around $55 billion Australia is expected to spend on new electricity generation over the next 15 years, while two-thirds of it will be spent on some form of solar technology.
The report, Bloomberg New Energy Finance's Market 2030 outlook, predicts 15.8GW of solar PV will be added to Australian rooftops out to 2030 – even without subsidies or a carbon price – mostly on the basis of fundamental economics.
It also suggests that the payback period for rooftop solar will halve to just three years by 2030, making solar an even more compelling proposition to households and small business, which BNEF expects will invest another $24 billion on the technology.
"The favourable economics of the small-scale PV technology – ie, the reduction in payback period – will drive the sixfold increase in small-scale PV capacity and the technology's contribution to total capacity additions between 2013 and 2030."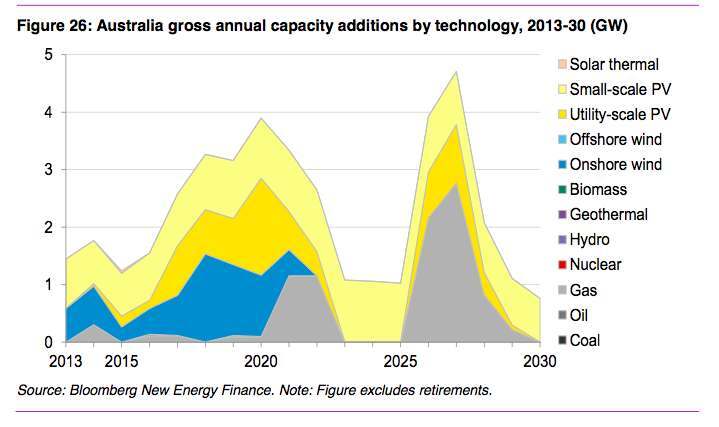 And while Australia's rooftop solar uptake will be influenced only slightly by policy changes, the deployment of large-scale renewables is almost entirely dependent on the state of policies such as the Renewable Energy Target, says the report.
BNEF believes that nearly 8GW of utility-scale PV will be built out to 2030. Two thirds will be driven by the LRET – presuming it stays in place – and a further 2.7GW to cater for increases in peak demand, particularly in Western Australia and the Northern Territory.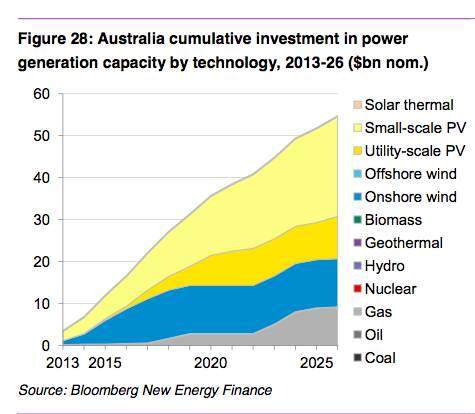 It also predicts that 6.4GW of wind capacity is built to meet the LRET. Extraordinarily, this build out occurs until 2020, but then no wind energy is built at all after that because the only new capacity installed will be designed to meet summer peaks – hence the focus on utility scale solar. BNEF's analysis suggests little solar thermal will be built.
Coal is not built at all, but gas enjoys a boom in the middle of next decade to also cope with summer peak demand, and to replace 6.2GW of retired capacity.
BNEF says coal's total share of Australian generation capacity is projected to fall from 45 per cent in 2013 to 27 per cent in 2030. Gas also falls from 30 per cent to 23 per cent.
In contrast, renewable capacity increases from 24 per cent to 48 per cent, with wind rising from 5 per cent to 10 per cent and solar from 5 per cent to 29 per cent of total capacity.
© 2014 Solar Choice Pty Ltd

Latest posts by Giles Parkinson
(see all)