The Federal Government has announced the recipients for funding from Round 1 of the Solar Flagships Program. Moree Solar Farm in NSW's Central Tablelands is a 150MW photovoltaic installation, and the Solar Dawn consortium is planning to build a 250MW hybrid gas/concentrating solar power plant in Chinchilla, Queensland.
Both projects are pending final approvals, but if cleared will be a welcome addition to Australia's growing solar power portfolio. With a combined expected capacity of 400MW (enough to power 100,000 homes), the approval of these plants will mark the first time in Australian history that renewable solar power has been designed to be large and reliable enough to rival coal as a source of baseload power. Construction of these plants will be more expensive than the construction of a coal-fired plant of similar size, but all (or most) of the energy generated will be carbon emission-free.
Solar Flagships Program
The Solar Flagships Program a scheme run by the federal government to pave the way for the commercial viability of large-scale, grid-connected renewable energy power plants in a competitive electricity market. Successful projects receive partial funding for construction and operation costs from the federal government, which has allocated $1.5B over 4 years (minus $220 million as per recent federal budget cuts).
Moree Solar Farm, NSW
The 150MW  Moree Solar Farm, once built, will be composed of about 650,000 PV panels and generate enough power for roughly 45,000 homes–a town the size of Darwin. The consortium whose proposal won the tender is composed of Fotowatio Renewable Ventures (Spain), BP Solar, and Pacific Hydro. The solar farm is expected to displace approximately 400 thousand tonnes of CO2 that would otherwise be emitted by burning fossil fuels for conventional generation, such as with coal. Once final clearance is given, the project is slated to begin construction in mid-2012 and last four years. This project will be the largest of photovoltaic power station in Australia, and one of the largest in the world. The Federal government will contribute $306M to the project, which is expected to cost $923M to build.
Solar Dawn Consortium, Queensland
This 250MW project will generate at least 85% of its power via Areva's Compact Linear Fresnel Reflector (CLFR) technology. The balance will come from gas, making it one of the largest plants of its kind in the world. The Government will contribute $464 million for the project in Chinchilla, which has an estimated worth of $1.2 billion. The project is expected to generate significant economic activity for the region during its construction.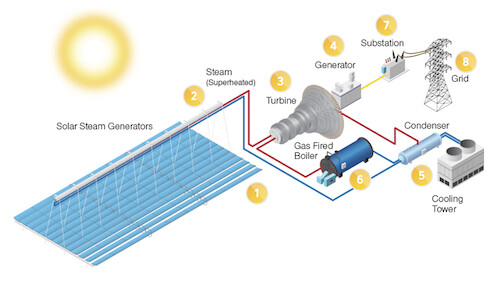 Chinchilla Solar Flagships Program Concentrating Solar Power: How the hybrid plant would work. (Source: Solar Dawn homepage)
© 2011 Solar Choice Pty Ltd
Sources and links:
Sydney Morning Herald: "Giant solar energy plants to run 100,000 homes"
Ecogeneration.com.au: "Moree Solar Farm: A Solar Flagships winner"
Australian Solar Energy Society media release: "Solar Flagships Winners Announced"
Solar Server: "Fotowatio Renewable Ventures, BP Solar win bid to develop 150MW PV plant in Australia"

Latest posts by James Martin II
(see all)