Suntech Power is well known in Australia as a solar panel manufacturer. Now a subsidiary of Shunfeng International Clean Energy Ltd. (formerly Shunfeng Photovoltaic International Ltd.), the company has installed more than 80 GW of panels in over 80 countries since its founding in 2005. It currently has an estimated annual production capacity of 2,000 MW.
But 2014 proved to be a pivotal year for Suntech with Shunfeng in expanding its reach beyond just solar panel manufacturing and deeper into the clean energy services space. In August 2014, Shunfeng invested $25 million in Powin Energy, acquiring a 30% stake in the U.S. energy storage firm. Shortly afterwards, in September 2014, Shunfeng announced it had acquired SAG Solarstrom–a utility-scale renewable EPC company–and its subsidiary MeteoControl in a €65 million deal. Together, these latter two companies form one of the largest global power station operators and developers in the world: SAG runs 117 power stations totaling 8.8GW in capacity globally, while MeteoControl monitors over 500MW of renewable energy projects around the world.
These acquisitions give a strong indication of how Suntech-Shunfeng intends to position itself in the global renewable energy industry in the coming years.
MeteoControl: Data-logging & enhanced performance monitoring for PV
MeteoControl is a global market leader in photovoltaic system monitoring. One of its most popular line of products consists of the "safer'Sun Public" and "safer'Sun Professional," which enable users to monitor the yields of their PV systems through online portals, including the company's smartphone app. MeteoControl's product line also features a series of data loggers – the "WEB Log" and the "blue'Log X-Series." By connecting users directly to their PV units, these devices allow them to customize solar system designs as well as identify and troubleshoot problems. Another unique aspect of MeteoControl's platform is that its monitoring system can illustrate and report on actual versus predictive solar PV yield by comparing production to local weather data, using either data collected from the roof or from satellite feeds. Users can be alerted as soon as the software determines that the system is not producing as much power as it should in light of the ambient weather and conditions.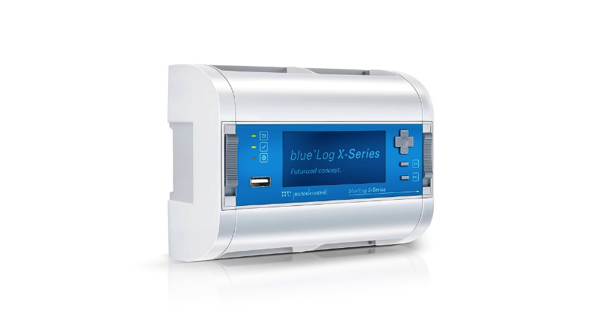 MeteoControl's blue'Log X-series
In addition to its hardware offerings, MeteoControl provides critical technical services for the planning, construction, completion, and operational phases of large-scale solar PV projects. The firm is well-equipped to provide customers (and their creditors) with weather data, yield reports, technical due diligence, system ratings, module tests, construction supervision, and performance tests. This broad range of services ensures high levels of quality assurance and maximum return on investment.
Powin Energy: Energy storage for solar applications
Powin Energy Corporation is a design-and-integration company specializing in storage technology for grid, micro-grid, residential, and commercial projects. Its flagship product is the Battery Energy Storage System (BESS), a grid-scale containerized storage system that uses cylindrical LiFePO4 battery packs. Each unit has a storage capacity ranging from 250 to 500 kWh and its power conversion system enables batteries to be charged at a rate 60 to 240 kW. The BESS, which can provide 8 MW of power for up to eight hours, helps smoothen out periods of uneven energy production. The system is equipped with battery management software, which continuously monitors temperature, voltage, and charge settings. When used in conjunction with energy management software, the BESS is easily operated from remote locations.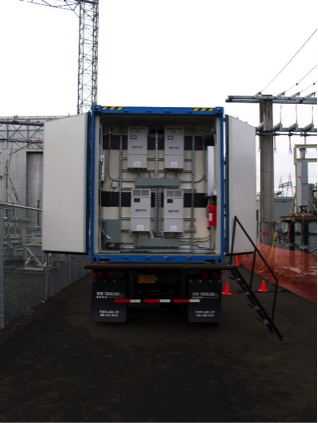 Powin Energy's BESS.
Powin has also taken great efforts to develop Aelios, an innovative lighting system that is powered entirely by wind and solar energy. The system is a 100% off-grid system; the system is powered with sunlight by day and with wind by night. Aelios uses highly efficient LED bulbs, which emit as much light as traditional bulbs but at a quarter of the power consumption. Because it is not connected to the grid, Aelios does not require expensive installation costs (i.e., trenching and wiring) associated with traditional street lamps.
© 2015 Solar Choice Pty Ltd