Germany's solar panels produced a record 24.24GW of electricity in on Friday 6 June 2014, retrospective analysis by the Fraunhofer ISE research institute has revealed. Another record was set on the following Monday (a public holiday with lower overall demand), when solar accounted for over half of production for the first time other. On that day, solar's contribution was 23.1GW between 1 and 2pm, or about 50.6% of the total power generated.
This is not the first time that Germany has set records with its solar panels. The country has long been known as a renewable energy stalwart, with progressive policies (namely, the EEG law) which have paved the way for the country to meet its ambitious Renewable Energy Target of 35% electricity from renewables by 2020 and forcing fossil fuels out in the process.
Meanwhile, the UK set a solar record of its own, with solar panels contributing 7.8% to total demand around the summer solstice on 21 June. The UK's solar market continues to grow despite declining incentives and all around dreary weather.
The continuing success of solar PV technology in these countries, whose solar energy resources are unequivocally smaller than those of Australia, serves as a reminder of the huge potential for solar PV down under.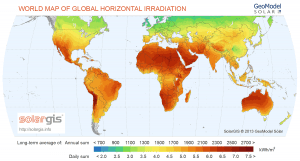 Comparison of global solar resource potential. Image via SolarGIS.info.
© 2014 Solar Choice Pty Ltd