Australia's rooftop solar PV market risked following in the disastrous path of the solar hot water market if changes were made to the Renewable Energy Target, industry has warned.
Estimates from ACIL Allen, the modellers for the RET Review panel, have suggested the removal of the small-scale component of the RET would result in a 30 per cent slump in the market in the short term, before recovering to its previous trajectory by 2030.
But the solar industry warns that the slump could be much more severe than that – possibly causing the market to shrink by half, pushing thousands of businesses and employees out of the market.
Ric Brazzale, from Green Energy Trading, and head of the REC Agents Association, says the experience in the solar hot water industry, which is now just one third of its former size following unexpected policy changes in 2012, serves as a warning.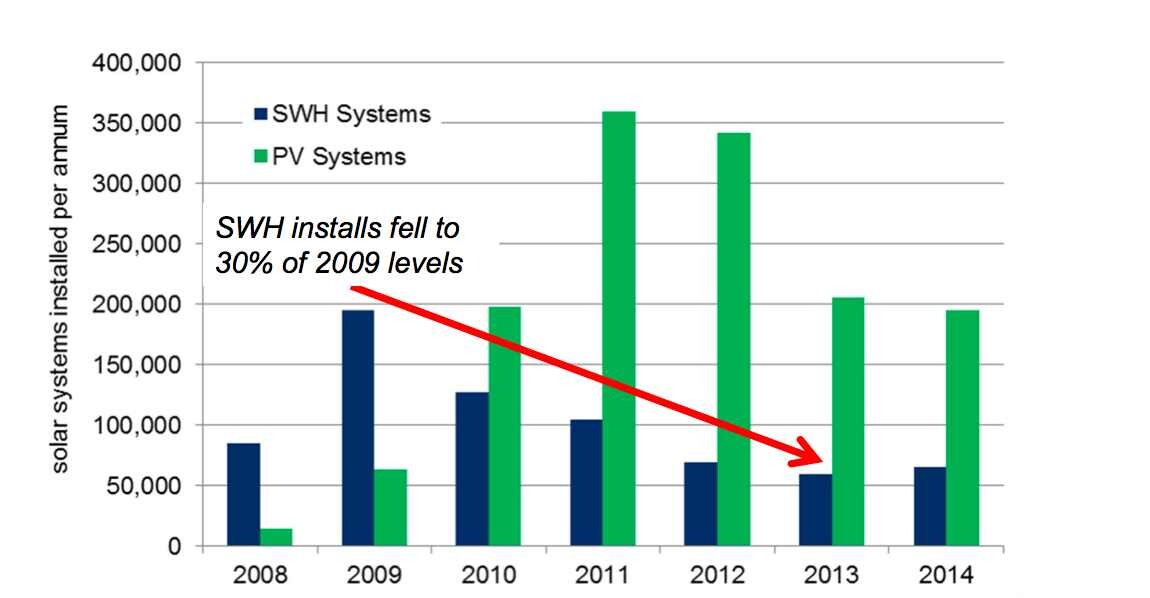 The solar PV market, says Brazzale, has already fallen by nearly half since state-based feed-in tariffs were wound back and the REC multiplier was reduced to one.
And while headed to around 200,000 installations in 2014, this could fall in future years if dramatic changes were made to the SRES (the small-scale scheme).
Brazzale said current estimates for the solar PV market in Australia for 2014 were around 740MW, including 120MW for the rapidly emerging commercial solar PV sector. (See table at end of story).
"We might have ongoing market of 200,000 systems if we have policy support," he said. "But if that policy support is removed, we could see a similar decline that we saw in solar hot water."
Brazzale said there was a danger that the SRES could be scrapped completely.
Scenarios modeled by the RET Review panel suggested a change in the deeming period from 15 years to 10 years, before scrapping the scheme at the end of the decade, could be the best outcome.
Deeming refers to the expected output from a solar system over a certain period. This is used to calculate the upfront rebate from the cost of a solar system.
"The SRES is important to make solar affordable to all and is the one remaining policy measure for the industry," Brazzale said. "It is working as expected. There is no need to change it."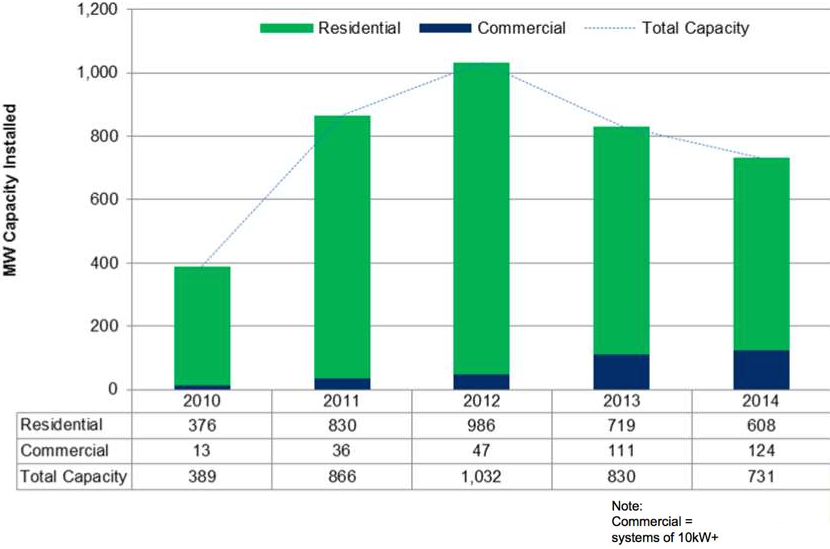 © 2014 Solar Choice Pty Ltd

Latest posts by Giles Parkinson
(see all)