A least 1GW of large-scale solar could be added to existing Australian wind farms, boosting renewable energy generation and smoothing its delivery to the grid, according to a new report on the benefits of solar and wind "co-location."
The report, published by the Australian Renewable Energy Agency, is based on data from 10 existing wind farms around Australia.
It found that major savings could be achieved for developers using co-location, particularly in the grid connection infrastructure.
"It is well known that the development costs and timescales for renewable projects in Australia can be significant barriers for renewable projects, placing pressure on the upfront investment requirements of developers," the report said. "By co-locating wind and solar farms, synergistic gains can be achieved to help reduce overall cost."
The ARENA report – based on research conducted by AECOM – confirmed "significant potential" for wind and solar co-location at "numerous locations where the two renewable resources are highly complementary," both for existing wind farm sites and for greenfield projects.
It found that the greatest brownfield co-location opportunities were currently in Western and South Australia, thanks to a good solar resource, a complementary generation profile and higher wholesale market prices.
The best greenfield opportunities were also found in South Australia and Western Australia, as well as parts of Queensland and small parts of New South Wales.
Of the 10 wind farms analysed, the report found that 414MW of solar capacity could be co-located without exceeding 5 per cent curtailment. AECOM also analysed the financial merit for solar plants at each existing wind farm site by indexes that represent the costs and revenues of each site relative to a benchmark site. (see Figure 1 below).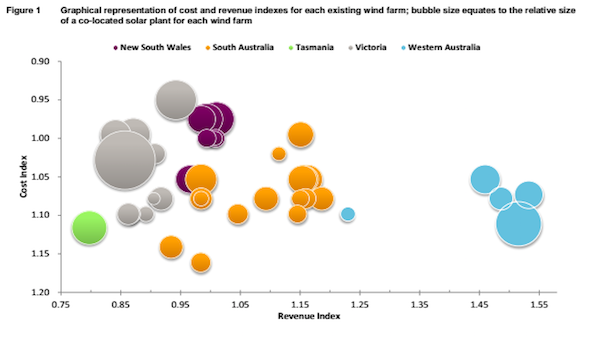 The report estimated total cost savings of co-location to be between 3-13 per cent for capital expenditure and 3-16 per cent on operational expenses. On top of this, there was significant potential for a boost to revenues, with more energy being produced at a more consistent rate.
© 2016 Solar Choice Pty Ltd