Vertical integration and using economies of scale to push down prices are classic strategies in economics and ones that Elon Musk, chairman of US solar installer, Solar City, is hoping will transform the PV industry.
SolarCity, America's largest solar installer, has recently acquired Silevo Solar, a PV panel manufacturer, and intends to build a new 1 GW sized panel production factory in the US. This makes SolarCity the only major solar PV installer to move up vertically into solar panel manufacturing.
The timing of the development comes at a time when the dramatic fall of PV panel prices in recent years is forcing solar panel manufacturers worldwide to cut margins and move into the installation business – the very sector SolarCity is a strong player in. In spite of the risk of moving into a potentially unprofitable position, Musk says it is in the long-term interest of the industry. "Without decisive action to lay the groundwork today, the massive volume of affordable, high efficiency panels needed for unsubsidized solar power to outcompete fossil fuel grid power simply will not be there when it is needed," he explains.
This is the same long-term thinking that has led Musk to push ahead with Tesla's new "gigafactory" for manufacturing Li-ion batteries. However, while the Tesla battery factory would double the global Li-ion battery production and will therefore be a truly game-changing development for the energy storage and electric car industries, Musk's foray into PV manufacturing will have a less dramatic impact. Nonetheless, the scale of the proposed manufacturing operation is quite significant.
Following the acquisition, SolarCity intends to build a huge panel production factory with an annual panel production capacity of 1 GW. This move would put SolarCity directly into the list of top 10 PV panel manufacturers (in terms of manufacturing capacity) and would make the factory the biggest of its kind in the US. To further put this into context, 1 GW represents one-tenth of the new manufacturing capacity being added worldwide this year and would represent 1.7% of the 60 GW global market demand expected. In 2016 – the year in which the factory is expected to come online.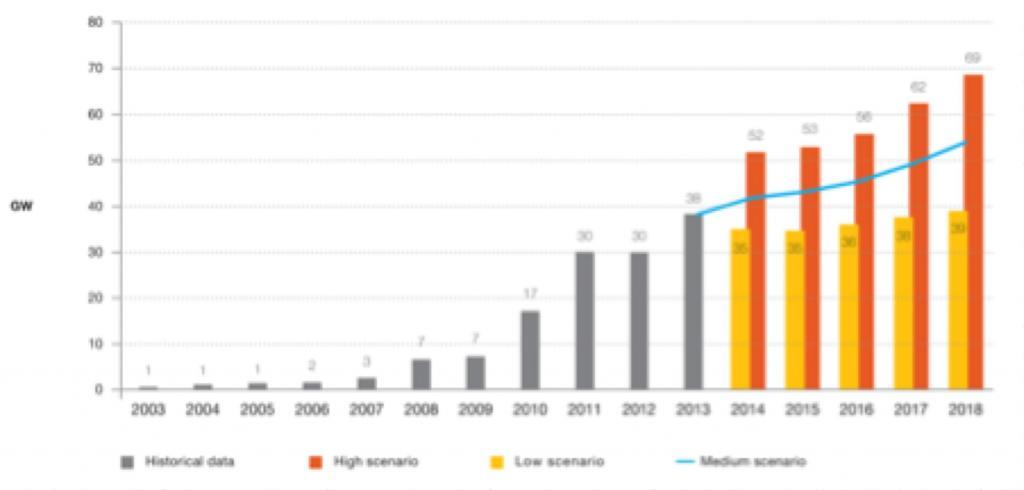 Image Credit: EPIA [pdf]
However, Musk says this is "just a start" and that future plans include scaling production to up to 10 GW. This is almost equal to the entire PV manufacturing capacity of the country of Taiwan and is almost 3 times the production capacity of Yingli, the top PV module maker today. Of course, whether SolarCity manages to capture a big share of the market and actually utilize all that capacity will depend squarely on the market advantage of its products. And in today's crowded market for PV modules, capturing such a large piece of the pie will require a radically low cost and/or high performance product.
But that is exactly what SolarCity is hoping mass production will do. "Our intent is to combine what we believe is fundamentally the best photovoltaic technology with massive economies of scale to achieve a breakthrough in the cost of solar power," says Musk. To improve its position and differentiate itself from other panel manufacturers, SolarCity will focus on scaling up next-generation high efficiency PV technologies. It is precisely for this reason that SolarCity has acquired Silevo Solar, which has over 7 years of experience in commercialising 'tunneling junction' solar cells – a promising next generation solar cell technology.
Running at full capacity, the new facility – which is set to be built in the US by 2016 – would be capable of supplying almost 2% of the current worldwide demand for PV (50 GW per year as of 2014). Given SolarCity's high and rising market share in the US (SolarCity has installed more than 0.25 GW in 2013 alone) and its long-term strategy for integrated PV and energy storage, the company is certainly capable of absorbing/installing a significant fraction of the panels it intends to produce.
However, this will only be the case if SolarCity's panels can compete with those made by the likes of Yingli, First Solar and Sharp – each of which have built their own 1 GW production facilities in recent years. Whether Silevo's modules (which are currently 18.4% efficient) can compete on a cost and performance basis with such established industry giants remains to be seen. But Musk seems confident the gamble will pay off.
Top Image Credit: Silevo Solar
© 2014 Solar Choice Pty Ltd

Latest posts by Nitin Nampalli
(see all)