The Mayor of Boston has announced the commissioning of a pilot program to install solar powered benches in parks throughout the city. The project is being conducted in collaboration with 'Changing Environments', a spin-off from the Massachusetts Institute of Technology.
The 'Soofa' park bench seats up to three people and provides outdoor charging facilities for mobile devices such as phones and tablets. The solar panel and all electronics are secured within a cement enclosure mounted on top of the bench.
In addition, this example of 'smart urban furniture' also transmits location-based information like air quality and noise levels in real time to the Soofa website for public viewing. Said Sandra Richter, co-founder and CEO of the start-up: "Soofa is the first step into smart urban furniture. The possibilities to update the city for the mobile generation are endless and long overdue."
Mayor Walsh of Boston has publicly expressed his support and praised the multiple functions the product allows. However, the greatest complement thus far for the start-up is the recent commissioning of a Soofa at the White House.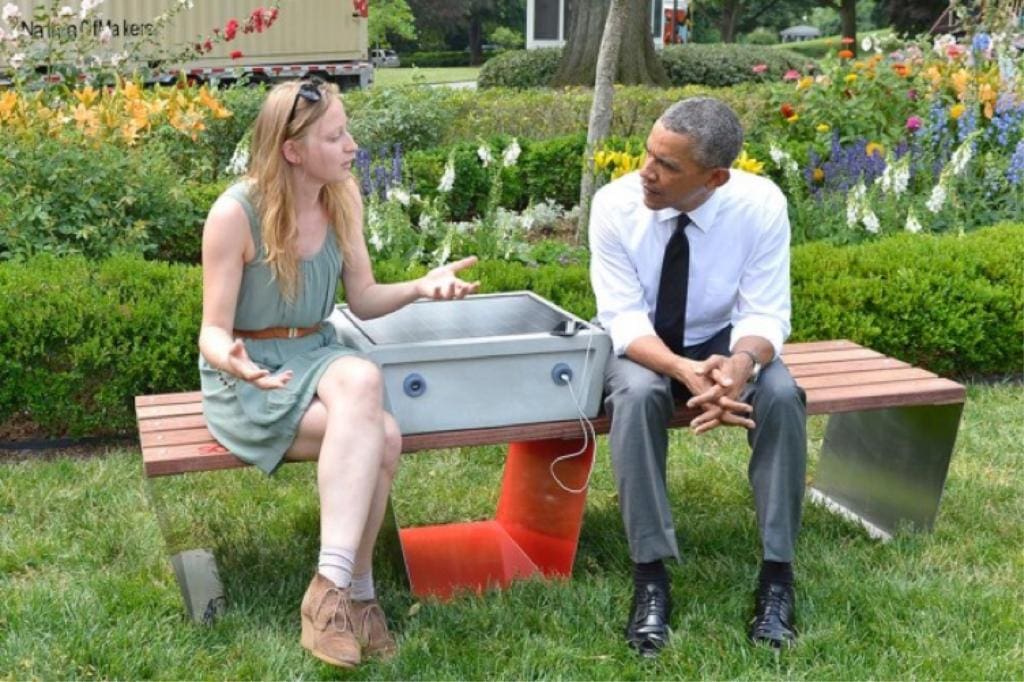 Sandra Richter, CEO of Soofa, sits with President Barack Obama on a Soofa solar powered bench. Image Credit: Bloomberg Business week
Individually, the amenities provided by a Soofa are not new but the accessibility and combination of all the features certainly are. The integration of solar PV generation into seemingly mundane everyday objects is a great way of using otherwise underutilised space, as demonstrated by recent developments in solar powered car ports.
The way PV is being deployed around us has clearly evolved and expanded from 'traditional' rooftop or ground mounted PV, to building integrated installations and now to include multi‑functional statement pieces which are designed with a sense of social awareness. The Soofa is clearly aimed at also promoting a sense of community in the areas they are installed.
Australians are no strangers to solar powered public amenities, with notable examples including parking meters, street lighting and even maritime beacons. Solar powered benches and other smart urban furniture will surely follow so be prepared to see PV deployment in previously unheard of places.
Top Image Credit: Soofa
© 2014 Solar Choice Pty Ltd

Latest posts by John Rodriguez
(see all)