More than 15,000 Australian businesses are saving a collective $64 million a year on their energy bills after installing solar PV, a new report has found.
According to a report and infographic released this week by the Clean Energy Council, 15,214 Australian businesses – ranging from dairy farmers through to wineries, supermarkets and offices – have now installed solar.
"Businesses have now invested almost $460 million in solar power systems across the country, helping them to collectively save about $64 million on their bills every year," the CEC's acting chief executive Kane Thornton said on Thursday.
And, he adds, if the Renewable Energy Target (RET) is left as legislated, there is the potential for tens of thousands more to follow suit.
"There is an increasing recognition that the current modest support provided by the RET means the business case for solar power makes sense, helping businesses become more competitive in tough economic conditions," Thornton said.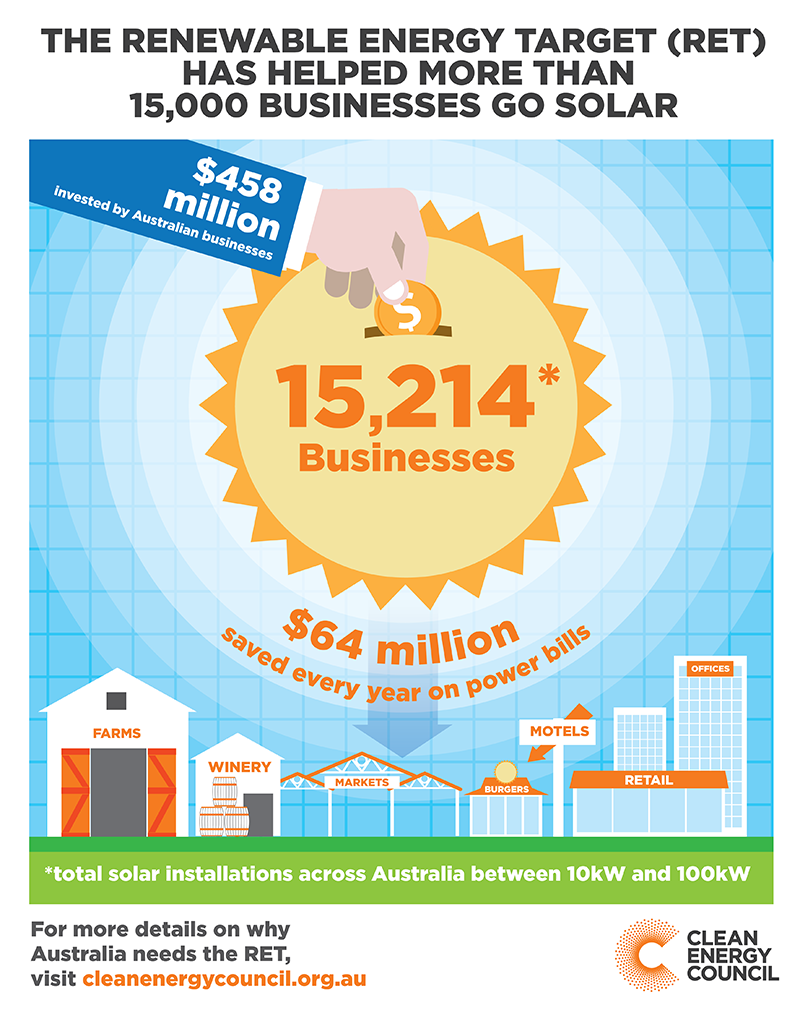 But, like many others in and around the Australian renewables industry, Thornton warns that any cuts to the RET would make it much harder for homes and businesses to go solar in the future, and put thousands of jobs at risk.
"Some of the recommendations outlined in the recently released review would either shut down these opportunities, or make it so administratively complex for businesses to go solar that they wouldn't bother," he said.
"This is a very effective policy which is working well and will begin to phase out naturally from 2017. The rest of the world is going full-speed ahead on solar and there is a huge opportunity here for Australian businesses if we leave the RET alone.
"As well as helping businesses to save on their bills, the RET is projected to deliver a further $15 billion of investment in large-scale renewable energy, as well as billions more in household technologies such as solar power and solar hot water.
"The renewable energy sector employs 21,000 people and 13,000 in solar alone, many of which live in regional areas of the country. If the RET is cut it would have a significant and immediate effect on the solar industry and lead to the loss of up to 5800 jobs in this part of the sector alone."
© 2014 Solar Choice Pty Ltd

Latest posts by Giles Parkinson
(see all)