A chart recently published by electricity market watchdogs WattClarity yield fascinating insight into where Australia's electricity originates–and who owns the power plants that produce it.
Abundantly clear in the chart–which does not include generators on Western Australia's grid system–is the very small number of companies that dominate the electricity generation market. Most notably, AGL, with over 20% of the National Electricity Market's (NEM) generation capacity, is over twice as large as Origin, who is next on the list. Ranking in at #3 is a collection of generators not large enough to warrant listing by name. Energy Australia comes in at #4. Many of the companies smaller than this currently have assets for sale–or could soon have them for sale pending election outcomes.
WattClarity's Paul McArdle notes that AGL is both the largest polluter as well as the owner of the greatest amount of wind generation capacity in the country. Meanwhile, those generation asset owners known for their investment mainly or wholly in renewables–Infigen Energy and Pacific Hydro among them–come in much further down the list.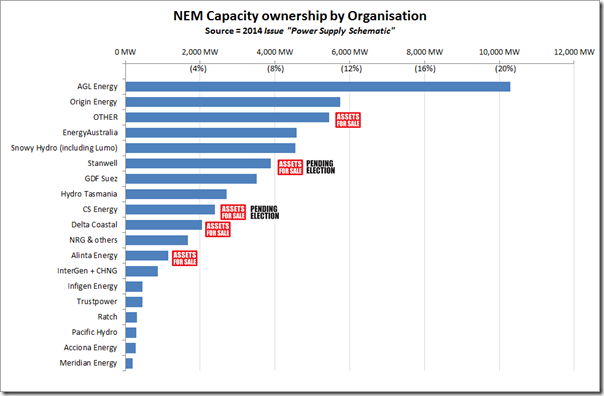 © 2014 Solar Choice Pty Ltd