This past summer was a hot one, and Australia's electricity infrastructure certainly felt the heat as huge numbers of households switched on AC units to keep cool. The folks from WattClarity recently put together a retrospective of some of the past few months' noteworthy moments in the National Electricity Market (NEM). Describing the summer as a 'volatile' one, WattClarity notes that on several occasions electricity peak demand rose to levels not seen in recent years–but still came just shy of breaking any records. 
A number of voices in Australia's solar industry (including Solar Council chief John Grimes and RenewEconomy's Giles Parkinson) noted that one of the main reasons that peak electricity demand failed to reach new heights was the unprecedented level of solar PV capacity–mainly rooftop solar–now online across the NEM. Otherwise, they say, demand could have risen even higher, potentially requiring emergency load-shedding on the part of large-scale electricity users.
Indeed, for a few days in mid-January, electricity demand looked set to outstrip supply. Solar's hero role was confirmed by the Australian Energy Market Operator (AEMO), which published an analysis of what the picture would have looked like if there hadn't been so much solar PV online and feeding power directly into many of the AC units that caused the spikes in the first place. Solar had mad a significant contribution by shifting peak demand on hot days to later in the day than it has been historically, especially in Australia's southern states.
These spikes are detailed in the chart below (from WattClarity, click to enlarge). As can be seen, electricity demand skyrocketed in a few states of the eastern states in mid-January.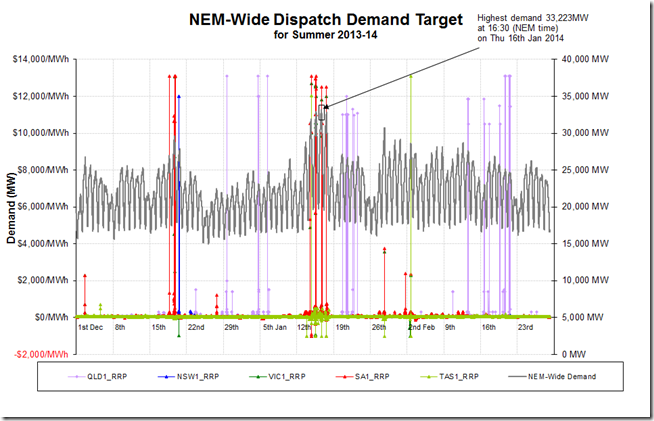 Peak demand days are historically big money-making days for utilities, which can charge ordinarily astronomical prices on the spot market as they bring more capacity online to fill the gap, as per the chart below (also via WattClarity), illustrating the heights to which electricity prices soared during this past summer's heatwave–particularly in Victoria and South Australia.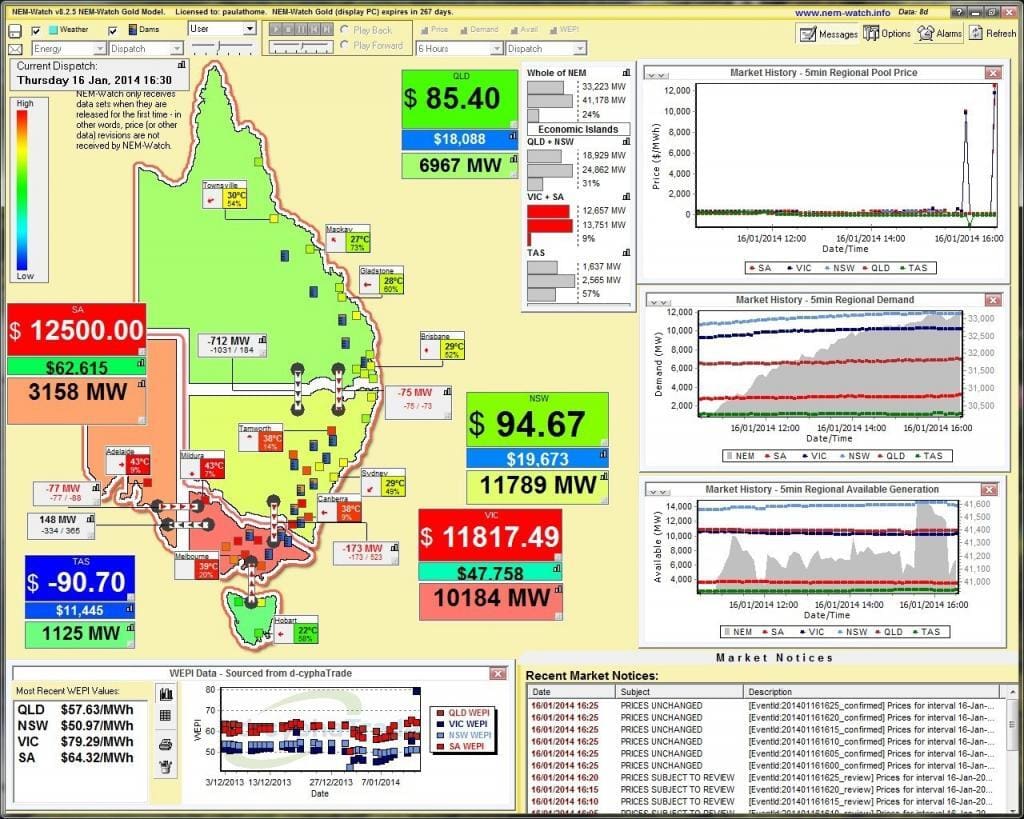 This story is an important one, especially in light of the nature of the arguments against the country's Renewable Energy Target and the general disgruntlement against solar PV that seems to exists among utility companies and those behind the RET review. WattClarity's charts serve as a reminder of the positive impact that solar PV is having on Australian electricity market–and the promise it holds in saving money for all households.
The current state of affairs with regard to electricity prices was covered comprehensively in an investigation undertaken by the ABC's Background Briefing. It's well worth a listen for anyone who cares even a little about the state of affairs of Australia's electricity industry and wants to understand the factors that influence pricing trends.
© 2014 Solar Choice Pty Ltd

Latest posts by James Martin II
(see all)