Rooftop solar in Australia's southern states reduced peak demand by an average of 4.6 per cent during the recent heat-wave, and on one afternoon provided one quarter of South Australia's electricity demand.
Data compiled by the REC Agents Association shows that on the peak period of one of the hottest days, January 16, solar PV was generating more than 9 per cent of demand in South Australia and nearly 3 per cent in Victoria.
On the afternoon of Sunday, January 19, rooftop solar PV was providing nearly 25 per cent of South Australia's electricity demand and 6 per cent of Victoria's.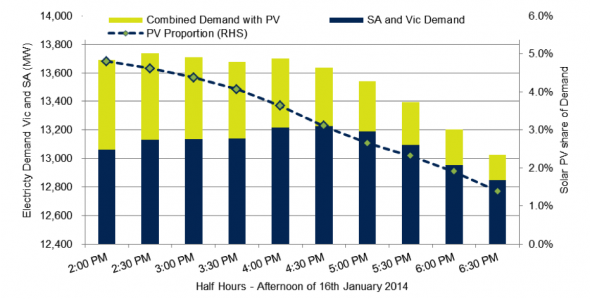 Ric Brazzale, the head of the REC Agent's Association, said that the contribution of rooftop solar meant that much higher cost peaking generator did not have to be dispatched.
"As a result the wholesale power price has not risen anywhere near as high as other times when we have reached very high levels of demand."
The average wholesale price for last Thursday afternoon in Victoria was a $509/MWh, compared to $4,619/MWh during a similar heat-wave in 2009 – before the proliferation of rooftop solar.
© 2014 Solar Choice Pty Ltd

Latest posts by Giles Parkinson
(see all)